Wall To Wall Books
---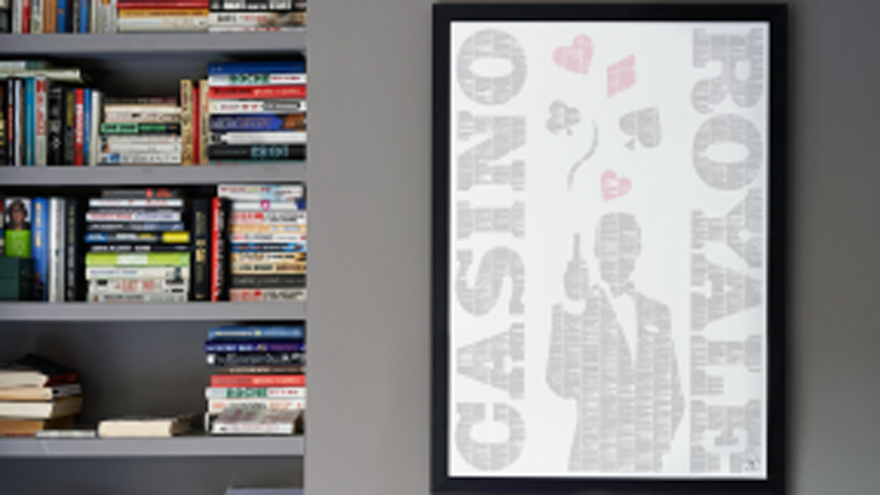 Casino Royale from Spineless Classics
I've just solved my family's dilemma of choosing me future birthday and Christmas presents with the discovery of a fabulous company called Spineless Classics.
This creative company turns entire novel texts into beautifully themed bold art prints which you can read up close.
Every paragraph, chapter heading and italic is kept and carefully arranged into a design which fits a standard frame with no words missing.
There are currently over 100 poster editions to choose from.
Top seller is Harry Potter and the Philosopher's Stone, featuring Harry's glasses and owl Hedwig.
Other titles available include childhood favourites Alice's Adventures in Wonderland and A Bear Called Paddington.
Among the classics are Jane Austen's Pride and Prejudice and George Orwell's Nineteen Eighty Four. Then there's The Hobbit, Murder on the Orient Express, Peter Pan, Casino Royale, Charlie and the Chocolate Factory, Matilda…
How on earth is a girl to choose?!
Though I am tempted by Pride and Prejudice and Zombies, I think my favourite has to be Anna Sewell's Black Beauty – a whole novel transformed into the silhouette of a beautiful horse. It's stunning.
Prices start at £39.99 for an unframed print, rising to just under £200 for a framed print.
I've told my husband to start saving now!
Our Fiction Editor, Karen, on what makes a good story…