Cooking With Kale
---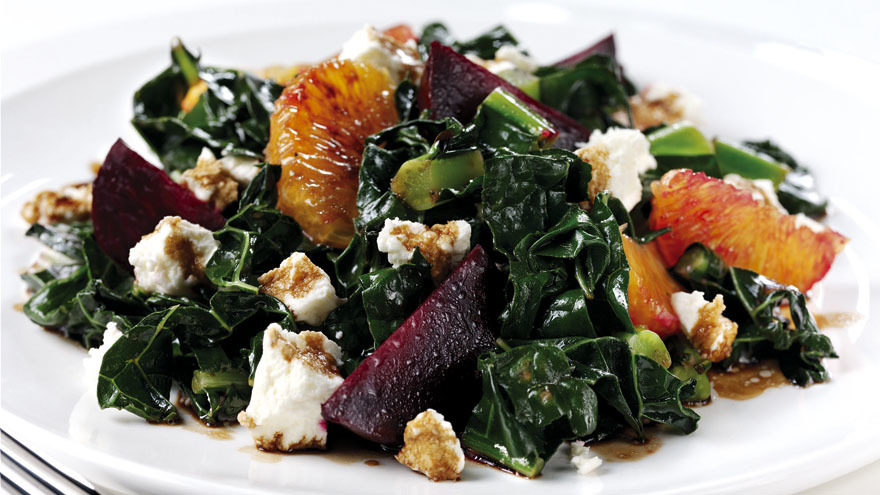 Widely recognised for its versatility and health benefits, kale can be prepared in many different ways to complement a host of flavours, ranging from citrus and coconut through to rosemary and chilli.
This "superfood" can be the hero of numerous dishes, such as a spicy curry, or make the perfect accompaniment to many main meals, including the traditional Sunday roast. Likewise, its Italian cousin, cavolo nero, has a delicious and rich flavour of its own.
From stir-fries and casseroles, to salads, soups and smoothies, the culinary possibilities of these leafy greens are endless. Not only are they delicious but they are both sources of Vitamins A, C and K, as well as calcium and many other elements for guilt-free dining.
For some inspiration on making the most of these greens, food expert Rosemary Moon shares her favourite food pairing combinations for some mouth-watering dishes.
Add a Caribbean Twist
Rosemary sets a Caribbean mood by introducing a taste of coconut to kale.
Toasted coconut, desiccated or flakes, puts kale in a Pacific Rim mood. Coconut and kale make a great combo for stir-fries or as a basic filling for spring rolls and rice wraps. Try boiling shredded kale in coconut milk so that the milk reduces to a thick and slightly oily dressing or sauce."
Recipe suggestion:
Order Up Some Oranges
Rosemary recommends pairing kale with juicy segments of orange to add an additional element of sweetness into any dish.
Juicy segments of orange with butter or olive oil, or even a little orange juice, really add sweetness to kale. You can add oranges into stir-fries or simply sauté them with some shredded kale, or you could make a marvellous sauce to bridge the flavour of kale with other ingredients, for example meat or poultry in a one-pan supper dish."
Recipe suggestions:
Make the most of oranges this summer by preparing a kale and citrus salad – great for picnics
Drizzle orange dressing over a salad bed of roasted squash and kale
Fruit up our stir-fry recipes with a touch of orange for a soothing sweetness – check out our Discover Kale stir-fry recipes!
Release the Raisins
Rosemary adds raisins onto seasoned kale for a great summertime dish.
Very finely chopped raw kale makes a great winter tabbouleh stirred into hot bulgur wheat. Mix it with extra virgin olive oil, seasoning to taste and lots of raisins make a great lunch or salad accompaniment."
Recipe suggestions:
Mix kale, raisins and pine nuts into a summer salad
Bacon, Bacon, Bacon
Rosemary opts for smoked streaky bacon as the perfect combination here, with a crispy bacon and cream kale bake.
Any preserved pork goes well with kale but bacon gets my vote. Smoked streaky bacon is my top choice as the almost perfect combination of salt and fat. Add chopped tomatoes and whatever else you wish with a grain to make a pilaf, or just pour some cream over the sautéed bacon and leaves in a dish and top with cheese and breadcrumbs, then bake until brown."
Recipe suggestions:
Add a Hint of Rosemary
Rosemary Moon adds a sprig of rosemary to boiling kale, reaping the benefit of the herb's aromatic qualities.
The aromatic qualities of freshly chopped rosemary really complements kale. Use kale and rosemary together in savoury flans and vegetable bakes, or add a sprig of the herb to the water while boiling or steaming kale leaves."
Recipe suggestions:
Creaminess from Almond Butter
Rosemary stirs almond butter in with kale and paprika as a seasoning sauce.
Use almond butter when cooking kale. Less pungent than tahini, almond butter adds creaminess to kale when the leaves are cooked in a loose tomato sauce with a little paprika. Stir the almond butter in at the last moment to season the kale and its sauce."
Recipe suggestions:
A pear, kale and almond butter smoothie serves as a filling breakfast and great kick start to the day
Dip our kale crisps into almond butter for a light snack
Don't miss My Weekly recipes every week in the magazine and online…