Hearing Dogs For Deaf People
---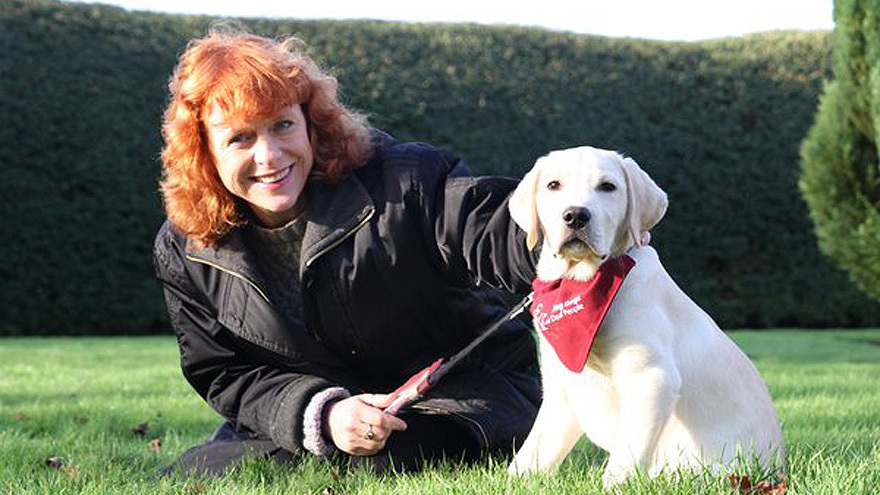 Dr Sarah Jarvis with a hearing puppy
We know our readers are caring and sharing – and we're proud to say our writers and contributors are, too.
Dr Sarah Jarvis, NHS GP, writer and broadcaster, who appears regularly on The One Show and writes our medical pages each week, finds time in her busy schedule to support a charity very dear to her heart – Hearing Dogs For Deaf People.
Just like Guide Dogs for the Blind, Hearing dogs bring independence, confidence and companionship to people often isolated by their deafness. They're trained to alert deaf their owners to sounds like the doorbell and alarm clock and can even save lives by drawing attention to fire and smoke alarms.
At the moment there are 900 hearing dogs in the UK, and the charity hopes to train more.
As well as donations to help fund the dogs' training, the charity is always looking for volunteers to help out in various capacities like training puppies or fostering a retired dog. Even if your lifestyle doesn't allow for being actively involved in a dog's upbringing, you can sponsor a puppy for a small amount of money each month.
Dr Sarah says, "I first heard about Hearing Dogs for Deaf People when I was doing some work to raise awareness on hearing problems. I was struck by how much difference it could make to some of my patients who are profoundly deaf.
"I was honoured to be invited to their annual awards ceremony, where I got to meet some of the heroic dogs who have transformed so many lives. Once I had visited their headquarters and seen them in action, I was even more impressed.
"Ever since then, I've been trying to raise awareness of the extraordinary work they do. They can give a deaf person back their independence and they really do revolutionise lives. But the training involved is long, intensive and expensive – and they desperately need the generous support of the public."
Find out more about this worthwhile initiative by visiting Hearing Dogs For Deaf People.