The Diet Saboteurs
---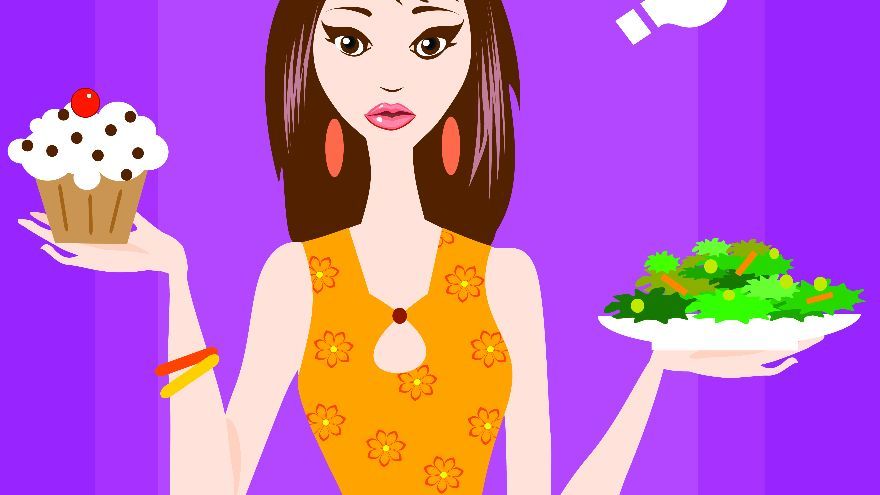 A Fun Tale Just For You
With so many obstacles in her way, would Kate ever be able to shape up?
Author: Karen Byrom
Week 1 – it's time to act!
It was the black trousers that did it. Back from the cleaners in April, they had hung in my wardrobe all summer. Now, as crisp autumn leaves littered the ground, it was time for them to be pressed back into action.
Which they would have been … if I had been able to make the waistband button meet.
I blame my new man … I met him in March, and we have been an item ever since. We're past the wining and dining stage and have moved on to cosy nights in on the sofa, sharing a takeaway and munching on ice-cream as we catch up on boxed sets and films that we both enjoy.
I returned the trousers to the wardrobe, gazed wistfully at my floaty loose romantic summer dresses – so useful for disguising a few pounds – and pulled on an old stretchy black mini skirt, jumper and tights.
Tim and I were planning a New York winter break, complete with shopping and sightseeing.
I would have to lose some weight.
Week 2 – 4 lbs on!
It was Megan who suggested the slimming class. As usual, we'd repaired to Costas at lunchtime where, over a skinny latte (Megan) and a full-fat cinnamon cappuccino and Danish pastry (me), I bemoaned the weight I'd put on and the loss of last year's wardrobe.
"Why don't you come along to 'Flab-busters,' with me, Kate?" she said.
The prospect wasn't inviting. True, once-plump Megan is now super-slim, but … Disconsolately, I picked at the crumbs of my Danish. It would be skinny latte for me from now on.
The class was OK actually – I'd feared my weight would be called out for all to hear, but lovely leader Linda just wrote it down, smiled sympathetically, and suggested a target I should aim for.
I left, clutching a sheaf of diet sheets and a determination to lose at least half a stone that week. It all made so much sense – smaller portions, fewer treats and less red wine. This was going to be a cinch!
And I followed the diet religiously, I really did. Megan was a great help, steering me clear of the office tuck shop and going to the counter to order the skinny lattes every day, just in case my tongue twisted and "full-fat cappuccino" came out instead.
So how on earth could I have put on 4 lbs?
I blame the slimming instructor – she was standing in for lovely Linda, and was obviously not having a good day. She breezed her way through a bizarre presentation that involved giant gold pants which were supposed to motivate us into instant weight loss, and then invited us up to the scales.
I waited my turn, noting the smiles and the scowl of the ladies before me as they received good or bad news.
Then smugly I stepped on the scales.
"Four pounds on," said Delia in a sad, low voice. "Oh dear, what went wrong?"
I blinked, blanched and nearly bawled. Then I looked at what she'd written in my book, before looking down at the scales.
That says point zero five, not five!" I yelled.
Delia peered down. "Oh yes." She smiled broadly. "You've lost half a pound. Well done, you."
Half a pound? I didn't know whether to laugh or cry. Megan did – she was doubled over at the sight of my outraged face, but understanding when, the next day, I confided in her what I thought the problem was …
Week 3 – 2lbs on
"I always get bloated just before mine, too," she said sympathetically, as we started up our computers.
"What's that?" Eric, our new office junior, is always keen to join in the conversation.
"Nothing." I reddened. I may have left my own teens behind, but there are some things you just don't discuss with seventeen-year-old boys, no matter how mature and down with the girls they think they are.
Megan came to my rescue.
"Remember my birthday night out this Friday. You're coming, aren't you, Kate?"
"Wouldn't miss it." I grinned. "It's not every day a mate turns 30."
I blame the red wine, I really do. As it disappeared from my glass, so did my willpower. Unable to decide on a dessert, I ordered two – and ate them both.
And the only thing to assuage my stinking hangover on Saturday morning was a fry-up, lovingly prepared by a laughing Tim, who told me he liked me a bit cuddly anyway.
Lovely Linda was back leading Flab Fighters tonight. She's almost as good at sad head shakes as dyslexic Delia.
I gulped and promised to do better next week.
Week 4 – 1lb off!
I'm beginning to feel like Bridget Jones. I almost asked Linda to write v.good beside my weight loss.
It wasn't much I knew, but at last it was going in the right direction. I'd stuck to my diet more or less religiously all week – well, the odd biscuit or two doesn't count when you eat them standing up, does it?
Crowing with delight at my weight loss success I phoned Tim on my way home and arranged for him to come round. He'd been away on a course and I hadn't seen him all week. Normally, sitting alone in my flat every night would be an excuse for me to comfort eat, but I'd stayed strong (apart from the afore-mentioned biscuits, of course).
Tim was delighted by my news.
"Let's celebrate," he said as he arrived at the door, brandishing a bottle of Prosecco and a Chinese banquet for two.
Oh well … it was a week till the next weigh-in. Surely a couple of prawn crackers couldn't hurt …
Week 5 – 1lb on
It's Mum and Dad's fault definitely. They're always trying to fatten me up, and the weekend past was no exception. It was the first time they'd met Tim, too, and Mum had really gone to town, with hotel style breakfasts on Saturday and Sunday, home-made cakes and scones for elevenses and tea and two massive three-course meals each day!
Even Tim was groaning and loosening his belt by the time we got back to town on Sunday night. He'd had the added extra burden of two pints of beer with my dad down the pub Sunday lunchtime while Mum and I did the cooking. I just hoped Dad hadn't been quizzing him about his intentions towards me – I didn't want him scared off.
Mum had fallen in love with him, of course. She likes a man who adores her cooking and she's desperate for me to settle down.
"I think I may have to come to Flab Busters with you," Tim joked as we rolled out of the car and into my flat.
"It's women only!" I said hastily. It wasn't – but I didn't want Tim witnessing my humiliation as yet again the scales registered a weight gain.
There were just six weeks to go until our New York trip. I would have to do better next week!
Week 8 – 1lb on.
The last two weeks had gone so well. I'd lost 4lbs then 3lbs – I'd even managed to squeeze into my black trousers. Tim had been supportive, manfully eschewing his favourite takeaways and treats so that I could stick to my diet sheet.
But I knew what had gone wrong …
I blame Megan – I saw the looks she was giving me as lovely Linda gave me my half-stone silver star. Megan clapped and smiled with all our fellow slimmers, but I could feel her eyes stabbing into my back. She's jealous, that's what!
Otherwise, why would she have come in to work every second day this week with goodies she knows I can't resist? "Oh, I just saw these haggis and neep crisps and thought we could try them," she says all innocently. Or, "This carrot cake was on its sell-by date." And I'm sure the lattes she has been picking up for me are full fat. I've definitely been enjoying them more.
I notice she didn't eat any of the crisps or carrot cakes herself, though.
Week 10 – stayed the same
Actually, I lost two pounds in week 9, thanks to a super-human effort and a return to form from Megan, who denied she'd been deliberately trying to sabotage me, but promised that she would stop putting temptation in my way.
Wish I could say the same for my friend, Sarah. She makes no bones of the fact that she doesn't believe in diets (she has the surplus stones to show for it) and she is constantly suggesting nights out that involve food and drink.  So that put-on-pound is down to Sarah and her insistence on a trip to the new Bond film, with obligatory buckets of popcorn, gallons of cola, and fish and chips on the way home.
There's just two weeks now to my New York trip, and I'm nowhere near my target.
Right, no more excuses. This week it's serious!
Week 12 – 5 lbs off
Getting on the plane to New York, I was so happy! No excess baggage for me – well, maybe a little bit, but my tummy was flatter, my trousers were fitting and I was looking forward to shopping for new clothes in the city's exciting department stores.
I squeezed Tim's hand as we settled in our seat, excited to be on our way.
"Macey's … the Statue of Liberty … Central Park … I can't wait!"
"Blueberry muffins in maple syrup … fourteen ounce steak dinners … apple pie and double cream …" Tim grinned.
"Stop it." I groaned. I could feel my willpower draining even before the stewardess appeared offering drinks and nibbles.
Oh well, who can diet on holiday?
Week 13 – 1 stone on!
I blame the holiday – and no it wasn't the blueberry muffins, steak dinners and apple pies that did it – though I did scoff plenty of them!
I look down at the diamond  sparkling on the third finger of my left hand and smile softly. This is one stone I'll never lose!
In the middle of the holiday, in the middle of Central Park, despite the cold and the wet leaves and the curious stares of passing tourists, Tim got down on one knee and proposed.
He had the ring all ready, and everything – he'd sized it from one of my other rings – and confessed he'd been worried it wouldn't fit because of the weight I'd lost.
It was perfect! He is perfect!
Mum is so happy! And Megan and Sarah are already fighting over who should be chief bridesmaid.
As for me – well I'm off to Flab Busters tonight.
After all, I'll have a wedding dress to slip into next year …
Read more from this author …