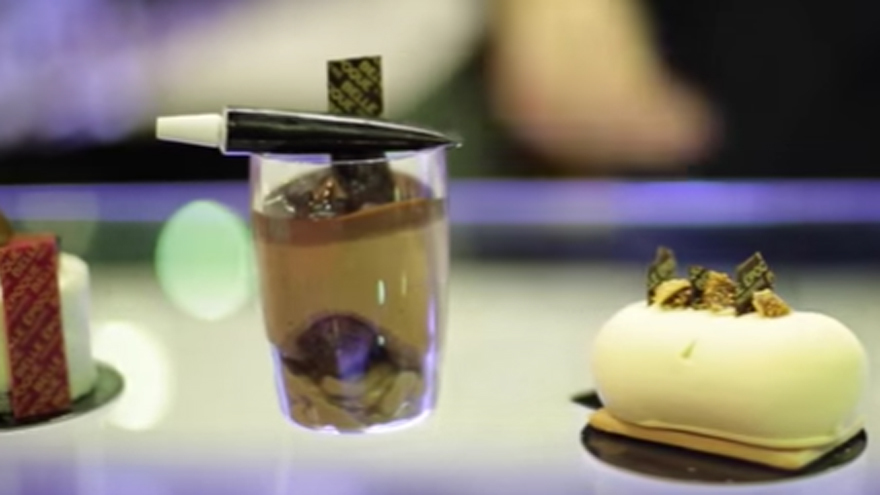 The My Weekly Relaxing Reading Special is out now, packed with great features, recipes and fiction. Don't miss the We Love… In September feature inside, a round up of all the great events happening around the country.
And here's some great ideas for October… so that's your autumn sorted!
Words: Gilly Pickup
Calling Chocoholics Everywhere!
The Chocolate Show at London's Olympia (October 14-16) is the UK's biggest celebration of chocolate. Besides patisserie chefs and sweet treats galore, the Chocolate Fashion Show will also return, with dresses made from chocolate dazzling their way down the world's tastiest catwalk. Some top talent from the UK chocolate industry including The Chocolatier, York Cocoa House and Sarah Barber of Hotel Café Royal, will let their imaginations run wild whilst designing and creating gowns good enough to eat. The show has something for every interest – from the final round of judging of the UK's first ever Chocolate Dessert of the Year competition, two days of educational talks led by the International Chocolate Awards and the Academy of Chocolate to children's workshops with Rococo.  Throughout the weekend, visitors can learn how to recreate their own chocolate masterpieces, with demonstrations from top pastry chefs.  www.thechocolateshow.co.uk
Book News
Lonely Planet continues its Perfect Weekends series with Food Trails, a collection of 52 mouthwatering trails for food lovers published this month. Detailed itineraries recommend the most delicious trails to follow through cities and regions, sampling classic local cuisine and traditions, from spicy hawker food in Malaysia to must-visit French food markets.  shop.lonelyplanet.com
Bear Grylls Live Arena Tour
October sees Bear Grylls touring the UK for his first-ever live arena spectacular, "Endeavour: Your Adventure Awaits".
He will visit 12 arenas including London, Manchester and Glasgow with his mind-blowing live action and adventure show. Bear uses groundbreaking technology to take the audience on an immersive expedition around the globe. This is the perfect family show suitable for ages 8 and over. www.beargryllslive.com
Breast Cancer Care's Big Pink
October is Breast Cancer Awareness Month so why not hold a Big Pink to help Breast Cancer Care support women facing breast cancer? It can be anything from a simple dress down day at work or a fun night in with friends, anything goes… as long as it's pink!  Join the charity on Friday October 14 or choose a date in October to suit you. Sign up for your free fundraising kit at www.breastcancercare.org.uk/thebigpink.
…but if Going Pink isn't for you – then why not Go Sober For October?
Swap your gin for juice with Macmillan Cancer Support. The fundraising challenge, which runs from October 1-31, encourages people to give up alcohol for the month and ask for sponsorship. All money raised will help ensure that no one faces cancer alone. Head to www.gosober.org.uk to sign up and be a Sober Hero for Macmillan.
Save the Date for the UK's Only Family Travel Show
Discover the world at the UK's only Family Travel Show at London's Olympia on October 1-2 . This is the UK's only exhibition dedicated to family travel adventures. Families come in all shapes and sizes and so do the holidays they take! Whether it's a beach break, educational city stay or exotic jungle trek, family travel definitely isn't one-size-fits-all territory. This is your chance to discover something different, maybe dip a toe in the world of cruising or go wild and plan a safari. Choose from family-friendly villas and exciting ski trips to tropical rainforest retreats and all-inclusive luxury resorts. The Family Travel Show brings together specialist operators and family holiday providers under one roof. As well as taking advantage of travel companies exclusive show-only offers, visitors are also invited to enjoy the show's new interactive family features including the Climbing Zone, Holiday Photo Booth, Kids on Holiday Fashion Show and Small Steps Crèche. The Ask the Experts Theatre offers advice from celebrity speakers, travel writers, journalists and family travel experts. www.familytravelshow.com
Ascot Hallowe'en Race Day
Ascot's first meeting of the 2016/17 Jumps season on October 29 features the £100,000 Gold Cup Chase and being Hallowe'en, visitors can dress up and expect a few surprises. Racing is followed by one of the region's largest Fireworks Spectaculars and there are free fairground rides on the Plaza Lawns throughout the afternoon. This is a designated family day with free entry for under 18s.  www.ascot.co.uk
It's National Curry Week October 10-16…
…so here are some things you (probably) didn't know about curry!
 The earliest known curry was made in Mesopotamia in around 1700BC.
The origin of the word 'curry' comes from 'kari', the Tamil word for 'spiced sauce'.
Chilli is the world's most popular spice and what's more it's good for you! It can help combat heart attacks and strokes and extends blood coagulation times, helping  prevent blood clots.
Korma is  'slow cooking or braising' rather than meaning mild curry as is generally believed. Korma can be very mild or fiery hot.
 The first recipe in English, 'To make a currey the India way' was in Hannah Glasse's Art of Cookery published in 1747.
Curry is popular in Japan and was first introduced there by the British in the 1870s.
Nottingham is the UK's Festival City in October
It's true!  Nottingham has more major festivals and events than any other UK city in October from family fun to music, arts, videogames and comic book heroes. These include:
The inaugural Nottingham Caves Festival has a range of events taking place in caves across the city – including live music, food and drink events, special tours and storytelling events.
Eight days of performances in the 100 year old mirrored Spiegel tent bringing a touch of Victorian splendour to the Old Market Square. The largest surviving tent of mirrors in the world, which Marlene Dietrich once performed in and loved by Marilyn Monroe, is the venue for events including comedy, burlesque and music as well as family fun and pantomime.
The Hockley Hustle has 250 acts performing in 25 venues around the city.  Along with great music, street entertainers and street food, the event brings a carnival atmosphere to the streets.
A Robin Hood pageant with jousting and medieval merriment at Nottingham Castle.
For September events, pick up our My Weekly Relaxing Reading Special…