How You Can Help Prevent Elderly People Falling
---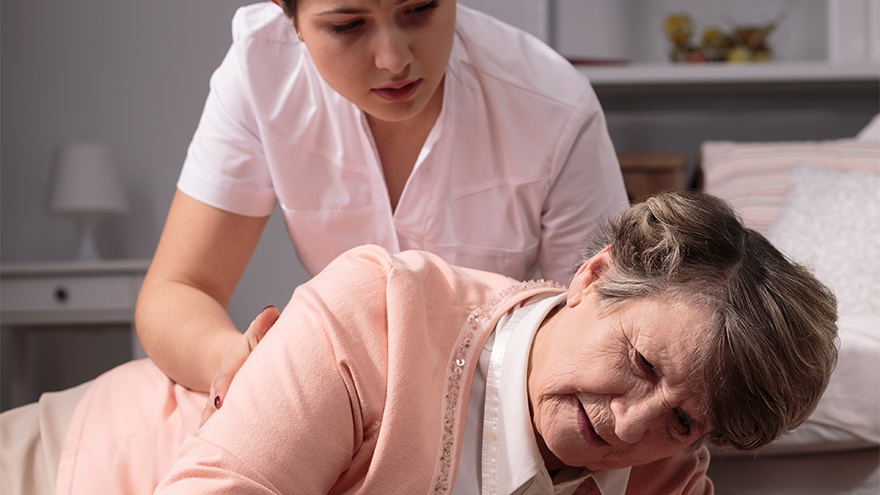 You can help prevent your loved one suffering a fall
One in three elderly people will have a fall this year. If you help to care for a relative or friend, do you know how to reduce the risk, and what advice to give them?
Around 30 per cent of people aged 64 or older fall at least once a year. Alarmingly, half of these have falls frequently.
In the UK, falls are the most common cause of injury-related deaths in people over the age of 75.
NICE (National Institute for Health & Care Excellence) has now issued a call for health care professionals to ask the over-65s about falls during routine appointments and home visits.
Although – thankfully – most falls don't result in serious injury, they can lead to broken bones. The person may also lose confidence and feel withdrawn.
What causes falls?
People are more likely to have a fall if they have balance problems, muscle weakness or poor vision. Some long-term health conditions such as heart disease, dementia or low blood pressure (hypotension) can also lead to dizziness and a brief loss of consciousness.
In older people, falls can be particularly problematic as osteoporosis develops.
If you fall – advice from the experts
Above all, it's important to keep calm.
If you're not hurt and you feel strong enough to get up:
Don't get up quickly. Roll onto your hands and knees and look for a stable piece of furniture, such as a chair or bed.
Hold on to the furniture with both hands to support yourself. When you feel ready, slowly get up.
Sit down and rest for a while before carrying on with your daily activities.
If you're hurt or unable to get up:
Try to get someone's attention by calling out, banging on the wall or floor, or using an aid call button (if you have one).
If possible, crawl to a telephone and dial 999 to request an ambulance.
Try to reach something warm, such as a blanket or dressing gown, to put over you, particularly your legs and feet.
Stay as comfortable as possible and try to change your position at least once every half an hour or so.
Preventing falls
There are several simple, everyday measures you can take to help prevent a fall:
Using non-slip mats in the bathroom
Mopping up spills to prevent wet, slippery floors
Getting help lifting or moving items that are heavy or difficult to lift
Removing clutter and ensuring all areas of the home are well lit can also help.
How GPs can help
If you're worried that you or a person you care for might be susceptible to falls, encourage them to visit their GP. They may carry out some simple tests to check your balance.
They can also review any medicines being taken, in case their side effects may increase the risk of falling.
Your GP may also recommend:
Having a sight test if you're having problems with your vision – even if you already wear glasses
Having an electrocardiogram (ECG) and checking your blood pressure while lying and standing
Requesting a home hazard assessment, where a healthcare professional visits your home to identify potential hazards and offer advice
Doing exercises to improve your strength and balance
For more advice on preventing falls – or on what to do if you or your loved one has a fall – visit Age UK or AXA PPP healthcare.