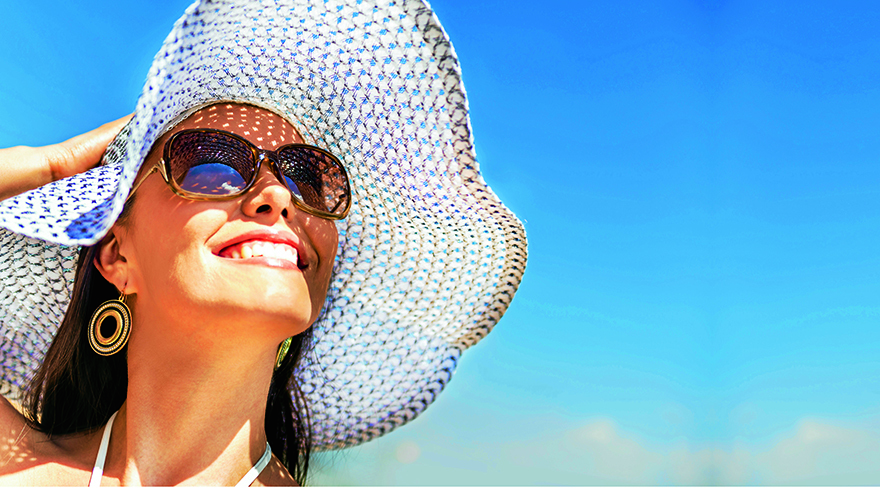 In anticipation of Sun Awareness Week (May 8 – 14) and the great weather we've been having, we asked LloydsPharmacy to help us with our sun care knowledge.
Although we should be using sunscreen year-round, with bare legs out and the temperature rising, our risk of being exposed to the sun's rays increases, so what better time to swat up?
What is the difference between UV-A, UV-B and Infrared-A?
UV-A are long-wave rays which are responsible for ageing and wrinkling as they cause damage deep in the skin. UV-A protection is rated in stars, with 5* being the highest.
UV-B are short- wave rays which are responsible for burning and tanning on the surface of the skin. SPF is what protects against UV-B levels and the healthy range for SPF is SPF15 to SPF50+, depending on skin type. LloydsPharmacy have not sold sun protection with an SPF lower than 15 since 2003.
Infrared-A rays penetrate deeper into the skin causing both short and long-term skin damage.
Quiz the expert with LloydsPharmacy Pharmacist, Anshu Bhimbat
Q: Why doesn't lying under a sun umbrella protect your skin?
A: Although being under a sun umbrella is better for your skin than being directly in the sun, it won't completely protect you from damaging UV rays. Whilst spending time in the shade will keep you out of reach of UV-A rays, UV-B rays can reach the skin indirectly so you may still be at risk. To avoid UV-B rays, you need to find a shaded area where you are unable to see the sky so none of these harmful rays can penetrate, or opt for sun care with UV-B protection.
Q: How much sun cream should I apply?
A: If you don't use enough sun lotion you can be at risk of burning, but equally, applying the sunscreen to the same area twice won't double the protection. Make sure you use an amount equivalent to the size of a golf ball (or six teaspoons) to cover your entire body. A 200ml bottle has enough for around six adult applications so try and use accordingly.
Q: Which sun protection is right for me?
A: With so many products on the shelf, picking the right one can feel a bit overwhelming. We all know about the potential damage that can be caused by not protecting your skin adequately, but different skin types have different needs. LloydsPharmacy is here to help you pick the right sun protection for your needs.
| | |
| --- | --- |
| Skin and Hair Type | SPF |
| Very pale skin, freckles, blue eyes and blonde or red hair | SPF 50+ |
| Fair skin, blonde or red hair and blue, green or hazel eyes | SPF 50 or SPF 30 |
| Fair to medium skin and skin that tans quite well but sometimes burns | SPF 30 |
| Olive or Mediterranean skin, brown or dark brown hair and brown eyes | SPF 30 or minimum SPF 15 |
| Naturally brown skin, Brown or dark brown hair and brown eyes | SPF 15 |
| Very dark skin, black hair, dark brown eyes | SPF 15 |
Anshu's top tips for safe sun protection:
If you have a history of sun damage or skin cancer, always wear the highest sun protection factor and seek shade where possible.
Apply half an hour before going outside, and again shortly after to ensure the sunscreen is fully absorbed.
Use an amount equivalent to the size of a golf ball or 6 teaspoons to cover your entire body.
Reapply sun cream a minimum of every 2 hours.
Dehydrated skin is more prone to sun damage, so drink plenty of water.
Water-resistant sunscreens are not friction-resistant, so reapply after towel drying or sweating.
Solero SPF 15 and SPF 30 sun lotion or spray SPF 15, SPF 30 and SPF 50+ (£7 for 200ml, LloydsPharmacy)
This formula provides the skin with triple defence protection against UV-A, UV-B and Infrared-A rays. The SPF levels of 30 and 50 provide the skin with a high level of protection against the sun's UV-B rays. It comes in both lotion and spray form and is water resistant, making it perfect for holidays. The products have been dermatologically tested and approved.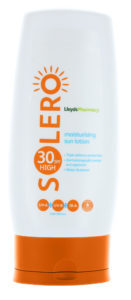 Ultra-Sensitive SPF30 and SPF50+ lotion for adults (£7 for 200ml, LloydsPharmacy)
This gentle formula is perfect for those with sensitive skin, including those with eczema, and moisturises skin to leave it hydrated, soft and supple. The lotion protects skin from the sun's harmful UV-A and UV-B rays and lasting sun damage. Available in both SPF30 and SPF50+, the Ultra-Sensitive sun lotion is water resistant and dermatologically tested and approved.