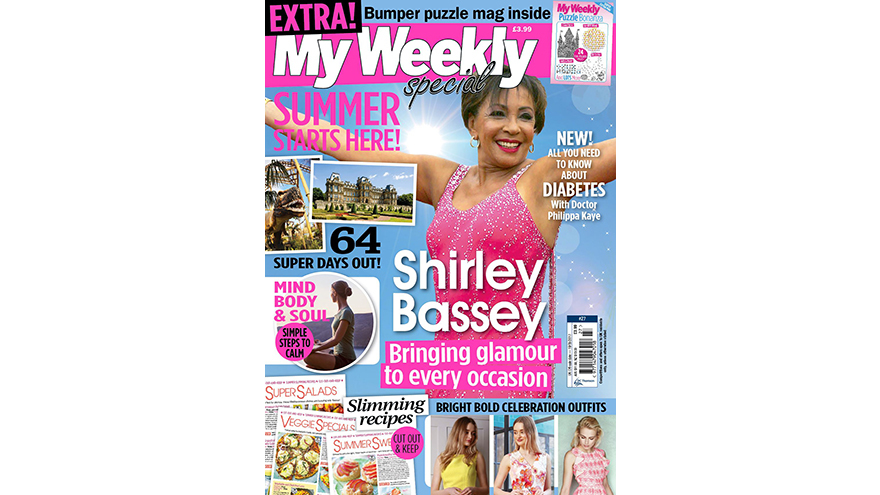 On sale now, only £3.99! Available from supermarkets, newsagents and by subscription.
Isn't it very exciting when everything is brighter and sunnier and we can get ready to enjoy summer days! We've got so much inside this special so you can plan, prepare and then enjoy an absolutely fabulous summer. Days out and holiday destinations – we've been checking them out and have a great selection from all parts of the UK. How to afford your holiday, and all the fun and day trips? Our money expert Sue Hayward has lots of great ideas. How to make sure you will be looking your best? We've got great ideas for summer skin care and some super outfits – and pages and pages of easy slimming dishes that only take a moment to make.
Plus we have two new writers for you to meet this month – Dr Philippa Kaye writing about diabetes – lots of sensible advice – and some lovely words from our new columnist, Helen Mark, from across the Irish Sea. And now we are all living on a higher plane (well, some of us are!) we have interesting and magical insights in our Mind, Body and Spirit feature.
And if we want to be inspired by the antics and activities of our best-loved celebrities, whatever the weather, just take a look at Dame Shirley's sparkly wellies. I'd like some of those!
Enjoy!
Maggie Swinburne
Our New Columnist
In this month's Special, our new columnist, Helen Mark meets Astrid The Carpenter!
Her inspirational joinery courses for women can be found Lower Pinmoor Farm, Moretonhampstead, Devon TQ13 8QA. Contact her at touchwoodsouthwest@gmail.com.