Roll Up, Roll Up for Circus Mania from Douglas McPherson!
---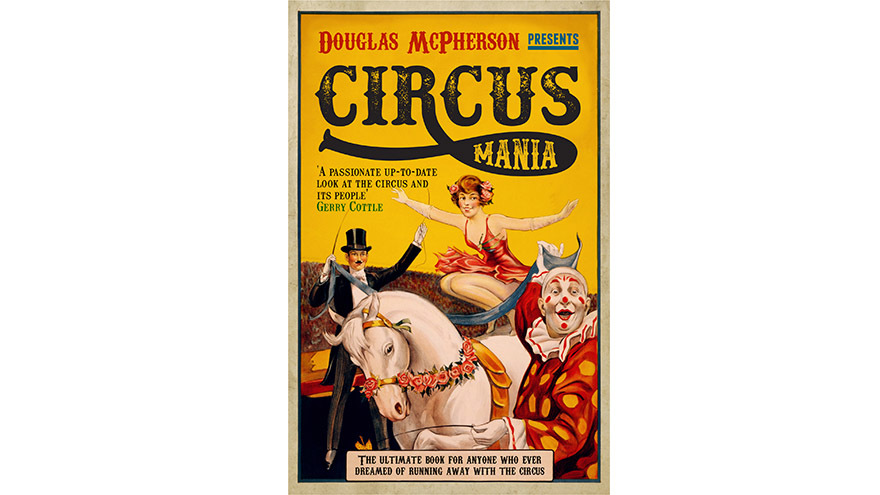 Take a ringside seat for some circus inside info!
Have you ever dreamed of running away with the circus? Writer Douglas McPherson has interviewed plenty of people who did just that, in his book Circus Mania (published by Peter Owen and available from all good bookshops, priced £14.99).  Among them is Hannibal Helmurto, a former tax inspector who spent years teaching himself to swallow swords before joining Britain's Got Talent finalists the Circus of Horrors. Then there was Gareth 'Bippo' Ellis who loved the circus so much as a nine-year-old, that he persuaded his parents to give up their jobs and join Zippos circus with him!
They're all in a book that takes us on a colourful journey through Britain's big tops, both ringside and backstage.
Now Douglas explains  just what drew him into the world of the big top!
Douglas, how did you become fascinated with the circus?
Like a lot of people, I hadn't been to a circus since I was a kid, so when The Stage newspaper asked me to review the 100th anniversary show at Britain's oldest circus building, the Great Yarmouth Hippodrome, I really didn't know what to expect. I certainly wasn't expecting such a fast-moving spectacular of thrills, laughs, music, dancing and even synchronised swimming! What moved me most, though, was meeting acrobat Eva Garcia. Just a week after we spoke, she fell and died during her act. I was shocked, and it made me want to find out why these daredevils take such risks for our entertainment.
What is your favourite circus?
I love Circus Mondao, which is like taking a trip into the past, with its spotted horses trotting through the sawdust. But my absolute favourite is Cirque du Hilarious, a completely modern clown show by the father and son team of Clive Webb and Danny Adams. They do such a fast-moving mixture of visual slapstick humour and razor-sharp one-line gags that it's like watching a live action cartoon. They're so relentlessly funny that I came out literally aching from laughing so much.
What is your favourite anecdote from the Circus Mania?
I went to a rehearsal of the circus-on-ice show Cirque de Glace and a TV news presenter volunteered to go up on a rope called a corde lisse. They winched her up to about 15ft and swung her around and around so fast that she was just a blur. It went on for ages and when she came down she could hardly stand. She said to me, "I thought they were just going to lift me up gently, like a fairy in a pantomime." Needless to say, I didn't volunteer to have a go myself!
How do you see the future of circuses?
Next year will be the 250th anniversary of the very first circus, which was started in London by Philip Astley. In those two and a half centuries the circus has changed a lot, but in other ways it's stayed exactly the same. We still go to see people doing extraordinary things that take years of dedication to perfect, and I don't think audiences will ever tire of that. From traditional family shows like the Chinese State Circus to edgier things like the Circus of Horrors, the big top has something for everyone, and I can imagine the circus being around for another 250 years, easily.
How do you balance writing non-fiction with penning short stories under your alias, Julia Douglas?
Journalism gives me a lot of ideas for settings. For example, earlier this year I wrote a My Weekly serial called Queen of Memphis about an American rockabilly singer touring Britain in the 1970s. Although her story was completely made up, the idea and a lot of the background atmosphere came from interviewing a real life singer for a previous article. The best research is talking to people about their lives, and you get to meet a lot of interesting people writing non-fiction.
Douglas's stories and serials appear regularly in My Weekly. Let's hope we'll see a serial about a circus from Douglas  soon.
Meanwhile, treat yourself to a trip to the circus with Circus Mania at a special price for My Weekly readers.
You can buy the new edition for the special price of £9.99 with free (second class) p&p. Simply click on this link and enter the code CIRCUS999 at the checkout.