Jumping for June – Rebecca Adlington Breaks a World Record in Five Minutes!
---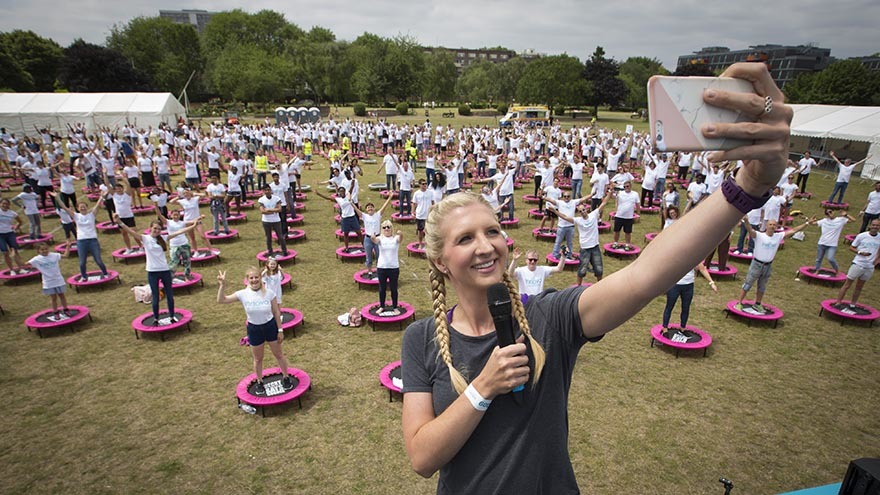 By Hannah McLaren
With the help of four-time Olympic medallist, Rebecca Adlington, a whopping 343 Londoners just became proud Guinness World Record breakers. On June 22 in Haggerston Park, Hackney, a large band of bouncy, bubbly folks set a new record for the most people on trampolines at any one time, in any one location.
Jumping For Joy
Participants sprang into action in honour of Women's Sport Week and World Continence Week (June 19-25) by bouncing for a solid five minutes on mini trampolines, both for fun and for a brilliant cause.
 Nearly 20% of Londoners say they neglect their inner core health, which needs to change," says Rebecca Adlington.
The massive event, hosted by INNOVO, in partnership with the World Federation of Incontinence Patients, aimed to encourage women to look alive and keep moving, regardless of life's little inconveniences.
Statistics show that one in three London ladies suffer from bladder weakness, which may lead to a dip in confidence when it comes to sweating it out. And when you're a busy bee, as many Londoners are, 30 minutes of rigorous exercise a day can sound like a lot. But when broken down into little five minute "wow" moments, it's plain to see how easy it is to factor a bit of locomotion into your daily routine – particularly if you feel held back for medical reasons.
Rebecca Adlington said she's passionate about encouraging women to look and feel good by living well and keeping active, which she admits does become harder to do with age.
 As a mum, I know all about the strain pregnancy and labour can put on your pelvic floor muscles, and the importance of maintaining or restoring these muscles to support your core strength fully, in order to keep active."
INNOVO enables women to overcome both the physical and emotional effects of bladder weakness, which Rebecca avidly promotes. "INNOVO is an easy, safe and non-invasive system to restore these muscles effectively in the comfort of your own home, so that you can be confident to get out there and create your own wow moments every day, whether it's bouncing on a trampoline or just dancing around the kitchen at home."
Wellbeing is Empowering
As obsessed as we are with our looks, it's empowering to see the fitness focus shift from vanity to wellbeing. Recent research shows that 59% of Londoners say feeling good on the inside is key to feeling good on the outside, so we should all be jumping for joy, regardless of World Records.