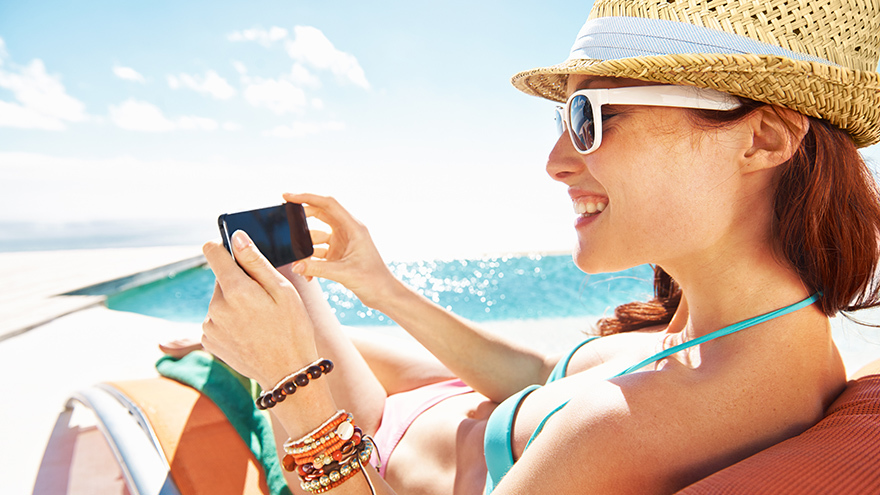 By Hannah McLaren
In an era of face-tuning and filters, the art of good lighting can be easily overlooked when striving to take the perfect selfie.
Lightbulbs retailer, Lightbulbs Direct, has teamed up with a number of experts to reveal the tricks of the trade and to look behind the scenes at how professionals use lighting to their advantage.
You don't need a fancy camera or top-notch picture editing software this summer for all your beautiful holiday snaps. With just your camera phone and the right angle, your selfies can look professional.
Less is more
When it comes to perfectly lighting your pics, actually take a minute to consider shadows. There are some areas of your face where a bit of soft shade could be flattering.
 My number one tip would be to think about the darkness as much as the light"
Bruno Poet, lighting designer, says: "My number one tip would be to think about the darkness as much as the light. Lighting designers control both, so deciding what should not be lit is as important as deciding what should be lit. If something doesn't look good – fix it by turning some lights off, not by adding more and more."
Play about with angles and brightness of light – sometimes dimming the light is all you need to do to reduce harshness and exposure.
Always make sure your subject is surrounded by light. One light source, from one angle can enhance areas you might not want to draw attention to, while swarming gentle features in darkness.
A bit of "light" make-up
Like any good contour, you need to balance all the light and shade that catches the face.
The correct lighting will diminish blemishes and unwanted shadows on the face and, according to make-up artist, Jessica Loach, can "make or break a make-up look."
She says: "As a make-up artist, working and photographing in cool toned light is my preference as it mimics natural lighting the most and gives a true representation of the colours used.
 Make sure the face is lit from both sides"
"In terms of make-up, I would make sure the face is lit from both sides to ensure there is no shadow."
Warm light will give your photos a softer, more atmospheric appearance, and cool white light will give your photo a more exposed look but can sometimes be flattering.
Catch all those colours
Poor lighting can make photos look dull, lifeless and flat but getting it right can make the colours in your photo pop.
Kirsty, blogger and influencer at Fashion for Lunch says: "Lighting is insanely important to my images. The right lighting can give an image a beautiful depth of field and will make everything look exciting and engaging.
"If you are shooting outside on a bright day, don't shoot directly into the sun, you won't be able to see more than an outline of your model. Instead, move around to get the best angles and shadows for your subject.
"It can be a good idea to avoid the midday sun and instead shoot around 4-6pm when the light is softening too."
Extra tips for the perfect selfie