Two Nights by Kathy Reichs – win a copy of this and two more thrillers
---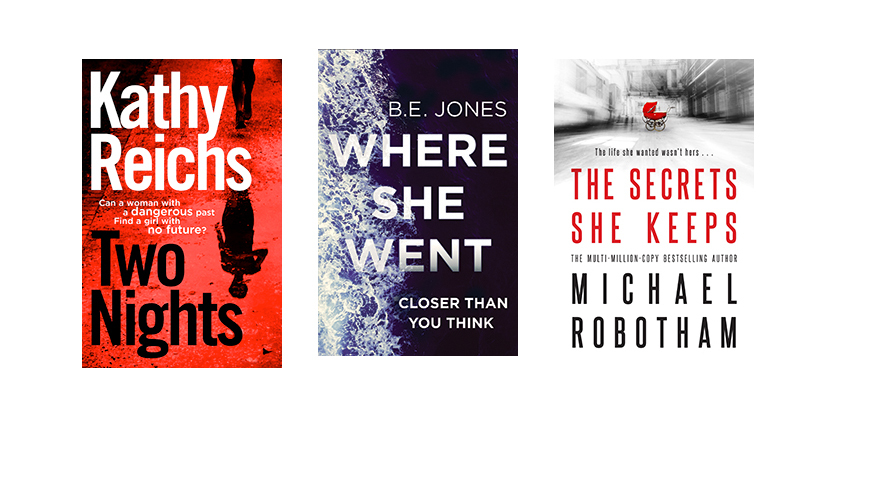 Fabulous Thrilling Reading For Summer!
Reviews and Giveaway
by Karen Byrom
We've chosen three fantastic psychological thriller noirs to keep you glued to your sun loungers. And you can win them all!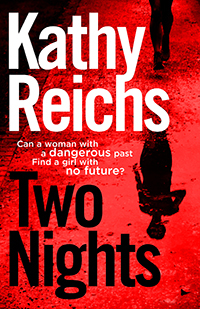 Two Nights by Kathy Reichs (William Heinemann HB £20)
tough on the exterior, vulnerable inside
Kathy Reichs is the ultimate crime writer! Tight plots, thrilling suspense scenes and convincing characters make her books the ultimate gripping read, and Two Nights does not disappoint.
For the first time we meet Sunday "Sunnie" Night, a reclusive ex-policewoman who is persuaded out of retirement to investigate the disappearance of wealthy Opaline Drucker's granddaughter Stella Bright.
Stella's mother and brother were killed in a terrorist attack on American soil, but there has been no sign of Stella since.
At first Sunnie is reluctant to take the case but Stella's vulnerability, and that of the old lady, touches her and she sets out to discover the truth in a journey that takes her across the US and into the realms of a religious cult determined to wreak havoc on all who cross their path.
Is Stella alive or dead? And why does the thought that she may be in the throes of a cult disturb Sunnie so much? All will be revealed, after a fast-paced, action-ridden read that will take you galloping through the chapters like the racehorses on the course where the final denouement takes place.
Sunnie is a fantastic character – tough on the exterior, vulnerable inside. Let's hope Kathy Reichs plans more books like Two Nights around her.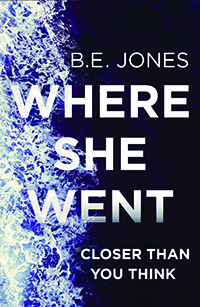 Where She Went by B.E. Jones (Constable PB, £7.99, out July 27)
what happens when you wake up dead?
Oh my! TV journalist Melanie Blake comes to one morning to find herself in strange bed beside a man she doesn't know from Adam. When he and his wife begin having sex with her still in the room, it doesn't take her long to realises that she's woken up dead!
But who is the man, and why is she trapped in this house where little love is lost between Peter and his wife Eve?
It soon becomes clear to Melanie that Peter is a controlling, manipulative bully. And as she gradually pieces together her memories of the night he killed her, she realises she must bring him to justice, not just for her own sake, but for Eve and her little son, Adam.
Melanie attends her own funeral. She accompanies Peter to work and Eve to her limited outings to shops and school plays. And all the while she is finding ways to influence them and manipulate them into revealing the truth.
But when the truth finally comes out, where will that leave Melanie? Stuck in limbo or ready to move on? And reflecting on the life she's led, that's as likely to be downwards as upwards!
What a fantastic read! An unexpected joy of a plot, characters who are instantly recognisable as love or hate figures, yet develop all the time so that your opinion has to change, and you even find yourself sympathising with Peter.
But of course it's Melanie you're rooting for! The hard-nosed dead journalist isn't quite as tough as she makes out, but you know she won't rest until justice is done.
Well done B.E. Jones, and more soon, please.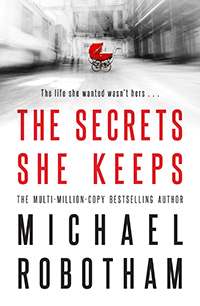 The Secrets She Keeps by Michael Robotham (Sphere HB, £14.99)
satisfying plot twists and turns
Agatha and Meghan are strangers with one thing in common – they're both pregnant. But their lives diverge from there. Abandoned by her sailor boyfriend, Agatha is going to be a single mum. Meghan, though, is married to sports journalist Jack, has two more children and lives the yummy mummy lifestyle. Yet she, too, is unhappy. Jack is up to something and she doesn't know what.
Agatha, though, can see only the bright side of Meghan's life. She finds an excuse to befriend her, by "finding" her son when he "gets lost" in the supermarket. But it soon becomes apparent she wants more than Meghan's friendship. She wants her life, and she will stop at nothing to get it.
Unaware of the danger posed to her and her unborn baby, Meghan continues on her way. She tries to build bridges with Jack while keeping a dark secret of her own.
Then Agatha makes her move and Meghan's world collapses.
Poor Agatha! This is a woman with so many issues you can't help but feel sorry for her. She keeps her secrets close but her pain is apparent from the outset. She draws the reader in with her inner narrative – even though you know it's not fully to be trusted.
The plot twists and turns quickly and gratifyingly – there's no time to draw breath as Agatha's machinations march on to a heart-stopping conclusion.
Another one that's just too hard to put down!
Like a chance to win all three novels? Simply send your details on an email marked THREE GREAT THRILLERS to mwcomp@dcthomson.co.uk.  We'll pick the winners on Friday, July 21st at 10 am. Good luck!
More book reviews