Mindy Mejia | The Last Act Of Hattie Hoffman | A Gripping Read
---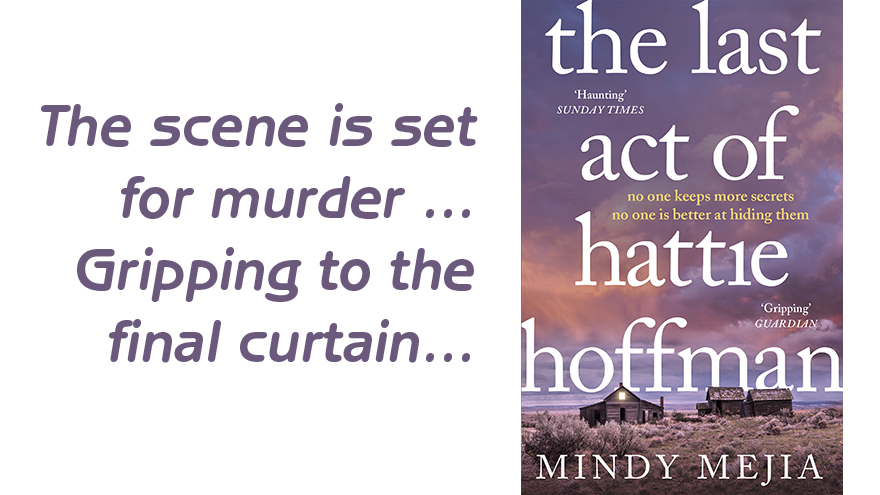 Published by Quercus PB, £7.99
Reviewed by Karen Byrom
Eighteen-year-old Hattie Hoffman lies dead in a boat shed, her face horribly mutilated, her legs dangling in the water,  each swollen to the size of her waist.
How has the brightest star in small town Pine Valley come to such a gruesome end? It's something Sheriff Del Goodman is determined to find out. Hattie was like a daughter to him.
But how well did he know Hattie? How well did her family know her?
Hattie was a brilliant actress, a girl of many parts. She acted her way through life, presenting a different face to different people.
Her family, her boyfriend, her classmates, her teachers – none knew the real Hattie.
Hattie is never just the victim
But we, the readers, are privy to her innermost thoughts, as she has left behind a video diary. We're one step ahead of the sheriff as we learn of Hattie's hopes and dreams. She is never "just" the victim – she's an amazing girl with the hopes, dreams, determination and strength to break away from her background. Which makes her murder all the more heartbreaking.
The final voice in this three-way narrative is Peter Lund's, Hattie's English teacher. He's hiding something vital to the investigation. But is he the murderer? Or is it Hattie's boyfriend, Tommy? Or a lone opportunist, passing through town? Could it be Del himself?
The perfect prose is a joy to read
The three unreliable narrators make The Last Act Of Hattie Hoffman a tense and provocative read.  Mindy Mejia's perfect prose is a joy to read. Her descriptive writing takes you straight into the heart of small-town mid-west America and her gift for characterisation ensures you will weep, not just for Hattie, but for Peter, Tommy and everyone affected by her loss.
When The Last Act Of Hattie Hoffman is over and the curtain comes down, you'll linger in the foyer, hoping for a final glimpse of the players in the drama.
But this is "real life", sadly. Hattie will never spring back to life, but her memory will live on, and her star continue to shine bright in the readers' mind and heart.
Read more recommendations for great books