Get Dancing … a lovely quick read from our archives
---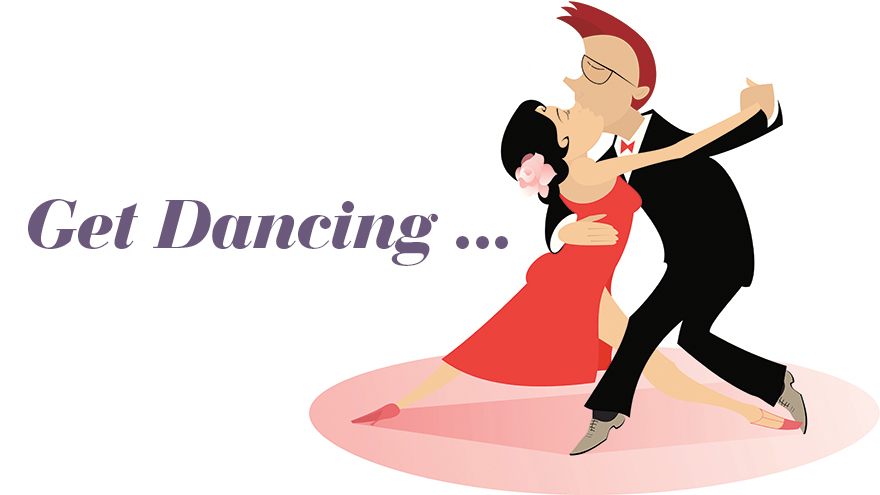 by Lydia Jones
Was Salsa the answer to Jan's empty-nest problem?
"You need to get out more."
My friend Clara slurps cappuccino, leaving pink lipstick traces on her cup.
"Fresh air – exercise…" Her eyes are alight with mischief. "You could come to my Salsa class."
I practically choke on my coffee.
"I don't think that's exactly me."
"Why not? What you need is variety – more spice in your life."
"What I need is for my horrible son to text me now and again."
"The instructor, Alfonso is an inspiration." She widens eyes; I swat her with a paper napkin.
"Anyway, some couples attend together. You could bring Derek."
"You need to keep busy, Jan – stop waiting around for Kieran to come home for the weekend."
"I'm not waiting. I am busy."
"Not work. I mean , what are you doing this weekend?"
"Nothing."
"I rest my case."
I check my phone: no messages
On my way out of the coffee shop I can't help myself: I check my phone. No messages.
My twenty year old son has left home to work in Scotland and I must admit to feeling the sudden loss of sports kit laundering and appreciation of my steak and kidney pie. I've taken to cooking his favourite dishes and freezing them just in case: is that pathetic?
"How was Clara?"
My husband eyes the giant casserole.
"Oh, you know…" I give a little breathless laugh.
"What's her latest project then?"
"I rather think it might be me."
"Humm?"
Derek is scanning TV channels. I stare pointedly at the remote; he replaces it.
"A Salsa class." I grin. "Clara suggested I join. Want to come?"
Derek flashes his startled rabbit face.
"Only joking. What are your weekend plans, anyway?"
"Golf tournament, why?"
"Oh, nothing."
The sun is still out when I return from work next day. Lengthening daylight hours beckon and I decide to give Clara's fresh air and exercise a shot.
A canopy of fresh green ruffles overhead as I walk towards the village. Birdsong sounds so cheerful I feel my mouth smiling. Maybe there is something in this outdoors lark after all. Perhaps I could join a rambling club?
As I approach the green the white-clad figures of the cricket team stop me in my tracks. One of the bowlers dives, sliding green patches onto his trousers: a tricky laundry problem. I wonder if Kieran will be playing cricket this season?
I check my phone: no messages.
Shopping was Clara's next suggestion. While Derek plays his golf match I do give it a go but my distinctly less than svelte appearance in dress shop mirrors only convinces me dieting is overdue.
Forlornly I check: no messages.
A precious text message beeps
"So glad you're here," Clara trills as I line up with all the other "Salsarettes" as Alfonso insists on calling us.
"Roll those hips, laydees!" he roars, flinging orange-tanned arms around the nearest pupil to demonstrate.
"Did he say hips?" I accidently whack Clara with my flailing arm. "I'm not sure I can find mine."
It's when Alfonso minces forwards, still hip rotating, that it happens.
Toe-balanced; wiggling my best walk I feel something snap in my back.
"A week off work," I moan to Clara when she drops round with chocolate and a pile of magazines. "Even more time on my hands."
"Have you told Kieran?"
"No, I don't want him pity texting."
When she leaves I turn listlessly to the magazines, flicking through advice on toddler taming and career-climbing. Then my attention is well and truly caught.
I've recovered by the time a precious text message beeps on my phone.
Coming down to London at weekend. Thought I'd drop in Friday night on way.
I can't help but smile at the irony.
Sorry – Dad and I away on spa/golfing break. Back Sunday.
We always said we'd travel more when Kieran left home, pamper ourselves a bit. It was a travel article in one of Clara's magazines that spurred me to make this start – the first of many weekends for Derek and I to enjoy.
My phone beeps again. Sunday dinner?
I picture Kieran's puppy-dog face.
I'll defrost a steak and kidney pie.
Variety might be the spice of life, but some things never change.
Read more short stories every week in My Weekly
More free online stories