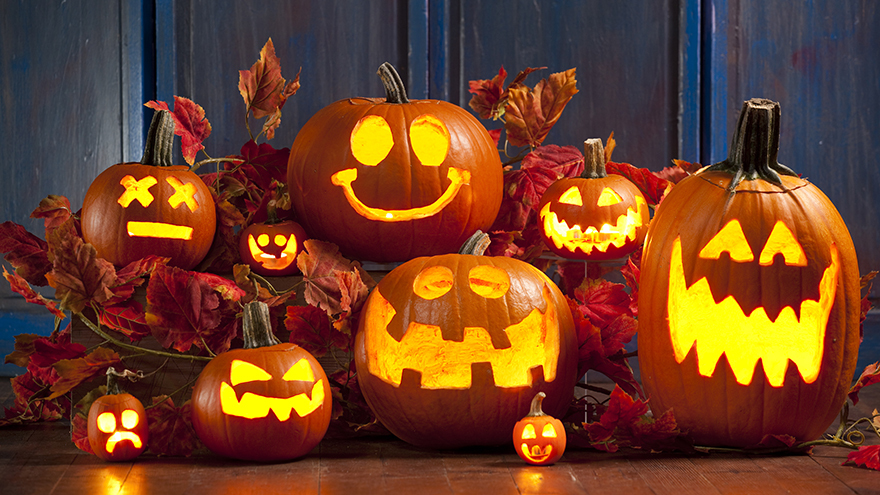 by Dr Seth Rankin, founder of London Doctors Clinic
Hallowe'en is synonymous with witches, ghosts and all things spooky. But did you know it may also be the world's healthiest holiday – at least as far as the pumpkin is concerned.
According to legend (and Google) the tradition of carving faces into vegetables goes back to Celtic times and the pumpkin itself has been a symbol of Hallowe'en since Irish immigrants arrived in America. But while all this is fascinating stuff, it doesn't shed much light on the health benefits of pumpkins and why, in fact, you should be eating them long after you've taken down the fake cobwebs and removed your warts (fake ones).
So why are pumpkins so good for you? Here are six reasons: 
1 Vitamin A Means Sharper Vision
Just 100g of pumpkin provides you with an astonishing 170% of your daily vitamin A requirement. Beta carotene, which is converted into vitamin A by the body, gives pumpkins their bright orange colouring. It is essential to keep your eyes healthy and helps the retina absorb light, particularly in dark conditions. This will be very handy as we enter into those long winter nights. Pumpkin also has long term benefits for the eyes, as lutein and zeaxanthin are two antioxidants in pumpkins. These antioxidants help prevent cataracts, and possibly slow macular degeneration.
2  Tryptophan Boosts Your Mood
Not only are pumpkin seeds good for your heart, they can also boost your mood. They are rich in tryptophan, an amino acid that is important in creating the mood-boosting chemical serotonin. Serotonin is also important in the regulation of sleep, so pumpkins may aid a good night's rest. Load up on pumpkin seeds and you may find yourself whistling your way into work on a Monday morning.
3 Phytosterols For A Healthy Heart
Heart health is crucial to everyone at any age. Pumpkin seeds contain phytosterols which are thought to reduce bad cholesterol (LDL) in your body, and can benefit you long term if incorporated into a healthy and low-fat diet.
4 Good For Your Immune System
The season is upon us where we cannot escape the coughing and the sneezing. Whether it be the woman in accounts currently snowed under her own snotty tissues, or the man spluttering all over the entire train carriage, we cannot escape exposure to germs. As the colder weather approaches make sure you eat enough pumpkin to ward off colds or viruses. The big dose of vitamin A provided, as well as the vitamin C, will help your immune system to fight infections.
5 Fibre Means Weight Loss
Pumpkins have 0.5g of fibre per 100g. Fibre is essential for a healthy digestive system and ensuring regular bowel movements. It has the added benefit of making you feel fuller for longer, so you are less tempted to snack between meals.
6 Look Younger
Yes, you did read that right. Pumpkin can make you look younger. Beta-carotene is an antioxidant, so as well as helping your eyes, it protects your skin from the sun's harmful UV rays. If you weren't swayed before,  surely this one may tempt you into throwing pumpkin into your trolley?
But before you start loading up on pumpkin pies and drowning yourself in pumpkin flavoured coffees, be warned that just because the word "pumpkin" is affixed to something, it doesn't necessarily mean it's healthy. Roasted pumpkin, pumpkin soup and pumpkin seeds are all much healthier ways to enjoy the vegetable (or fruit depending on your perspective) and pumpkin smoothies are great, too.
Have a happy and healthy Hallowe'en!