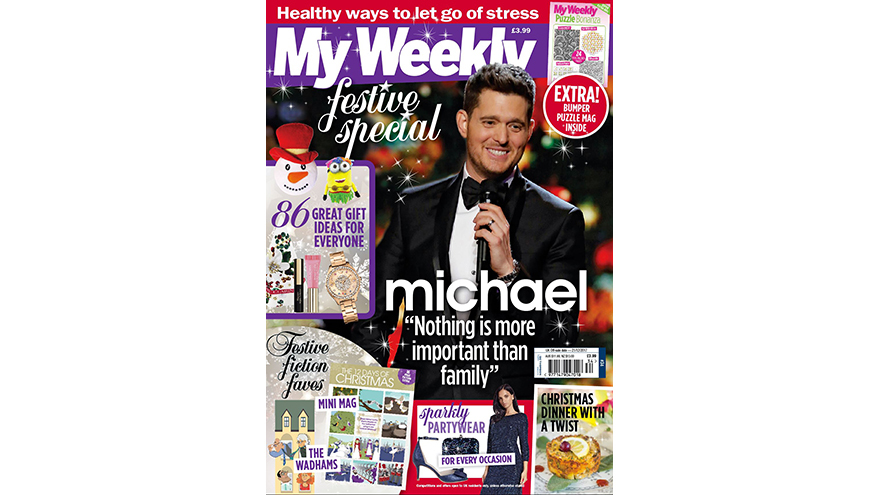 There is such a nice reading treat for you this month! Karen our Fiction Editor contacted some of our favourite writers, and asked them to write a special story round the theme of The 12 Days of Christmas. They all obliged, and the result is a wonderful collection of quirky, touching, emotional and humorous writing all packaged up for you, dear reader.
If you feel that a few treats would be just the thing to relax, restore and revive you for the forthcoming festive season, then turn to Mind Body and Spirit on page 52, and the special Advent Calendar we have devised for a host of uplifting inspirations.
Don't you love a good news story? That's why we can all enjoy reading about favourite crooner, Michael Bublé. We are so glad it all turned out well for that showbiz family. And don't miss Little Stars on page 50 for more uplifting, touching stories.
Plus, for total deliciousness, turn to the cookery pages. You will want to cook every single dish, either for Christmas Day for your vegetarian family and friends, or for a delicious supper treat for yourself. That's what I'm having tonight!
Maggie Swinburne, Editor
Our cover star Michael Bublé reveals his inspiration…
 I knew I wanted to be a singer like Bing Crosby from an early age…"
Read the full interview on page 4 of the Special.
Click here to find your nearest stockist or click here for a great subscription deal.