I Don't Do Dark | A Tender Coffee Break Story from our Archives
---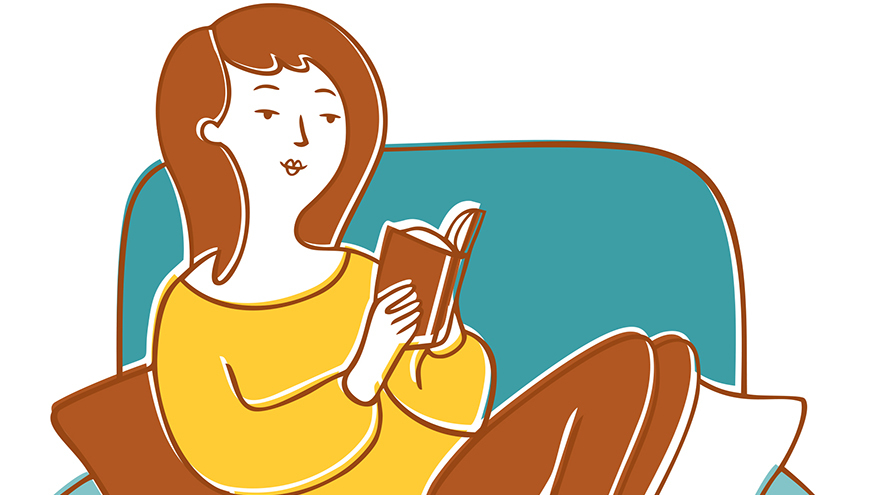 I Don't Do Dark
by Jean Cullop
Music, food, people, even books can change our mood – we all do what we have to do to get through the hard times
My friends have been raving about the book, how it's a page turner with a stomach churning twist.
I thought a thriller would help take my mind off things. After all, it's what I do for a living. Sadie Telling, successful writer of crime fiction, that's me.
So why can't I read Journey into Darkness? It's skilfully written, the characters are believable and I can live with the liberal sprinkling of explicit sex and four letter words.
However, it's dark and right now I don't do dark. Wearily I snuggle into the sofa and close my eyes.
I'm lacking Christmas spirit
With a gust of cold December air, my daughter Nessa bounces through the door, her auburn hair flying. Once I had auburn hair.
"Hi Mum, it's only me!"
She flicks a switch and lights up the gentle twilight room. I had been enjoying the soft shadows. The lamp emphasised my lack of Christmas spirit.
"Mum, you're still in your jim-jams!"
"Just a bad day love…"
I don't want to burden my daughter but for now our roles are reversed. She calls in every day before collecting her own children from school.
I hoist myself into a sitting position. It looks more positive.
"The first day after treatment is always bad," I remind her. "It'll soon be Christmas and I'll feel better by then. The oncologist is very optimistic."
"That's so cool, Mum. Hey – what are Gran's books doing on your coffee table?" She giggles. "Don't tell me you've starting reading chick-lit?"
I need happy endings
I blush guiltily. That's exactly what I have been doing – and I'm actually rather enjoying them.
"Gran lent them to me."
"But you write juicy thrillers!"
"Yes, I know but…" How could I explain that right now I needed happy endings, not bodies under the Christmas tree? They say that chemo changes your taste buds but it seems to have changed my literary taste as well.
"I really could do with a cuppa," I suggest lamely.
Chemo always makes me thirsty
Nessa's speedy. She knows how to use her time.
I sip the tea.
"You make a good cuppa, Nessa. I so need this. Chemo always makes me thirsty. How are my grandchildren?"
"All good. Leah has made you a Christmas card. Actually, Mum, it's not very Christmassy in here. Why don't I put your tree up for you?"
"I'll see…"
Her eyes rest on the thriller.
"Journey into Darkness! Oh wow, I've been waiting to read this! Is it as good as they all say it is?"
"You can borrow it if you like."
"Thanks Mum… Look, can I get you anything to eat? You have to keep your strength up, you know."
I shake my head. "I had some soup. Tomorrow I'll feel more like solid food."
This is hard for both of us
After four months of treatment my daughter has learnt that chemo drags me down then builds me up again ready for the next dose. It's hard for both of us in different ways.
Uncharacteristically, she kneels by my side. "You've not had it easy Mum. Bringing me up on your own and then losing our lovely house and moving into this flat – "
"I like this flat!" I interrupt.
"Then this… Life's not fair, is it?"
I give her a hug. It's a bony hug but it will plump out given time.
"Things are looking good," I remind her. "My blood test results are promising. We will get through this. We'll have a lovely Christmas. You can cook lunch and we'll watch the Queen's speech and play games with the children."
Christmas is waiting for me
I needed the world to be good.
I needed books that showed me the good side of life. I needed Christmas with its timeless message of hope. Tomorrow I would open my cards and stand them up and grab whatever festive spirit I could find among them.
"Nessa, why don't you come earlier tomorrow and we'll get the tree out from under the stairs?"
She grins. "Bags I put the star on the top, then!"
"You always do!" I hold the book out to her. "And Nessa, enjoy the book but… let me have it back when you've finished with it."
I will read it when I have the all-clear – which I am sure will come. Then I'll start writing again… when joy has driven every last shadow from the room.
Meanwhile Christmas is waiting for me and I will read my mother's books if they help me through, because for a little while I don't do dark.
More free online stories