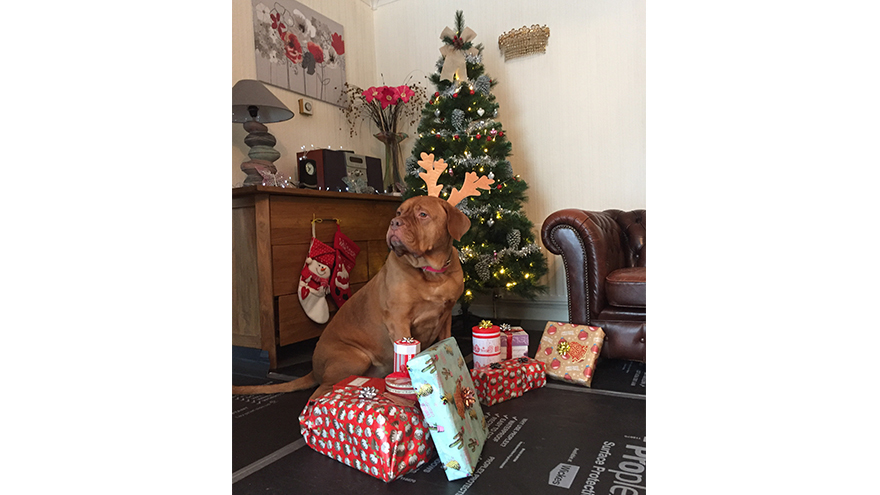 Whether they bark, meow or squawk, Brits are spending a whopping £750 million on their pets this Christmas. In a survey of 3,230 pet owners conducted by OnBuy.com,  87% said they will be buying their pet a Christmas present this year. Indeed, more than one quarter of respondents (27%) admitted to spending more on their furry friends than on their actual friends, with the majority (35%) saying they spend between £20 to £30 on their pets.
Online marketplace OnBuy.com has assessed the rising popularity of purchasing presents for our pets through their survey. The responses revealed that the average amount spent on our animal companions was £16, and with 47 million pets being bought gifts, Brits will be spending over £750 million, which is certainly not a sum to be sniffed at. Most of the cash goes on treats (35%), toys (34%) and clothes (17%).
5% of pet-loving participants even admitted to spending more on their pet than on their own father! 1% stated they spent more money on their animals than on their mother and over 1 in 10 (12%) spent decidedly less on a sibling than on a pampered pooch.
The Christmas experience doesn't end there for our four-legged friends, however. 83% stated they wrap up their pet's gifts, 34% provide their companion with a stocking and 7% even write a Christmas card! We don't forget our pets when it comes to food either – a massive 76% of animal-lovers state that their pet will be getting a Christmas dinner this year.
Although our spending is well-intended, 69% of pet owners admit that they went overboard last year on gifts for their furry companions.
Although most of us like to treat our pets on Christmas day, there are those who take it to the extreme and spoil their pooches rotten over the holidays.
Scott Bowman, 29, told us about his festive traditions with his dog, Buddy:
"Every year before Christmas I take my dog, Buddy, to our local pet shop so that he can pick out his first gift – which is normally always the same red chew toy."
But the Christmas treats don't end there for Scott's 11-year-old Staffordshire bull terrier.
"Buddy is a big fan of Christmas, and we make it special for him by showering him with gifts, toys and treats. He always gets his own stocking, filled with things to eat, and he gets a new Christmas outfit to wear for the day too. After our Christmas walk, he always gets a share of the turkey and roast potatoes for dinner. Our dog indulges as much as we do at Christmas, and we treat Buddy to his very own doggy beer and mince pie (which he loves). He even gets to pull crackers with us!"
Scott isn't alone in treating his dog to a Christmas dinner.
Diana Bissett, 60, ensures her Border Terrier, Archie, gets all the trimmings:
"Archie is all about the food, and he probably prefers the big Christmas dinner he gets than all his presents combined. We still love to treat him to a few gifts to open on Christmas day. He gets presents from both my daughters and even friends too! He always returns the Christmas spirit though, as I give family members presents 'from' the dog."
Archie's presents are kept under the tree alongside all the others for the family.
"It can be a nightmare sometimes leaving his gifts under the tree, as he can smell his treats through the wrapping paper and tries to get them before Christmas," Diana confesses.
This festive season, pet-owners are going on spending-sprees for their pets.
Victoria Argent's dog Bernie gets "around £50s worth of presents" she says.
And she is not alone, as OnBuy.com's survey revealed that 13% of the nation spends over £40 on their beloved pets for Christmas.
Victoria told us, "I love spoiling my dog at Christmas and seeing him rip open all his presents. He is a part of my family and I can tell he loves all the attention!"
French mastiff Lola is also among the 47 million spoilt pets in Britain. Her owner Naomi Andreou, told us that she buys "more presents for Lola than any other member of the family."