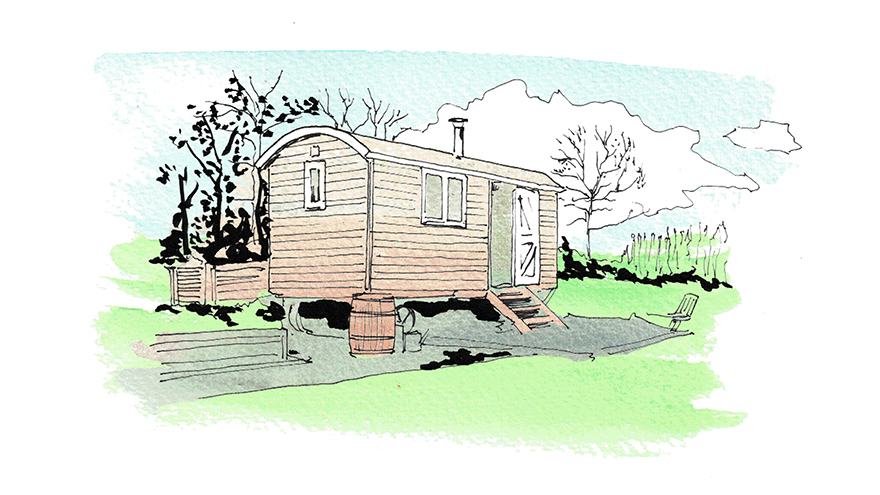 It's that time of year again when the whole of the UK starts to panic about their New Year's Eve plans, wanting to head into the new year in style.  With many flocking to the capital to stare in awe at the fireworks, drink prosecco and dance into 2018,  Wilderness Reserve offers an alternative.   Here, the luxury getaway brand gives us the lowdown on the most unusual rural retreats within UK to escape to this New Year.
Pennsylvania Castle, Dorset
If there is a larger group of you celebrating heading into the New Year, why not head to the grand Pennsylvania castle that can sleep up to 14 and choose between varying rooms each with stunning coastal views?The castle grounds and spectacular landscape make for some fantastic New Year's Day walks.
Sweeney's Bothy, Eigg
Keen on getting away from it all this New Year? Well, you can, by visiting the romantic and quirky holiday hideaways on the Isle of Eigg off the Scottish coast. Enjoy a cosy and quiet break with your partner or loved ones and relax and rejuvenate for the New Year. With rolling hills and craggy rocks to stare upon as you awake, this is the perfect getaway for a more intimate party.
Treowen, Monmouthshire
A magnificent holiday house which sleeps up to 35, this is the perfect place to celebrate the New Year in style. Located in the rural area of Monmouth, Wales, you have the option to hibernate in the well-equipped house and grounds or go out and explore the stunning Welsh countryside.
Hedsor House, Buckinghamshire
A simply divine location, perfect for a luxurious New Year's stay. A popular location for wedding venues, this house located in Buckinghamshire simply oozes elegance and would be ideal for couples wanting a truly exceptional and memorable getaway.
Spitbank Fort, Portsmouth
Fancy a luxury island retreat which is a little different to normal? Well, you're in luck as Spitbank Fort is an ideal stay for groups which sleeps over 18 people and offers fantastic 360 views over the Portsmouth coast. You can also take a historical tour around the property and grow your knowledge on everything from the lighthouse to the wine cave.
Cley Windmill, Holt Norfolk, England
Fancy staying in an idyllic windmill this New Year surrounded by reeds and wildlife? Then the Cley windmill in stunning Norfolk will be for you. This truly unique location dates back to the early 18th century and is a well-known landmark on the Norfolk coast. Share this experience with a loved one this New Year and make it a celebration to remember.
Owls Lookout at North Hill Farm, Hertfordshire
Do you want to escape the city and run away to the forest? Well, this New Year you can by Glamping at the Owl Lookout lodge on North Hill Farm in Herefordshire. A woodland getaway perfect for a family trip, the owl lookout boasts some superbly designed accommodation which will have all your guests in awe – and don't forget to do some owl spotting.
Shepherds View Huts, Somerset
Known as Somerset's best kept secret, Shepherds huts are perched high up on Mendip hills overlooking Glastonbury and they are simply a rural treat. Handcrafted and designed for luxury, these cosy huts are the perfect place to retreat to and bring in the New Year by the fire.
Low Parkamoor Cottage, Cumbria
An idyllic holiday cottage located in the Lake District, it's easy to see why this would be the perfect rural retreat this New Year. It's just the place to escape from the stresses of modern life as this cottage boasts stunning views of the Lake District landscape and offers some wonderful walks around the area.
Castlerose Boat Stay, Manchester
Why not take to the picturesque river this New Year and stay on the Castlerose house boat located in Greater Manchester? With all the amenities you need and accommodation for 5-7 people, this is a truly unique getaway for a family seeking an escape on the water for a few nights.