Here comes 2018, and time to take a fresh look at Who We Are. Let's take five seconds to think of all our good points… Right, now let's think about the things we want to change… Hmm, how did you do? Find out how to get that Brand New YOU!
But actually, before you get there, take a moment to read about our beloved Queen. Isn't she fab? We also reveal the secret of her everlasting youth.
Another way to stay young is to eat well, so whizz over to our great selection of Mediterranean dishes, proven to ensure better health!
Of course, travel is always good for body and soul, especially if embarking on a new skill at the same time, so we have lots of great learning holiday ideas both at home and abroad.
Were you David Cassidy's girl back in the day? We remember our teenage heartthrob – and Jackie magazine!
And please do drop me a line and tell me who the New You will be in 2018! I'd love to know!
Maggie Swinburne, Editor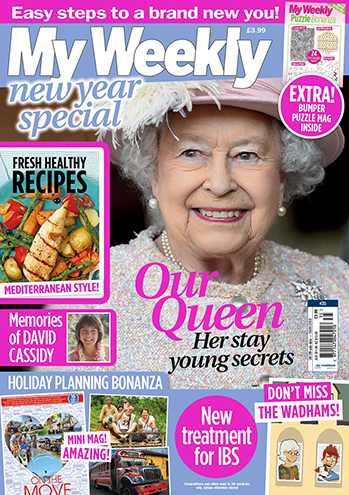 Don't miss the 16-page travel mini-mag included free in the Special…
 There are so many different and exciting way to travel around this amazing planet of ours, so take your pick from airships, paragliders, hanging trains, cliff railways, bullet trains, scooters, bikes, narrowboats, hovercraft, tall ships, ferries, barges and so much more! Our travel guide has the very best advice on things to do and places to visit…
Click here to find your nearest stockist or click here for a great subscription deal.