Baking Can Be Therapy, For Low Moods And Dementia
---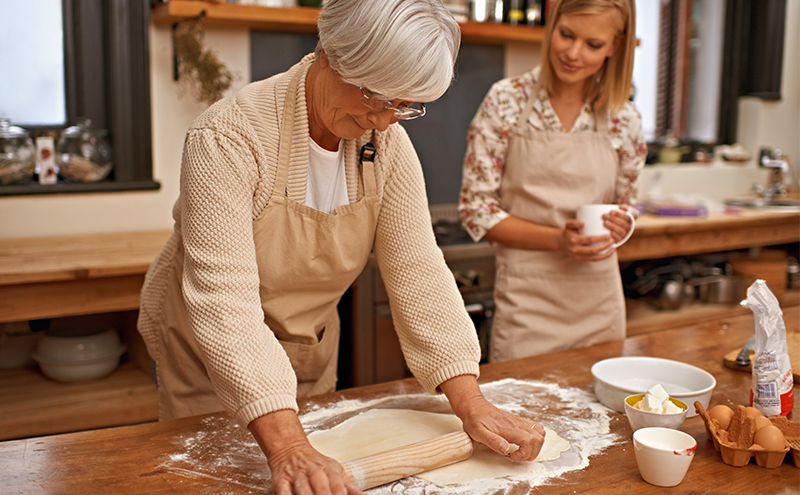 Baking can have powerful benefits. Picture: iStockphoto
Take two people and some delicious ingredients. Mix until well combined, and rest in a warm place until your spirits rise!
It's official – recent a survey from Dr Oetker proves that baking can cheer you up.
67% of Britain's amateur bakers agree the activity usually improves their mood.
61% said that sharing their baked goods with others makes them happy
42% said the act of sharing their creations with others was actually the best thing about baking.
All this shows that there is a certain magic in the alchemy of mixing flour, eggs and sugar that brings people together.
Moments of calm
But what if baking not only brought people together, but also brought them back to us? For one woman –Julie Jones, author of Soulful Baker – it became a form of therapy. Baking was the one thing that restored rare moments of calm in her mother's mind as she battled dementia.
Julie explains, "It just came to me one day, when Mum was in my care, to bake a cake – to try to ease her crippling anxiety and repetitive questioning. As soon as we started to bake, there was an amazing sense of calm that suddenly washed over her which was beautiful to see.
"I couldn't have anticipated it but the act of kneading, rolling, stirring, and sieving – it brought her back to me, a glimpse of recognition that I'll never forget.
"Even though we've sadly lost her further now, she still enjoys the benefits of my baking as I often take her favourite bakes with me when I visit.
"Baking has given me and my mum so many precious moments in life, I will never forget those days we spent baking together, both in childhood and throughout her illness.
"Baking is so therapeutic and, as I've seen, can bring you together and bring a sense of calm even in the most unlikely of circumstances!"
The Dr Oetker Bake Friends report found that baking is a force for good – 32% of people questioned say it helps relieve stress, with 58% stating they bake for their family and 49% for their other half.
Creativity and connection
Psychologist Dr Linda Papadopoulos believes that people who bake can experience both psychological and social benefits. "Baking is a unique activity in that it has the potential to combine both creative expression and social connection.
"The act of baking can have an  almost meditative effect allowing people to lose themselves in a creative activity that can be beneficial both as a solitary activity but can also be socially binding when engaged in with someone else.
"Indeed, it offers an end result that can further the feel-good factor. We often use food to connect and communicate our feelings, and the act of sharing something nourishing and comforting can positively impact on our sense of wellbeing and connection with those around us.
"Furthermore, since for many of us the first memory of cooking is often that of baking with a beloved parent or grandparent, this also adds to the feelings of nostalgia that we associate with this activity."
Like-minded community
Dr Oetker spokesperson Emma Haworth believes baking and baked goods can create powerful memories.
"Baking is creative, joyful, fun and rewarding and – most importantly – it brings people together and makes them happy. We have long believed that baking is good for the soul, and stories like Julie's show this on a truly amazing level.
"No matter your skill set, do more of what you love and head over to the social network for bakers, to get inspired by a community of like-minded bakers, benefit from expert tips and win prizes through challenges."
In 1893, German pharmacist Dr August Oetker introduced a convenient, superior quality baking powder in sachets containing exactly the right amount  to make the popular Gugelhupf cake (the equivalent of our Victoria sponge). Now a fourth generation of his family is at the heart of the International Dr Oetker Group.
Rhubarb and Raspberry Rainbow Meringue – a fun, simple Bake Friends recipe to make together