Alison Weir | The Haunted Queen | The Story of Jane Seymour
---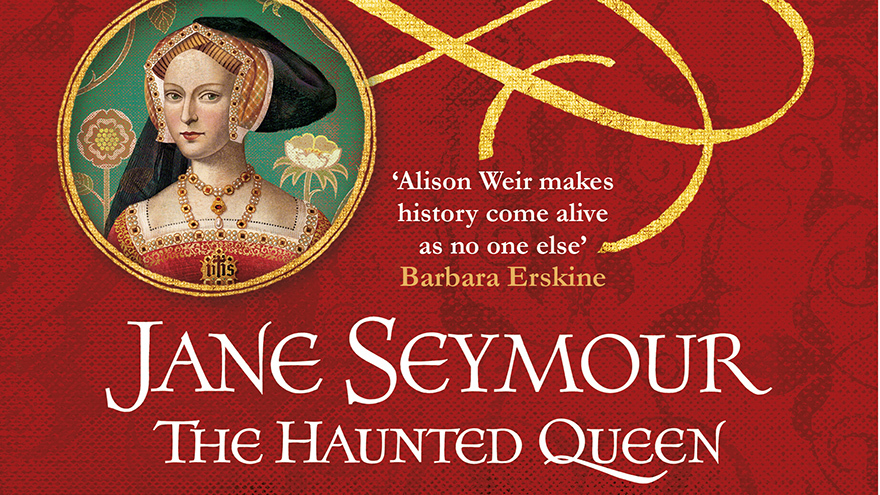 Reviewed by Karen Byrom
It's the year 1527 and 17-year-old Jane Seymour is off to the court of Henry VIII to take up service with Queen Katherine of Aragon, wife of the great Tudor monarch Henry VIII.
It's an exciting if daunting prospect for a shy girl brought up in the quiet confines of Wulfhall with her many brothers and sisters. But Jane soon settles in, finding friendship with the other maids. She also develops a deep and lasting affection for Queen Katherine.
But with Anne Boleyn's star in the ascendance, things are about to change.The  charms of the former Queen's maid lead Henry to divorce not only his wife, but the Pope. England is now a secular country, with the King at the head of its church, and a new Queen.
Jane catches the eye of the King!
Loyal to Katherine, Jane remains in her service until her family demand that first she return home, then go to serve Queen Anne.
There Jane catches the eye of the King!
Henry is already falling out of love with Anne, who has failed to bear him a son. Disillusioned by beauty and wit, he seeks solace with Jane, who is plain, quiet and kind. Too kind to betray her old mistress, whom Jane still regards as the true Queen.
Then Katherine dies and all bets are off.
Gradually, Jane succumbs to the King's charms, then finds herself caught up in a plot to discredit Queen Anne. Little does she guess that it will lead to the latter's death on Tower Hill and her own elevation to the throne.
There, Jane must not only keep Henry's attention but provide him with an heir to the throne. Once little Edward is born, it seems her position is secure…

Since discovering Jean Plaidy's historical novels at the age of thirteen, I've been enthralled by the stories of Henry VIII and his six wives, and have never felt there have been enough books devoted to Jane Seymour. She will crop up at the end of tales of Anne Boleyn, or at the beginning of stories of Anne of Cleves. But writers rarely take time to fully explore the life of the one Queen that Henry VIII never repudiated, and who lies beside him for eternity in Westminster Abbey.
As Alison Weir herself admits historical resources are scarce when it comes to Jane. So all credit to her for bringing Jane Seymour to life so wonderfully well. I've always thought Jane must have been more than a pale, mealy-mouthed maid, pushed forward by her ambitious brothers. You don't catch the eye of a king like Henry for nothing!
She's a real person, a woman of her time
In Alison's Weir's talented story-telling, Jane becomes a woman of flesh and blood, with opinions and indomitable spirit. She has flaws, of course – perhaps she is too hasty to believe the worst of her mistress, Anne, too obstinate in her belief that the Church has no failings, too much prey to supernatural fancies. But all this makes her a real person, a person of her time, a woman that we can believe is worthy of a king's love.
Not only Jane but the Tudor court is brought vividly to life with descriptions not just of dances and jousts and great feasts, but room decorations, meals and clothes and day-to-day pastimes, the minutiae of life that places characters firmly in their own time frame and helps us understand them more.
And so, though I and everyone else know the ending, this story kept me enthralled. If only things could be different. But of course, history can't be changed, and there is no happy ever after ending to this story. Poor Jane must die, and the King move on to his next bride. Next in the series from Alison Weir will be Anne of Cleves' story. I can't wait!
More online book reviews