Prep Your Tootsies For Summer
---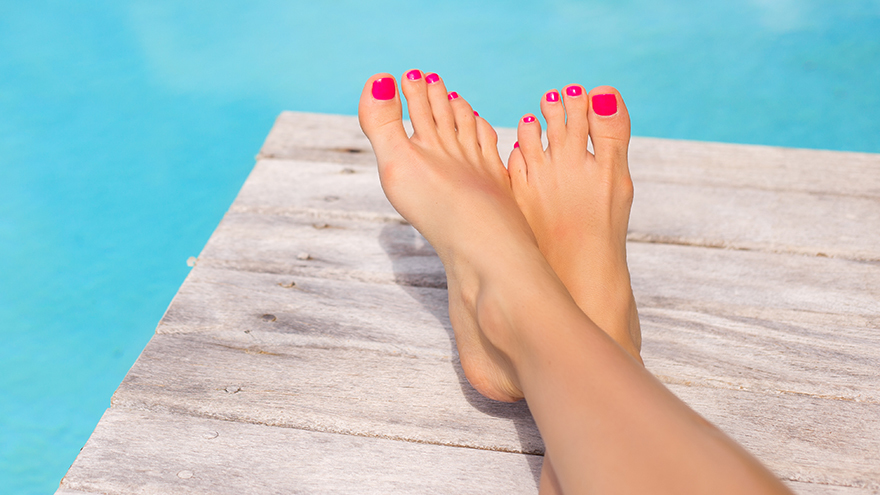 It's nearly time for summer sandals so give your feet a little TLC. From tackling dry skin and cracked heels to ensuring you have healthy nails – the mission starts now!
Julian Ball from DLT Podiatry reveals his top tips to prep your feet for summer:
Invest in Your Feet
After months of your feet being hidden away in shoes, boots, tights and socks, you may want to treat them to a spot of pampering. For a professional treatment, visit your local Chiropodist, they will trim your toe nails, remove any hard skin, check for corns or veruccas to ensure your feet are in a healthy condition.
Trim & File
Trim your nails after a bath or shower with a good quality nail clipper. Cut straight along the top, leave about 1mm of white tip. Do not cut down the sides as this can cause in-growing nails. Smooth off with an emery board.
Remove Hard Skin
Hard skin can build up over time from areas of repeated pressure causing the skin to die and form a protective layer which looks a bit thick and yellowish. This could be caused by ill-fitting shoes or walking on bare feet. Use a foot file regularly to gently remove hard skin. Your feet will feel and look better as a result. File £1.95, www.superdrug.com
Moisturise
Regular moisturising will keep your feet looking and feeling amazing. Use a urea-based cream such as Ureka 10% Urea Foot Care Cream (100ml) £4.99 or Ureka 25% Urea Foot Care Cream (50ml) £5.95 from www.feetlife.co.uk night and morning. (The 10% cream keeps skin soft; use the 25% cream when skin has cracked and needs help healing).
Time to Make Your Toes Shine
Add a pop of colour to your nails with a non-toxic nail polish such as Dr.'s Remedy Enriched Nail Polish £11.95 www.feetlife.co.uk. This vegan-friendly vitamin-enriched nail polish minimises the appearance of dry, brittle nails, hydrates the cuticles and improves the wear-time of nail colour. Summer shades include Optimistic Orange and Amity Amethyst.
Apply Dr.'s Remedy Basic Base Coat £1.95, two coats of Dr.'s Remedy Enriched Nail Polish £11.95 and finish with Dr.'s Remedy Calming Clear Top Coat £11.95 to prolong your colour. Always use an acetone-free remover such as Dr.'s Remedy Remover £4.95 – all available at www.feetlife.co.uk
For more on summer beauty, see Stay Beautiful All Summer