Here's How To Be The Best Dressed Guest for A Special Occasion By Mark Heyes
---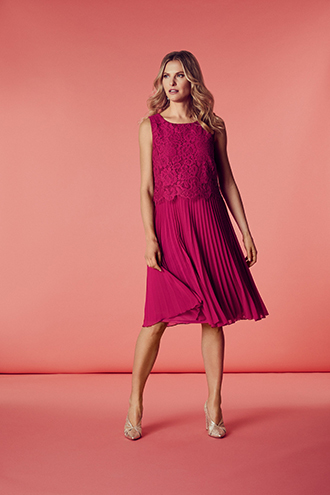 Dress £40,, Bonmarche
High Street favourites  bonmarche have put together their own Royal Wedding Collection to celebrate Harry and Meghan's marriage – and brand ambassador, style guru and TV's best loved fashion expert Mark Heyes shares his tips on how to look your best for a special day.
Here's How to Be the Best Dressed Guest
Dresses aren't for everyone, eg if you're a different size on top from your bottom. A statement skirt can be answer to your prayers. Bonmarche's beautiful navy pencil skirt with midi lace overskirt is absolutely stunning and only £28!
A jacket is great for covering upper arms if that's an area of concern, and this lovely one from Bonmarche is only £35, so you can't go wrong!  The dress (see video) with floral detail nips you in at the waist, it's 100% cotton to keep you cool and it looks stunning.
What to Wear to Celebrate
The big day is nearly here – if you're having a street party or gathering in front of the telly what about a royal tee shirt – maybe a Breton stripe or one with a bit of bling!
Get Meghan's Look
Meghan Markle is the world's new style icon and what she's very good at is taking a classic and giving it the Meghan Markle twist. For example, take the white linen shirt, she loves it and it's a great piece to have in your wardrobe. Works nicely with a denim short and a wide legged trouser in white with the shirt is brilliant during summer months.
She loves a statement skirt with a bit of pattern – that with a white shirt is elegance personified.
For more fashion tips see Italian Style Rules