Celebrate National Cream Tea Day!
---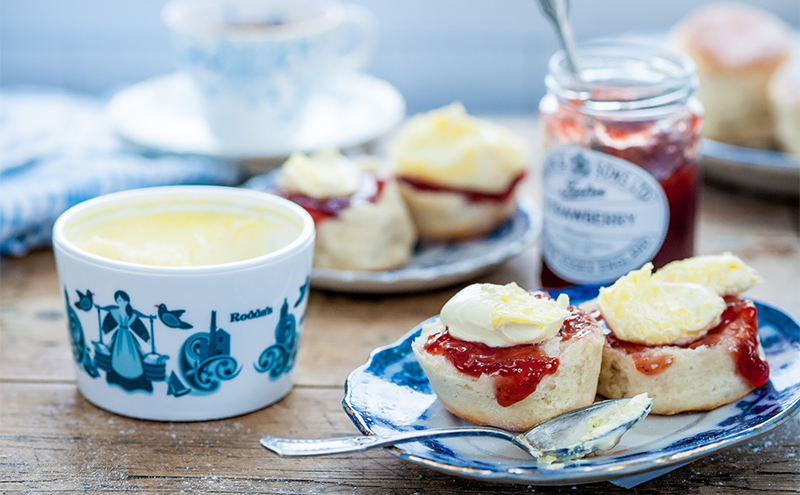 Rustle up some scones, break open the jam and whip up some cream! Celebrating a great British tradition, this year's National Cream Tea Day will be held on Friday, June 29.
The event sits proudly alongside other traditional British summer occasions, including Royal Ascot and Wimbledon, and in the same month as The Queen's birthday celebrations. National Cream Tea Day is the perfect opportunity to celebrate. How? By enjoying delicious scones, jam and Cornish clotted cream… and helping to raise money for charity.
Sharing Recipes
The aim is to encourage people with a passion for baking to get together with family and friends and help beat last year's fundraising total of more than £171,000.
Eric Lanlard is a master patissier and author of the book Afternoon Tea. He said, "As a huge fan and curator of many Afternoon Teas both across the UK and all over the world, I'm delighted to support National Cream Tea Day this year.
"I've been having cream teas since I was a little boy, in my home town of Plomelin, Brittany. The region is often named 'the French Cornwall'. My London boutique patisserie, Cake Boy, will be giving out up to 100 cream tea boxes on the day itself in exchange for donations to our two charities. These are The Back Up Trust and the Teens Unite Cancer Trust.
"I'll also be sharing two of my recipes – Bee Pollen Scones and Cacao and Raspberry Scones – to inspire others to take part. Let's make June 29 the sweetest and most delicious day in the calendar!"
Memorable Treat
Managing director of Cornish clotted cream producer Rodda's, Nicholas Rodda, said: "National Cream Tea Day is one of the finest celebrations of the British calendar year.
"A cream tea is a memorable treat, passed down through the generations. It is enjoyed among friends and loved ones of all ages. We hope that communities across the country will once again gather together to celebrate this wonderful British tradition, all in aid of a good cause."
100 Good Causes
Scott Goodfellow is joint managing director of jam and preserves company Wilkin & Sons Ltd. He commented, "We were amazed and delighted by the number of people who were able to share a cream tea together while raising funds for charities, all thanks to the Cream Tea Society.
"Over a hundred charities benefited from the Tiptree jam and Rodda's cream donations in 2017. We hope even more people will be involved in 2018."
Get involved with National Cream Tea Day 2018  and join in the conversation on social media using #NationalCreamTeaDay.
The Cream Tea Society
The Cream Tea Society is a community that shares in the love and enjoyment of this popular pastime which dates back to the 1840s. It was founded by Wilkin & Sons Tiptree and Rodda's Cornish Clotted Cream. Each year the Society pledges up to 50,000 portions of jam and clotted cream to charity cream tea events.
Join the conversations on Twitter: @CreamTeaSociety and Facebook: facebook.com/creamteasociety