At The Movies…
---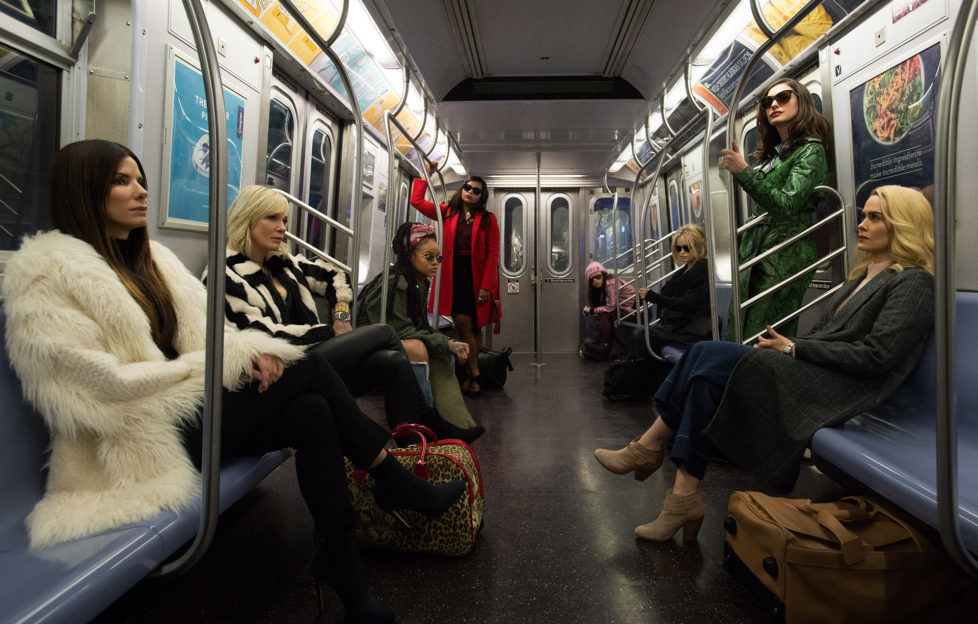 Pic: Warner Bros. Pictures
Here's our pick of what's lighting up the silver screen this week…
Oceans 8, the latest installment in the long-running crime franchise, reboots the series with an all-female cast of hustlers running an elaborate scam to rid the Cartier jewel empire of one of its most precious items.
Sandra Bullock heads up the proceedings as Debbie, [the sister of George Clooney's Danny Ocean from the other movies], who on being released from jail immediately reverts to her old ways, recruiting a crack team of thieves and con women including Cate Blanchett and Anne Hathaway. Together they plan to execute a heist which Debbie has been planning for the duration of her five-year prison sentence: to steal a diamond necklace worth $150million from the neck of a guest at the glitzy Met Ball. Of course, not everything goes to plan, but the outcome is never really in doubt. However, what it lacks in jeopardy, it more than makes up for with a witty script and a pulsating jazz soundtrack.
It's been out for a few weeks now, but Jurassic World: Fallen Kingdom, is still pulling in the crowds and it's not surprising really – it's everything you could want from a blockbuster movie, and perfect fare as the summer holidays approach. The heroes of the last film, played by Chris Pratt and Bryce Dallas Howard, return to the now-ruined island thinking they are there to rescue dinosaurs at risk from an impending volcanic eruption. What they don't know is their paymasters have ulterior motives and the second half of the film takes the series off in an unexpected and effective direction. It's fast-paced, scary fun – and the special effects are exactly that – special.
Not quite so special is the remake of the 80s classic Overboard. Rather than the magic of Goldie Hawn and Kurt Russell, we have Anna Faris and Eugenio Derbez, who lack the chemistry of their predecessors and struggle through a rather uninspiring tale of a working-class mum, who manages to convince a playboy that they are married after he loses his memory in a boating accident. There's a few laughs, but only a few.
Finally, if you enjoy being terrified to your core, then Hereditary might be the film for you. Starring Toni Collette, it's the tale of a family coming to terms with the death of its matriarch – and the knowledge that she might not have been everything they thought. Combining a few good 'jump' moments and an intense sense of dread, Hereditary is a cracking horror story, but perhaps not one for the faint of heart!