Lemon Meringue Cupcakes
---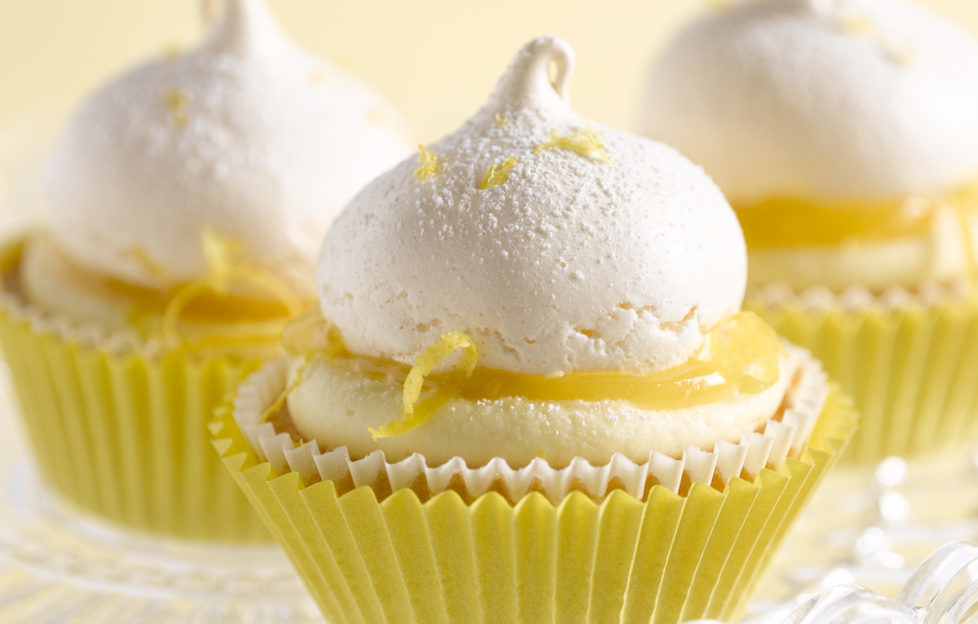 The chewy meringue together with tangy lemon curd makes these cupcakes irresistible. If you want to create the domed meringues shown, use a piping bag with a large nozzle instead of a teaspoon to divide the meringue mixture.
Makes 12 cupcakes
Preparation Time: 25min
Cooking Time: 45min plus cooling
Preheat the oven to 180°C, Gas Mark 4. Place the baking cases into a cupcake tin.
Cream together the butter and sugar until light and fluffy. Gradually beat in the eggs and the Sicilian Lemon Extract. If the mixture starts to curdle, add a little flour. Fold in the remaining flour with a spoon.
Place spoonfuls of the mixture into the baking cases and bake for 15-20min until well risen and firm to the touch. Remove from the oven and leave to cool on a cooling rack.
To make the meringues place the egg whites into a large bowl and whisk on a slow speed for 2min or until the egg whites are foamy. Whisk on medium speed for a further 2min and finally on high speed for a further 1min.
Gradually add the sugar into the egg whites, continually whisking on high speed until the mixture is stiff and glossy.
Line a baking sheet with greaseproof paper. Place a teaspoon of mixture per mini meringue onto the baking sheet. Place in the centre of a preheated oven (140°C, Gas Mark 1) for 25min. Turn the oven off and leave the meringues in the oven until completely cool.
Now make the butter icing by placing the butter in a bowl and beating until soft. Gradually sift and beat in the icing sugar until soft and spreadable.
Spread the cupcakes with a layer of butter icing and top with 1tsp lemon curd. Finish with a mini meringue.
Sprinkle with lemon zest and icing sugar for the perfect finish.