Vox | Christina Dalcher
---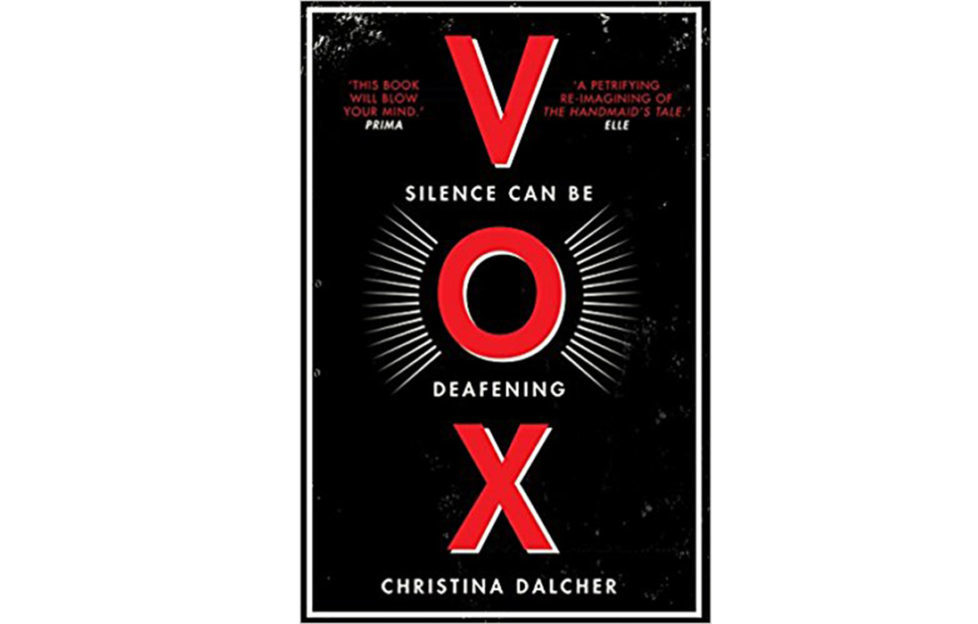 REVIEWED BY BABS BEATON
Choose Your Words Wisely…
In a not-too-distant future America, the ultra-right wing religious fundamentalists have taken over the central belt and women have been brutally subjugated. No longer allowed to work, not permitted to travel, have bank accounts, to be educated or even to read or write. Sound familiar?
If you thought The Handmaid's Tale was scary, Vox is way worse! In Christina Dalcher's dystopian tale, not only are women reduced to possessions, but they are no longer allowed to speak more than 100 words each day… and if they do, the "bracelet" they are forced to wear will give an electric shock that increases in strength the more they breach their limit.
As if that was not bad enough, every female of speaking age is forced to wear one of these bracelets – yes, even small children! There are even elements of 1984 here, as women are even further cowed by the threat of male family members reporting them to the authorities for minor infringements that will see them publicly humiliated and incarcerated
You'll want to punch someone in the face!
You might think that this is just another dystopian fiction, but think about it. Think of what's going on the in the world these days and it starts to look frighteningly possible, a cautionary tale.
I will be honest here and say that, while the premise is excellent, the execution of it could have been better. The characters were stereotyped and the writing a bit forced and melodramatic, the message heavy-handed… and yet, I simply could not put it down.
The main character, Jean, is a well-educated woman, a linguistic scientist and because of the speech limit, we spend a lot of time in Jean's head – it is written from her point of view.
This book is going to make you want to punch someone in the face – preferably a man! There were lots of things that left me feeling uncomfortable, times when women – even children – were simply unable to say no simply because they had reached their word limit.
Love, drama and excitement
As I read I felt increasingly angry because it made me think of all those instances in my own life where I felt silenced or powerless simply because I am a woman… instances that glide past almost unnoticed until a book like this makes you see them – and then you realise how a world like this one can actually come about.
A little surprisingly (and perhaps jarringly for some readers) this is a dystopian novel with a love story tucked inside. The ending was a little too Hollywood for my taste, but it certainly had drama and excitement. Where The Handmaid's Tale makes a compelling TV series, this book will become a psychological thriller movie someday.
This story will stay with you
Book groups are going to absolutely love this book as it will offer hours of lively debate and discussion… and while they do they better be grateful they can speak more than 100 words a day!
The premise is frightening, the storyline compelling – I devoured it in one weekend. I would have read it quicker had I not had to do the shopping and cleaning and… oh, perhaps this premise is not that far-fetched after all!
When you finish this book, its story will stay you for days afterward, and make you really think about what it is to be a woman in what is still a man's world. More than that, Jean's militant feminist best friend's words will haunt you: what do you need to do to stay free?
Use your words, and use them well.
More great reading recommendations