Discover Britain's Beautiful Autumnal Waterways
---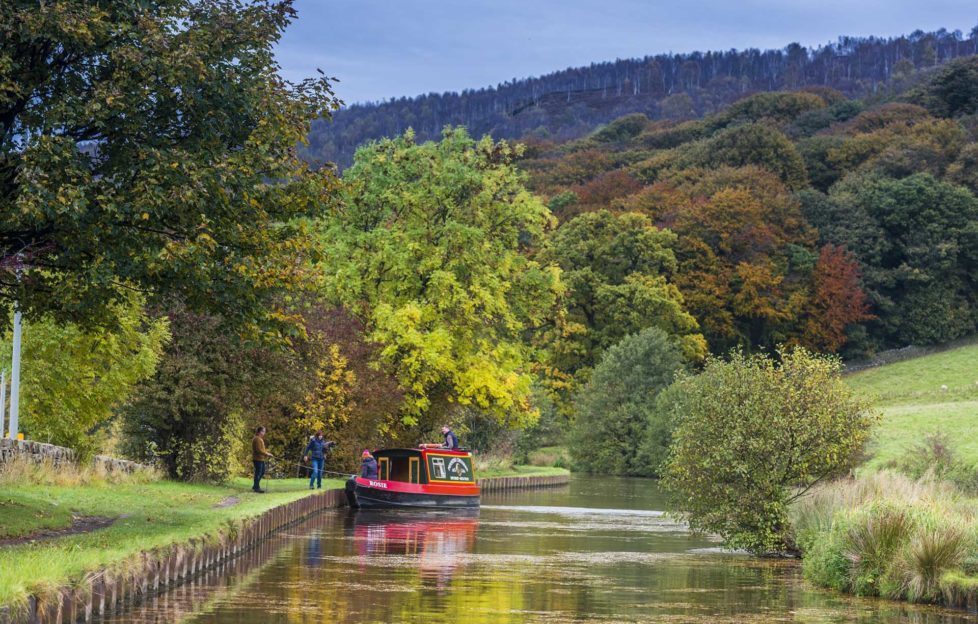 Glorious golds, ravishing reds and outrageous oranges – discover a treasure trove of natural colours reflected in the nation's beautiful waterways this autumn. Whether it's an energetic hike with friends, a short stroll spotting wildlife with your little one or a slow amble to appreciate the beautiful historic landscape around you, the Canal & River Trust has selected 12 of its finest sites that provide special places to walk and wonder at nature's seasonal splendour.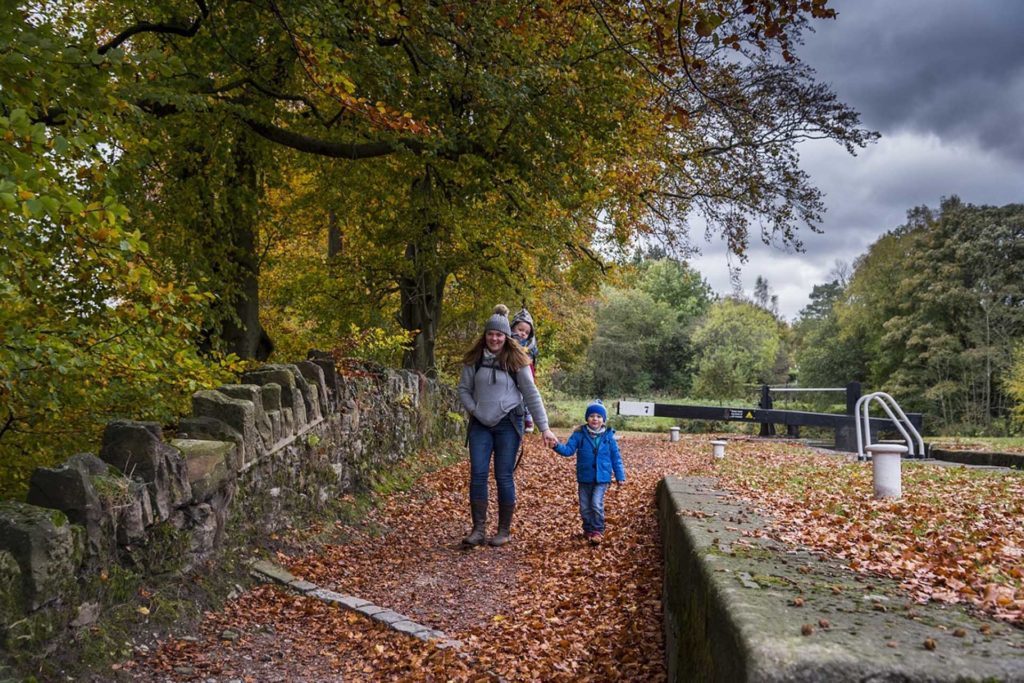 The Canal & River Trust has over 2,000 miles of beautiful historic and traffic-free waterways that are entirely free to explore. Take advantage of the dazzling leaf displays and discover special places that help you to breathe more deeply, to reflect and to enjoy some much-needed exercise whilst drinking in the unique atmosphere and calmness of being near the water. Here are the most celebrated colourful places to walk this autumn:
Pocklington Canal, Pocklington, Yorkshire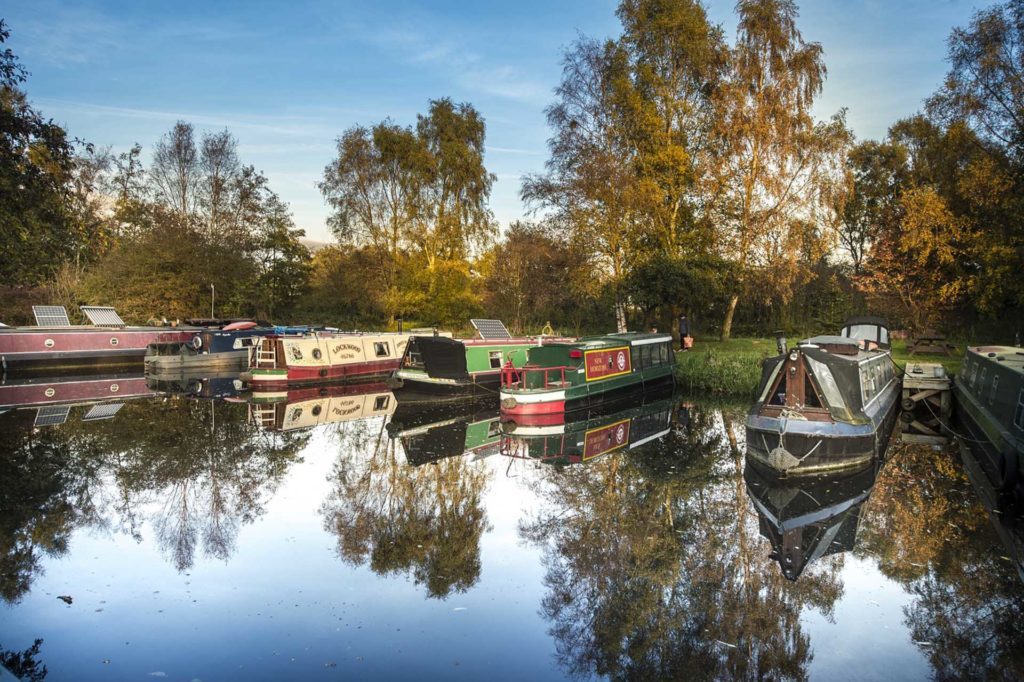 Once derelict Pocklington Canal is now one of the country's best canals for nature and virtually the whole length of the canal falls within one of three Sites of Special Scientific Interest. The canal runs from Canal Head near Pocklington to the River Derwent in East Cottingwith. Its over-hanging trees give way to colourful woodland pockets and hedgerows. As you travel along its length you'll be able to hear wildfowl on the nearby nature reserve and spot late autumn dragonflies from the towpath as you admire the changing leaves.
Getting there: park in the small car park at Canal Head, just off the A1079 York to Hull road. YO42 1NW.
Peak Forest Canal, Marple Lock Flight, Marple, Greater Manchester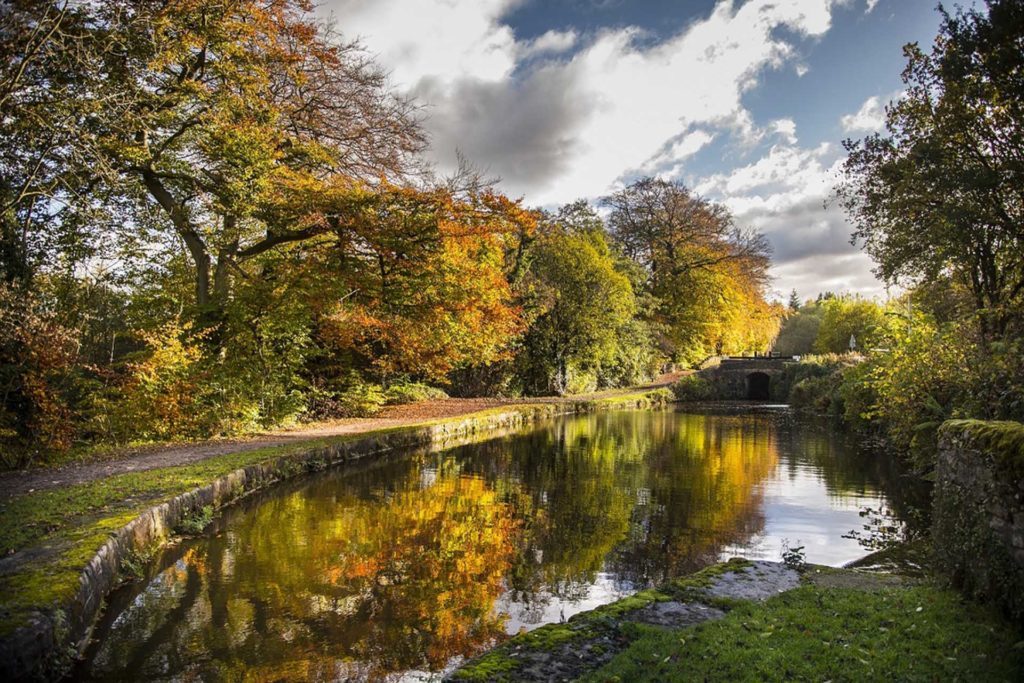 The flight of 16 locks at Marple is a spectacular sight, one of the steepest flights in Britain and set within beautiful wooded countryside. At the top of the locks is Marple Aqueduct, the highest aqueduct in England and a scheduled ancient monument. The aqueduct runs over the River Goyt and amidst this heavily wooded river valley the canal snakes through a mixture of mature beech trees and ancient semi natural woodland including oak, sycamore, horse chestnut and holly. The Peak Forest Canal is one of Britain's most scenic waterways, running through magnificent landscape to the edge of the Peak District.
Getting there: parking available at Brabyns Park, Brabyns Brow, Marple Bridge, SK6 5DT.
Leeds & Liverpool Canal, Farnhill, Nr Kildwick, North Yorkshire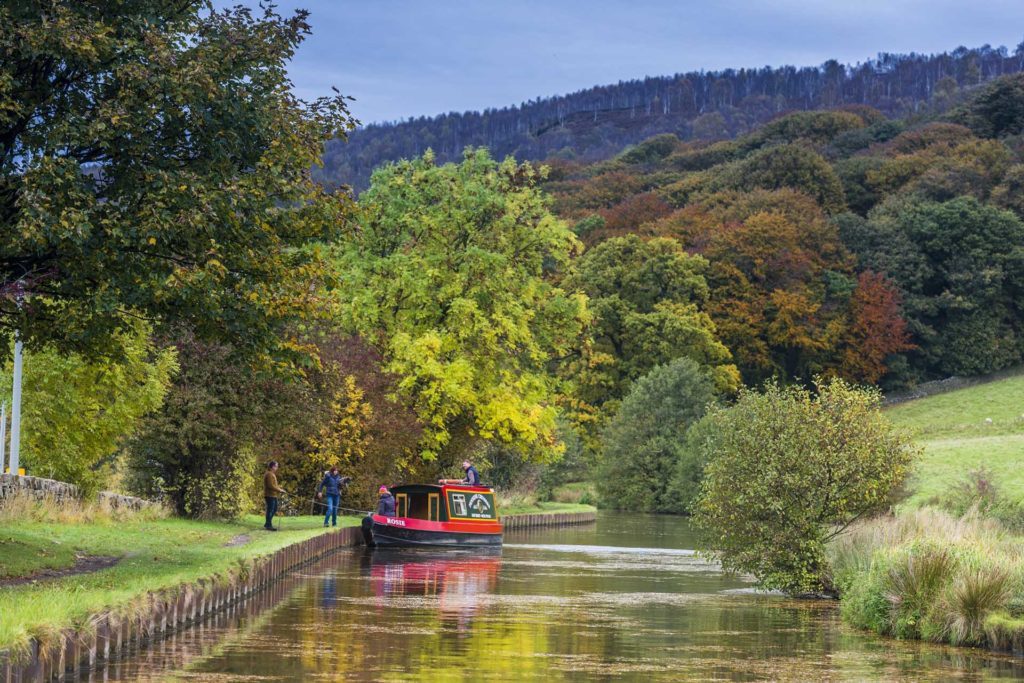 As the mill towns drift into countryside, follow the Leeds & Liverpool Canal as it snakes from Bingley towards Skipton. At Farnhill there's a sheer wooded cutting that provides an impressive ravine to journey through. Each side of this tiny wooded valley and Farnhill Wood provide displays of beech, oak, silver birch and sycamore interspersed with some evergreen holly bushes.
Getting there: park along the Main Street in Farnhill, just off the A629 to Skipton, BD20 9BW.
Chesterfield Canal, Turnerwood, Nr Worksop, South Yorkshire
Turnerwood is a picture-perfect hamlet just west of Worksop on the Chesterfield Canal.  There is a magnificent set of 22 locks that wind through a patchwork of woods, including Hawks Wood and Old Spring Wood. These woods are ancient woods dating back to at least 1600 and are a mix of beech and broadleaf trees providing a wonderful mix of early and late Autumn colour. There are great walks along the towpath with plenty of wildlife spotting opportunities.
Getting there; park at Marina Drive, Thorpe Salvin, Worksop, S80 3LA
Monmouthshire & Brecon Canal, Brecon, Wales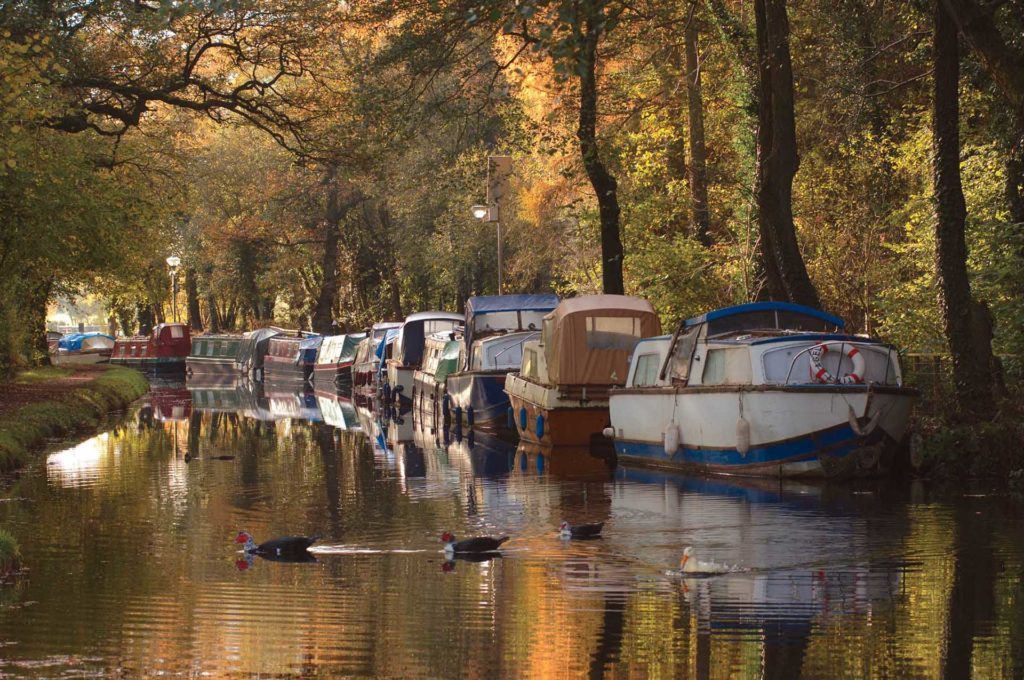 Meandering through the Welsh countryside the isolated Monmouthshire & Brecon Canal is the most popular attraction in the stunning Brecon Beacons National Park. It is one of the Canal & River Trust's most beautiful and peaceful waterways following the line of the lovely wooded Usk Valley. Travelling west towards Brecon a wooded bank of beech trees provide a golden backdrop to huge landscape views of the Usk Valley. From here it's a short walk to the basin in Brecon where there's a café for a cosy lunch. The navigable section of the canal runs for 35 miles from Brecon to the Pontymoile basin. Its location makes it a haven for wildlife and a favourite with nature-lovers, walkers and cyclists.
Getting there: park roadside where the B4558 crosses the canal and River Usk. Brecon, South Wales LD3 7UY.
Kennet & Avon Canal, Avoncliff Aqueduct, Avoncliff, Wiltshire
Surrounded by woodland the Avoncliff Aqueduct is a stately spot to view the beautiful turning colours of the Bath Valley. The woodland here is made up of a rich variety of trees and includes oak, ash, sycamore, hazel and hawthorn. The aqueduct at 100m long and 18m wide provides a pale limestone contrast with the colourful displays of leaves. If you're lucky, this is a great spot to see bats flying to and from the tall arches of the aqueduct and wandering deer feeding on hedgerow leaves and berries.
Getting there: parking available at Avoncliff Aqueduct, Avoncliff, Near Bradford-on-Avon, Wiltshire, BA15 2HB.
Llangollen Canal, Llangollen, Denbighshire, North Wales
Follow the Llangollen Canal from Horseshoe Falls, above Llangollen through to Chirk, taking in the Pontcysyllte Aqueduct. Pass through the Vale of Llangollen, a beautiful valley with native woodlands all the way through, and then cross the Rivers Dee and Clywedog valleys – which provide spectacular displays when viewed from the aqueducts.
Getting there: parking is available at Horseshoe Falls LL20 8BN or at the aqueducts at Trevor Basin Car Park  LL20 7TY.
Grand Union Canal, Cassiobury Park, Watford, Hertfordshire
Veteran horse chestnut, ash and oak provide bright patches of colour along the Grand Union Canal as it passes through the formal pleasure garden of Cassiobury Park in Watford.
The canal follows the line of the River Gade along the western side of the park separating it from Whippendell Woods. Believed to be more than 400 years old the wood combines oak, beech, silver birch and ash with areas of hazel, hornbeam, holly, hawthorn and wild cherry. The canal, linking Birmingham to the River Thames in London, is a peaceful and shady location and easily accessible from the town of Watford.
Getting there: Cassiobury Park, Gade Avenue, Watford, WD18 7LG.
Trent & Mersey Canal, Burton-on-Trent, Staffordshire
Fradley Junction marks the spot where the Trent & Mersey Canal and the Coventry Canal meet. Fradley Pool Nature Reserve is surrounded by native trees. It provides a circular walk in addition to a wooded canalside walk and is a haven for birds and aquatic wildlife. Amongst the falling leaves, tree sculptures are dotted throughout the site and pond dipping platforms provide great access for pushchairs and wheelchairs. The Junction is home to a number of listed buildings including the Swan Inn, cottages, bridge locks and a small warehouse with the original wharf buildings offering an information centre and café.
Getting there: close to the A38 between Burton-on-Trent and Litchfield, the site has a café, caravan park, information centre and parking. DE13 7DN.
River Trent, Stoke Lock & Woods, Stoke Bardolph, Nottinghamshire
Enjoy the peace and tranquillity of the beautiful rural location of Stoke Lock and Woods. Planted by returning sailors and soldiers after the First World War, the trees were used to protect barges from the wind, now it is an excellent site for walkers and nature lovers. Stoke Woods, a combination of ash, hazel, beech and grey poplar, is full of wildlife – woodpeckers and wildflowers – not to mention ducks, coots and moorhens along the river.
Getting there: parking available at the Ferry Boat Inn one mile walk from the lock
Stoke Bardolph, Burton Joyce, Nottingham, NG14 5HX.
Lancaster Canal, Lune Aqueduct, Lancaster, Lancashire
Designed by one of the greatest canal and bridge engineers John Rennie, the Lune Aqueduct soars over the River Lune and provides spectacular views of the tree-lined river below. It stands 53 feet above the river and spans 664 feet across the valley. It's classically inspired architecture and five arches provides a romantic frame to the valley's far reaching views. It is a part of the newly created River Lune Millennium Park and is a great place to experience autumn by foot, cycle or boat.
Getting there: parking available at Caton Road, Lancaster, Lancashire, LA1 3PE.
Perry Barr Locks, Tame Valley Canal, Birmingham
Located just to the west of Birmingham is a secret, secluded world, largely hidden from its built-up surroundings by high embankments and deep cuttings to create a beautifully wooded environment. The towpaths are open to walkers, cyclists and anglers making it a perfect urban escape. It runs for 8.5miles and at Perry Barr there is a series of 13 locks ascending to a former lock keepers' cottage, gauging weir house and old stables. Nearby Perry Park and Sandwell Valley Country Park provide an oasis of woods, parkland, marsh and fields rich in wildlife that are great places for bird watching.
Getting there: parking available at Walsall Road, Great Barr, B42 1LT.