Fancy A Curry? Try Our Best Ever Rogan Josh!
---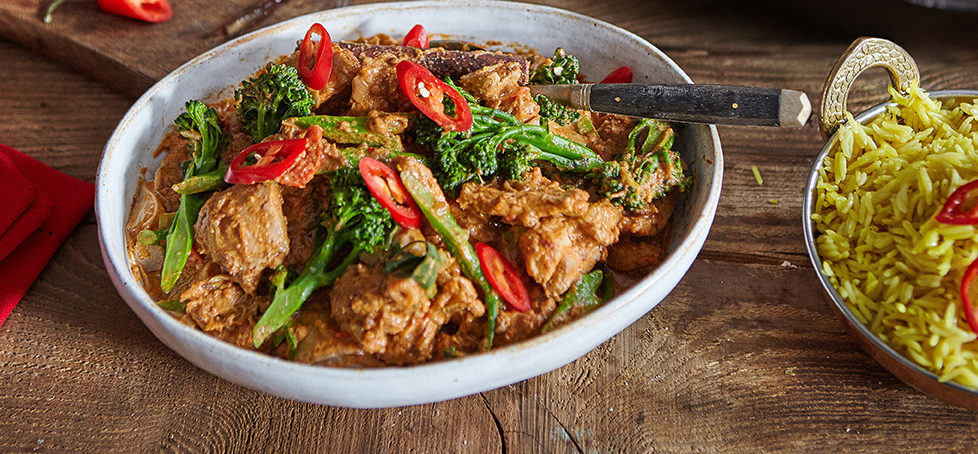 Chicken Rogan Josh with Tenderstem
Have A Curry Adventure!
Ditch the takeaway menus and take a little culinary tour with this fresh and spice-packed Rogan Josh! This tantalising curry will certainly awaken your taste buds.
Serves 4
Preparation time: 10 minutes
Cooking time: 80 minutes
Add half of the groundnut oil or ghee and the chicken to a high-heated frying pan and cook until the chicken is brown (although it does not need to be cooked all the way through).
Put the garlic cloves, ginger and 4 tbsp of water in a blender and blitz into a smooth paste.
Heat a large, deep pan on a medium heat and add the remaining groundnut oil or ghee or and the sliced onions. Fry the onions until soft and then add the cardamom, bay leaves and cinnamon. Fry for around 30 seconds, giving it a good stir.
Add the garlic and ginger paste to the pan and cook out the garlic for another minute.
Add the rest of the spices (ground coriander, cumin, paprika, cayenne pepper, turmeric, garam masala) and the tomato puree. Cook for another minute.
Add the browned chicken to the pan and stir well so that the sauce coats the chicken. Add the yoghurt, chopped tomatoes and chicken stock, and then stir.
Put a lid on the pan and simmer for about 50 minutes. Take the lid off and turn up the heat if the sauce has too much liquid.
Add the Tenderstem® for the final 2 minutes of cooking.
Serve with pilau rice. Garnish with red chilli.
Tip
You could also serve this with Naan bread, either in place of the rice, or together with it