How Do You Sleep? Ruth Langsford and Eamonn Holmes Investigate!
---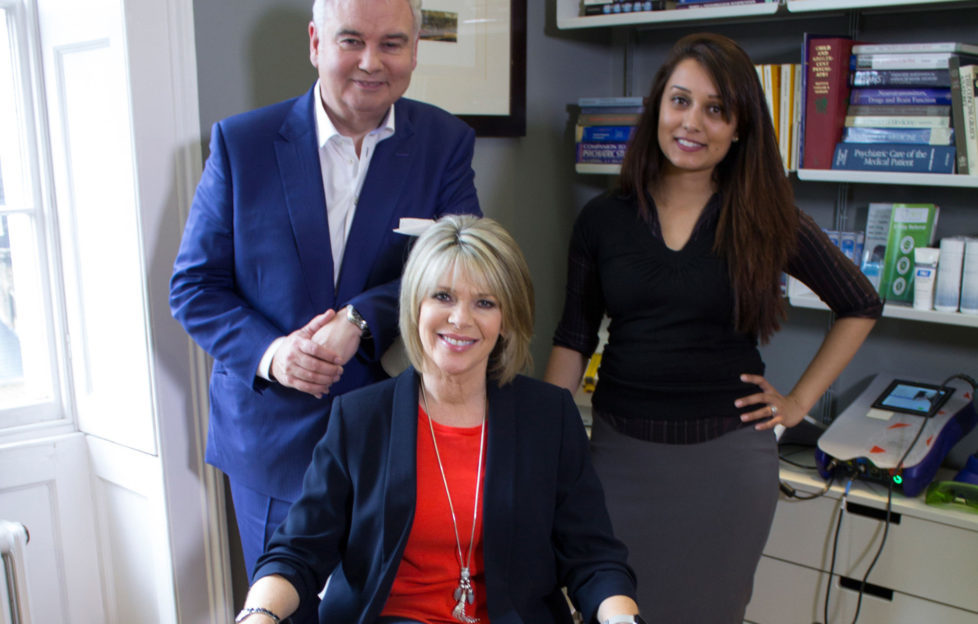 Pic courtesy of Channel 5 - How To Get A Good Night's Sleep
Last night Channel 5 viewers slipped between the sheets with TV couple Eamonn Holmes and Ruth Langsford, as they revealed their sleep woes to the nation in the first episode of new series, 'How To Get A Good Night's Sleep'.
Shockingly, Eamonn revealed he survives on just three hours of sleep per night, while Ruth confessed to her own snoring problems.
And with a study by Silentnight and the University of Leeds revealing that 25 per cent of Brits get only five hours of sleep per night – falling dangerously below the NHS recommended eight hours – it seems the pair are not alone.
Now, Silentnight's sleep expert, Dr Nerina Ramlakhan, who was drafted in on last night's show to help Ruth tackle her snoring issues, has suggested a radical move to help sleep deprived couples get more shut eye.
Dr Nerina said: "My research with Silentnight has told us that a whopping 40 per cent of British adults say that their partner snoring is the reason they can't get a good night's sleep, so it was no surprise to hear that Eamonn and Ruth are struggling with this common problem.
"There are some simple breathing exercises that can help, but my main piece of advice to any couple struggling to sleep together due to snoring or otherwise, is to sleep in separate beds!"
The research by Silentnight also revealed that 13 per cent of Brits admit to never nodding off well next to their partner, and nearly half are already opting to head for the spare room at least once a week. Dr Nerina continues:
"In my experience, many sleep problems can be caused by sharing your bed with someone with whom you are not 'sleep compatible'."
"Eamonn, who is struggling to get by on just three hours sleep per night, is likely to be a 'sensitive sleeper'. These people wake at the slightest noise and can't sleep if they're stressed, while Ruth finds it easier to nod off.
"I recommend, if you have a big event the next day and you're worried about getting sleep, then  lovingly negotiate sleeping separately" she explained.
"The rest of the time, work on sleeping together but have a back-up plan. Aim to communicate openly and honestly, but not at two in the morning."
"Get the biggest bed you can fit in your room, mattresses that minimise other partner's movements, and use white noise to mask noises such as snoring – a fan can be good."
Despite Nerina's advice to couples, she insists that intimacy needn't and shouldn't be lost by sleeping in separate beds.
"Intimacy shouldn't be underestimated if you are concerned about your sleep. Being close to a partner induces oxytocin, the so called 'love hormone', that allows you to feel secure and relaxed. This is actually something that is vital for good, restorative sleep. But oxytocin can be induced by simply giving your partner a hug or telling them you love them."
If you or your partner are "snorers" and separate bedrooms really isn't for you, here is Dr Nerina's simple and effective 'snore work-out', as road tested by Ruth Langsford, to help ease your woes:
Start with your mouth open as wide as it can go and stick your tongue out as far forward as you can
Hold this position while stretching your tongue up, down, and side to side for two full revolutions
Begin humming your national anthem or 'Happy Birthday' in as deep a pitch as you can and continue right to the end (or for at least two minutes)
With daily practice, you should start to notice an improvement in your snoring within two to three weeks
For more tips from Silentnight's sleep expert Dr Nerina Ramlakhan . . .