Nancy, A Woman Of Steel Remembered
---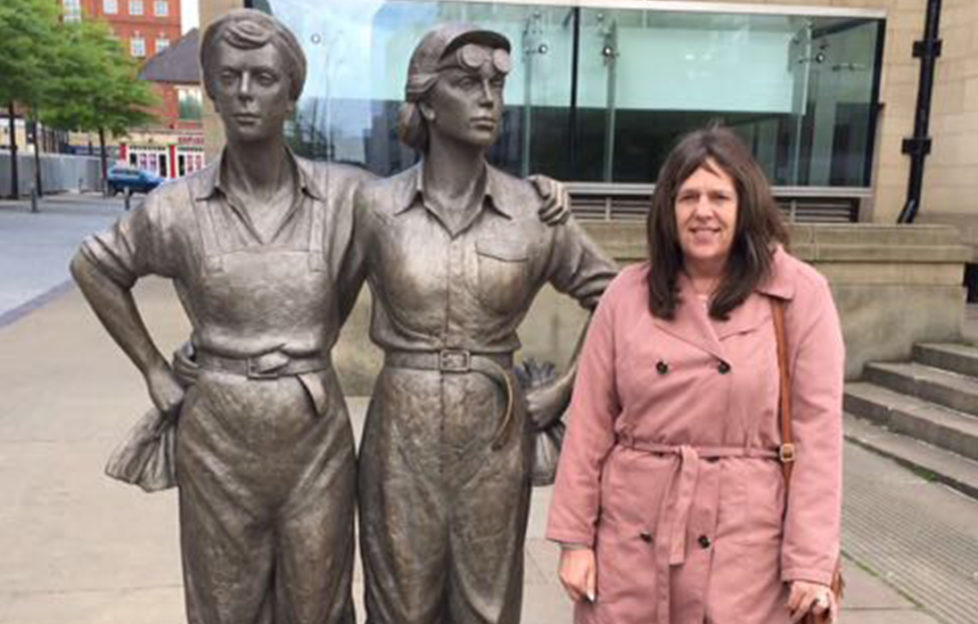 With Remembrance Day almost upon us, My Weekly reader Mrs Pauline Wright got in touch to tell us about her connection with Sheffield's Women of Steel, who kept the city running during the 1939-45 war.
Pauline wrote, "This photo is very special to me. My daughter Michelle (pictured) and my grandson Oliver were visiting the statues commemorating the Women of Steel in Sheffield. These unsung heroes kept industry working while the men were at war.
"One of these women was my mother – his great grandma, whom he never met, but he is proud that his family played an important part in keeping the country safe during the Second World War."
A Crane Driver Ferrying Bombs
Pauline explained that her mother, Nancy Harrison (later Braithwaite), drove a crane at Firth Browns Steelworks. She was one of the women conscripted to work in factories and steel mills, taking on roles that were often dangerous and physically demanding.
This was certainly true of Nancy – who, Pauline revealed, regularly ferried containers full of bombs around the factory floor. Once, after agreeing to work a back-to-back shift, she actually fell asleep at work. Conditions were tough indeed, but wartime spirit carried these courageous women through.
On The Same Bill As Sir Harry
Nancy married Frederick Braithwaite, who was unable to serve in the war due to his eyesight and was instead sent to work in the coal mines. They settled down and had a family of three daughters.
However Nancy was no shrinking violet. Pauline said, "Mum went on to be a singer on the club circuit for over 30 years. She even did a week at a night club in Windsor, when top of the bill was Harry Secombe!"
Inspirational Women Remembered
A fundraising campaign raised more than £160,000 to pay for the bronze sculpture by artist Martin Jennings, which was unveiled at Barker's Pool in 2016.
Around 100 women who worked in the city's steelworks during WWII attended the unveiling. Sheffield City Council leader Julie Dore described them and their wartime comrades as "inspirational".
Does Pauline's story strike a chord with your own family wartime memories? Get in touch via our Facebook page – or send or email a copy of your photos to the address on the "All About You" page in the magazine.