Get Glowing With Rochelle
---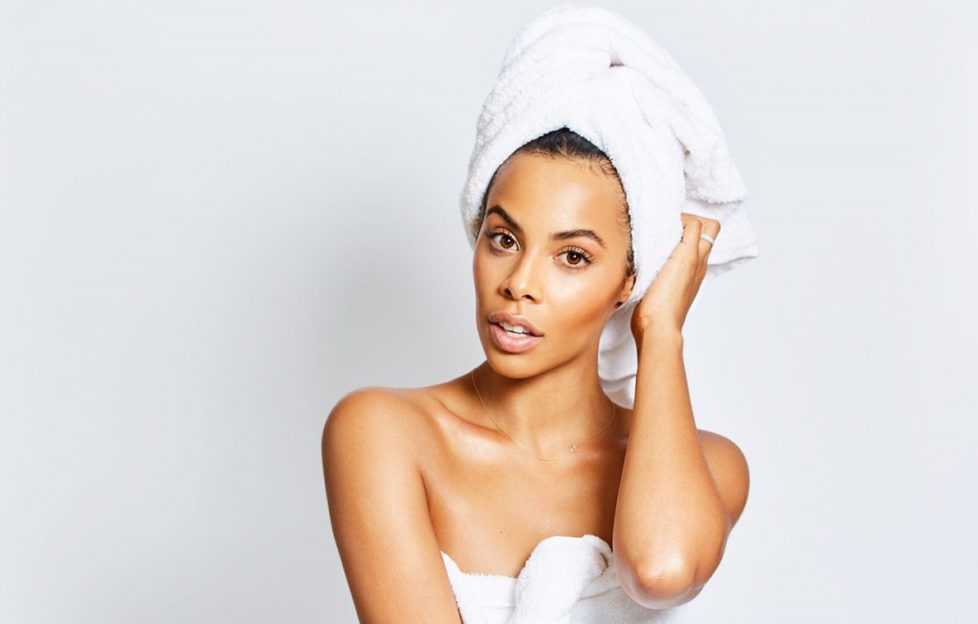 Rochelle Humes
With her recent post filling in on This Morning for Holly Willoughby over the next few months, Rochelle Humes needs to ensure that her skin is always radiant and glowing in front of the camera. Getting your skin prepped doesn't have to be difficult if you know the correct steps you need to take and the products you should be using. The experts at Glo Skin Beauty have the ultimate 7 step routine inspired by Rochelle which will give you a flawless complexion and the confidence you need to go makeup free.
Cleanse First
Every daily skin routine should start with cleansing, there are many myths that suggest that its acceptable to skip the cleanse and just rinse with water but that can have dire effects to your overall complexion. Regular cleansing is essential to Rochelle as it keeps skin looking radiant and healthy. Cleansing also helps anti-aging products and treatments work to the best of their ability alongside maintaining the correct pore size. By cleansing daily, you will encourage skin hydration and prevent the production of excess oils. If you have dry skin, then choose a creamy cleanser that gently washes away your impurities without over drying the skin. The Clear Skin Cleanser helps to treat breakouts whilst thoroughly cleansing your skin, suitable for oily and congested skin.
Tone it up
No matter your skin type, a toner is needed. Going without one can leave the skin vulnerable to factors such as dehydration and lack of nourishment. Toner acts an aid to rebalance your skin pH levels after cleansing and preps your skin – ready to absorb the active ingredients in your other skincare products. This leaves Rochelle with a tight faced but natural feeling. The Glycolic Resurfacing Toner visibly smooths the skin leaving it looking renewed for a balanced complexion.
Moisturise +
Protect Any skin care routine should include a moisturising broad spectrum of sunscreen during the day followed by a hydrating moisturiser at night. Even in the winter it is vital to wear an SPF based product to protect your skin from the radiation so its best to apply in the morning with continued application throughout the day. To gain Rochelle's fresh-faced morning glow you need to moisturise at night. This will create softer, hydrated and better-looking skin the next morning. It helps to seal in moisture and repair the skin barrier that is ultimately compromised by dry air and harsh cleansers.
Oil Control Cream
If like Rochelle, you have oily skin you might find it difficult to find the right types of products that really benefit you. If you have tried the powders and oil-blotting sheets and they haven't worked, it might be best to turn your attention to oil control creams. They promote cell proliferation healing and hydrating whilst unveiling a clearer shinefree complexion. Oil Control Emulsion is blended with anti-inflammatory allantoin to promote cell proliferation and healing and is also perfect for acne treatment. The Aloe Vera improves the skin hydration and aids the healing of cuts, burns and insect bites.
Eye Restore
Eye creams are essential to diminish wrinkles and puffy eyes and give you that eye pop like Rochelle. Many people overlook the importance of paying attention to this area, but good skin care is indispensable. The skin around your eyes ages much faster than the rest of your face and is 40% thinner so even though you have mastered cleansing you need also prioritise the application of eye creams every night. As it's the least elastic part of your face, it doesn't have the bounce back that your cheeks might have. As the skin around the eyes loses moisture around 50% faster it is key to get a cream that reduces dryness. Eye Restore shields against free radical damage with anti-irritant and anti-bacterial and helps to correct discoloration and decrease overall skin roughness.
Lips Too
To perfect the pout, lips need nourishment. Your lips are prone to chapping especially in the winter so it's vital to always apply morning, afternoon and before bed. Lips don't have sweat glands, just a small number of oil producing glands which is why they can sometimes feel dry. You need a lip saviour that is both humectant which draws in moisture, and occlusive, which seals in moisture. Waxes and petroleum jellies are occlusive whilst shea butter is a humectant. If your lips are cracked its best to avoid the balms that contain menthol or camphor as those can sting!
Facemasks
Rochelle is a big fan of face masks. The masks, if used as part of your weekly routine, will improve tone and encourage collagen production. Its best to dedicate a day each week and unwind for 15 minutes with a face mask. Not only will your face be infused with skin healthy ingredients, but it will also gain a well-deserved break from your daily activities and result in a decrease of blemishes as lower stress leads to clearer skin.