Amy's First Christmas
---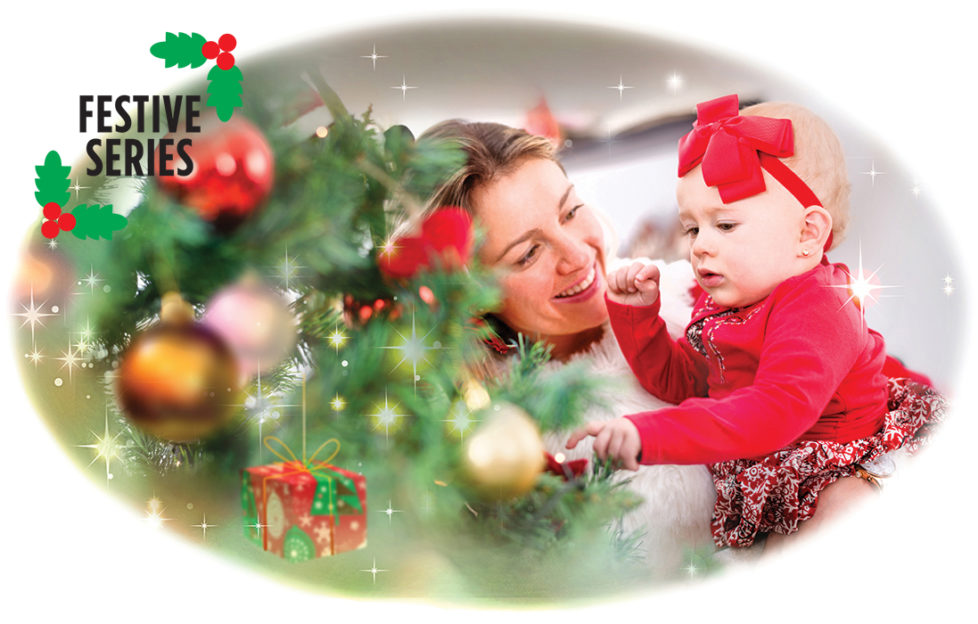 Illustration: Istockphoto, Mandy Dixon
WRITTEN BY LINDA LEWIS
Even in shabby surroundings, a little love, hope and improvisation can make this time truly special
The flat was small with an uncared-for look about it.
It wasn't the way Jane had imagined celebrating her baby daughter's first Christmas, but it would have to do.
"There, home at last," she said softly. She sat Amy on a blanket on the floor, folded the buggy down and went to put the kettle on, returning with a steaming cup of tea.
"Time to put up the Christmas decs."
Amy didn't reply. Not surprising; she was only seven months old.
"Just think," murmured Jane, "in a year or two you'll be helping me decorate the tree." She scooped up her daughter, rubbed noses with her, then carried her to the cot. After settling the child for a nap, she set to work.
It had only been a few weeks since she moved in
By waiting until December the twenty-first, she'd been able to buy a boxful of paper chains for next to nothing. As she put them up, she tried to ignore the tatty wallpaper and scuffed paintwork. The rented flat was all she could afford. It had only been a few weeks since she moved in. She'd had so much on her plate, she hadn't had time to tidy it up. Decorating would be high on her list of New Year resolutions.
She looked at the sleeping baby. No, this wasn't how she'd pictured her baby girl's first Christmas. Blinking away a tear, she got on with her task.
---
As she stretched to attach the last chain to the picture rail, a knock came at the door. It was Howard. They'd met at the charity shop where he volunteered every other Saturday, and had hit it off straight away.
"I brought you a present." Howard handed her two small parcels. "There's something for Amy, too."
Jane didn't know what to say
"I'm sorry," she managed. "I didn't get you anything."
"I didn't expect you to." He looked round the room. "Wow! You've been busy. Is there anything I can do to help?"
She hesitated. It was too soon to start a new relationship, but there was something about Howard Donaldson which told her she could trust him.
"If you want to be useful, you can put the kettle on." She pointed to the mug which sat forgotten on the mantelpiece, its contents stone cold.
"Mine's tea – nice and strong, one sugar. You'll find everything in the cupboard to the left of the sink."
When he came back with the drinks, she pointed to a four-foot-tall artificial tree propped up in the corner.
"I recognise that," he said, his grey eyes twinkling.
"You should do," she replied. "You sold it to me."
He'd put it to one side for her. She suspected he'd lowered the price too. At two pounds, it had been a real bargain.
She gave him the task of pulling the branches into shape while she assembled the base. When he'd finished, she was still struggling.
"Here. Let me do that."
"Thanks," she said.
Howard quickly clicked the various pieces together.
"There. Now the decorations."
Jane fetched a shoe box. Inside were two strands of silver tinsel, six tiny snowmen, a few silver balls and a plastic fairy. They took turns putting them on the tree, then stood back to admire it. For a few seconds, neither said a word.
"It's a bit sparse," Jane said eventually.
"Have you got any wrapping paper?"
She pulled a cheap roll of paper from a cupboard and handed it to him.
"What's it for?"
"We're going to make presents for the tree," he said, eyes twinkling.
"But I don't have anything to wrap."
"The parcels will be empty," he explained, "just for effect."
Jane had to admit they looked good
After a rummage in the recycling bin, they found some empty packets and wrapped them neatly in the Christmassy paper. Jane had to admit they looked good. It was fun, too.
They tied string round the small parcels and hung them on the tree branches. The colourful little boxes brought the tree to life. Jane put Howard's presents underneath, then stepped back. It was the perfect finishing touch.
"I should be going now," said Howard. "Have a lovely Christmas. See you in the New Year."
Jane put a hand on his arm.
"What are you doing on Christmas Day?" she asked.
He shrugged. "Nothing really. My parents want a quiet Christmas, so they've booked into a hotel. My brother and sister are going to my grandparents. I'd have gone, but I couldn't get time off."
Jane knew what that meant. He'd volunteered to work over Christmas so that other people could enjoy spending time with their loved ones. It was the kind of thing Howard did.
"You could always have Christmas dinner with Amy and me. It won't be much. Just chicken and a few vegetables," she added, quickly.
A grin lit up his face.
"I'd love to," he replied. "I'll bring the pudding and the cream." He paused. "I've got a half-decent bottle of wine gathering dust, too."
Jane shook her head. "No alcohol."
Howard slapped his forehead.
"No. Of course."
She'd told him a bit about her past, that she'd left her husband because he drank. It was when he'd threatened to harm the baby that she'd found the strength to leave.
After Howard had left, Amy was still sleeping peacefully. Jane gazed at her, still surprised by the depth of love she felt for the child.
It didn't matter that the flat was tiny or that there was no turkey or mince pies, and hardly any presents. She and her daughter were safe. Best of all, she'd found a friend. Something told her that one day – not just yet, but one day – Howard might be far more than that.
Humming softly to herself she turned on the radio and the strains of White Christmas filled the room. It was going to be the best Christmas she'd had in a very long time.
Now read Sue Moorcrofts Festive Serial here.