Christmassy Q&As with Jo Thomas
---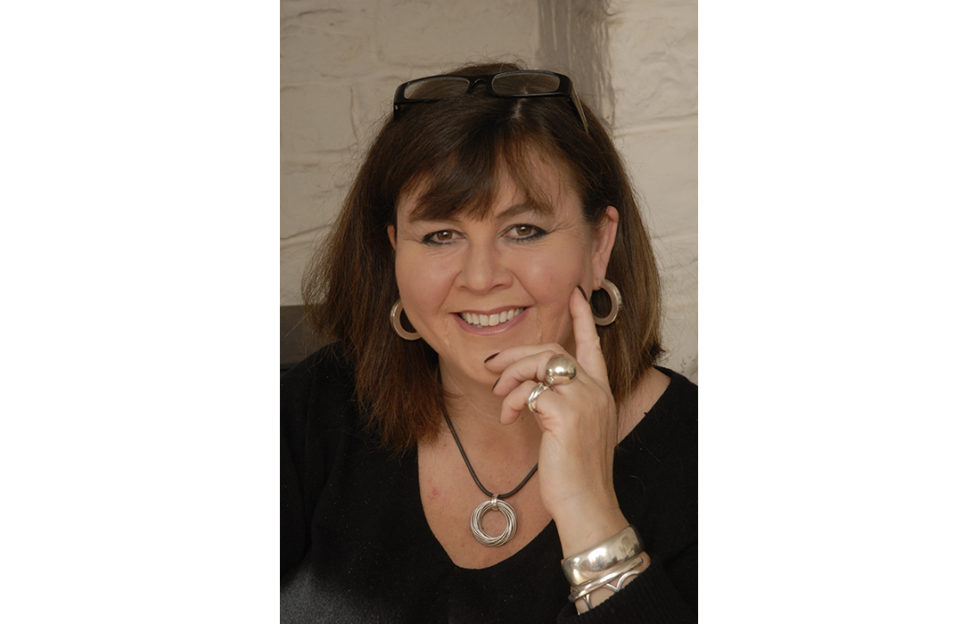 Author Jo Thomas
INTERVIEW BY KAREN BYROM
What could be more Christmassy than Lapland in winter? Jo Thomas tells us why she chose snowy Sweden for her the latest novel and how she found herself guiding a sled pulled by reindeer!
A Winter Beneath The Stars is your first winter/Christmas novel. What made you decide to write a seasonal story?
I love winter! I love summer, but I love winter just as much. I love the way it brings people together in a different way to the summer. I went on a research trip to Swedish Lapland with author Katie Fforde. The snow was beautiful and the way of life had a real sense of community spirit. And fire and candles were a part of everyday life. I mean, what's not to love about breakfast by candlelight!
What inspired the setting? Had you been to Swedish Lapland before you got the idea?
I'd been to Sweden before, but not Lapland. I'd been to Stockholm. But I've also done quite a few trips to Iceland where I based my novella Notes Under the Northern Lights. I love it there. I wanted to see the real Lapland and that's exactly what we found in Kiruna.
Herding reindeer and guiding a dog sleigh wouldn't come easily to many of us. Did you have to do both in the name of research?
Yes! Well, I had to ride a sleigh being pulled by a racing reindeer! It was terrifying but very exciting! We also spent the day out in the forest, amongst the snow laden trees on a dog sleigh trip. It was freezing but magical! And once again, like everywhere we went, everything stopped for fika; coffee and cake. Fires were lit and coffee was made on the open fire and food handed round as we sat on reindeer hides around the fire. It was so calming, really feeling at one with nature.
Have you ever slept out under the stars? Or seen the northern lights?
I've slept out under the stars, but only in this country. Some of the best night skies I've seen were in Galway and the South of France. Apart of course from the northern lights which I've seen a few times now in Iceland. It is just an amazing sight. They really do look like coloured spectres dancing across the sky.
Where are you taking us with your next novel? Will you visit there, too?
My next book is set in Sicily. And yes, I've been there, back in April of this year. I loved it there. We stayed on a working farm, rode out through the fruit trees and visited a large orange and lemon farm and I have never tasted fruit like it! Mount Etna is an incredible sight and it's the ash from Mount Etna that makes the fruit, including the vines for wine, taste so amazing. And the Sicilians are wonderfully, generous people.
You're a very successful author. Do you still get a thrill when you see your novels on the shelf? Can you describe the feeling you get?
Oh yes! That thrill never goes away. It is so lovely to see a book make it from idea to the final product. But more than that is when people let you know they've enjoyed the story and you've taken them on a journey.
Who are your favourite authors and which Christmas books will you be reading this year?
Katie Fforde's A Christmas Stocking. A gorgeous collection of Christmas short stories. Milly Johnson's The Mother of All Christmases and come the New Year, Jill Mansell's Maybe This Time.
Do you have a favourite-ever Christmas song or carol?
Oh I love Christmas songs. It's so hard to pick a favourite. Driving Home for Christmas reminds me of when my husband was working away and coming for Christmas and makes me think about all the families reunited at Christmas time… and those having to spend time apart. It just makes me think of family and makes me count my blessings. As for Carols, always, In the Bleak Mid Winter.
Tell us a little about your Christmas plans. Are there any unusual traditions you follow?
We get a tree from a Christmas tree farm about a week or so before Christmas. The family all turns out in wellies and woolly hats and we walk through the trees and end up choosing the one we want and cutting it down. And every year I say 'we're not getting a big one' and every year we end up having to cut the top off it to get it in the house! It's just like National Lampoons Christmas Vacation!
We also do the Icelandic tradition where everyone gets a book wrapped up on Christmas Eve. Something to read the night before Christmas Day, opened alongside our Christmas Eve chilli!
What would you like to find in your Christmas stocking this year?
A pasta maker. A reminder of our trip to Sicily, where we spent a wonderful day on a Sicilian cookery course. I love it when the family comes together to cook.
Who would be your real-life sexy Santa?
Patrick Swayze from Dirty Dancing, doing a festive salsa!
And finally, sprouts –  Yes or no?
Yes!! With pancetta and butter!
Thanks so much for chatting to us, Jo. Have a very merry Christmas.
More Christmassy Q&As