6 Simple Exercises To Avoid Slips And Falls In Icy Weather
---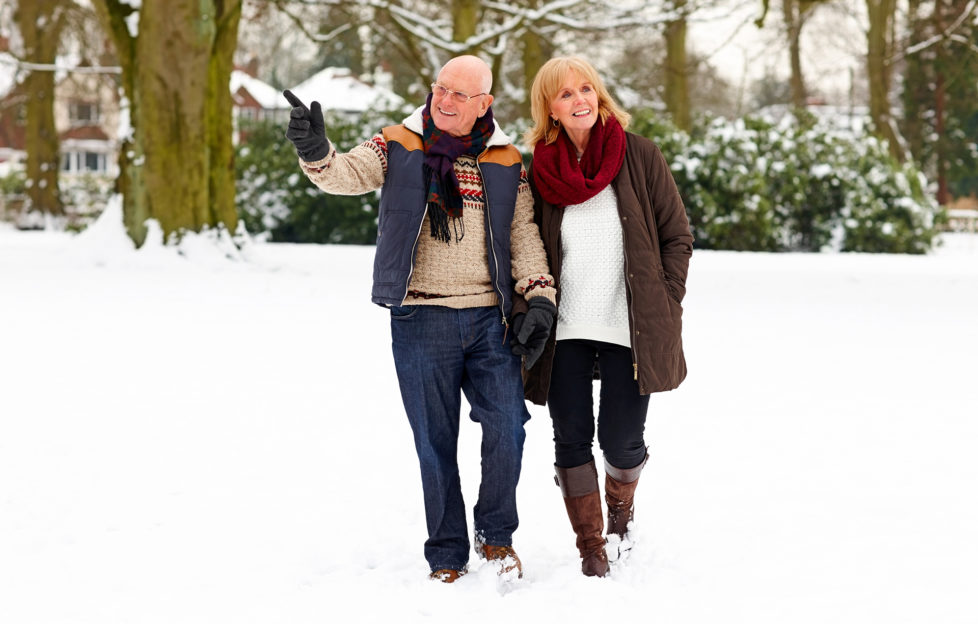 Pic: iStockphoto
The Chartered Society of Physiotherapy (CSP) is warning people to take extra care on the pavements as the winter weather starts to bite. Between the ages of 50 and 70, we lose about 30% of our muscle strength, and one in three people over 65 – plenty of them in decent health – will have a fall this year.
Physiotherapists say these 6 simple daily home exercises will strengthen your muscles and improve your coordination and balance:
Heel Raises: stand tall, holding the back of a sturdy kitchen-type chair or kitchen sink, then lift your heels off the floor, taking your weight onto your big toes. Hold for three seconds, then lower with control. Repeat 10 times.
Toe Raises: stand tall holding the same support, then raise your toes – taking your weight on your heels. Don't stick your bottom out. Hold for three seconds, then lower with control. Repeat 10 times.
Sit to Stand: sit tall near the front of a chair with your feet slightly back. Lean forwards slightly and stand up (with hands on the chair if needed). Step back until your legs touch the chair then slowly lower yourself back into the chair. Repeat 10 times.
Heel-Toe Stand: stand tall, with one hand on your support. Put one foot directly in front of the other to make a straight line. Look ahead, take your hand off the support and balance for 10 seconds. Take the front foot back to hip width apart. Then place the other foot in front and balance for 10 seconds.
Heel-Toe Walking: stand tall, with one hand on a support like a kitchen cabinet. Look ahead and walk 10 steps forwards, placing one foot directly in front of the other so that the feet form a straight line. Aim for a steady walking action. Take the feet back to hip width apart, turn around and repeat the steps in the other direction.
One-Leg Stand: stand close to your support and hold it with one hand. Balance on one leg, keeping the support knee soft and your posture upright. Hold the position for 10 seconds. Repeat on the other leg. 
Fran Hallam, from the Chartered Society of Physiotherapy says: 
"From middle age we begin to lose strength in our muscles. In later life doing activities which strengthen our muscles keeps us strong, steady and independent to go about our daily lives. It's possible to prevent and even reverse muscle weakness by doing some very simple exercises each day. Research has shown these exercises can improve strength and balance which helps us stay independent, keep enjoying doing the things we love and reduces our risk of falls. Exercise also has many other health benefits including improving our energy levels, helping us sleep better and manage our pain levels. 
"Around one in three people over 65 fall each year which can cause physical injuries, but also loss of confidence and independence. A fall can leave you feeling shaken up, which sometimes makes people cautious about doing the things they enjoy, such as going outdoors and spending time with loved ones. This can cause loneliness and isolation.  Sadly many people underestimate their risk of falling or don't seek help when they notice changes in their mobility, which means they miss the opportunity to take actions to prevent a fall. Be proactive by building these exercises into your daily routine and seek advice from a health professional, such as physiotherapist, if you think you might be at risk of falls. It will help you stay strong and independent- it's never too late to start being active." 
The top tips from physiotherapists to avoid falling outside:
Take your time and don't rush. Scan an area for trip hazards – cracked pavements, obstacles and uneven surfaces – before walking.
Carrying shopping bags can obstruct your view of the pavement; consider using a rucksack instead (it's also better for your back as it allows for a more evenly distributed weight)
Watch out for shop entrances with 'lipped' door frames, especially if you're stepping inside out of bright light; give your eyes time to adjust to the darker conditions
Watch out for subtle changes of gradient, especially near pedestrian crossings
Keep your purse or bus pass near to hand so you don't have to root around in your bag. That way you'll stand a better chance of boarding safely
Don't be afraid to ask the bus driver to wait until you're seated before moving off
Don't worry if you think you're being slow and inconveniencing others: staying safe is more important. Chances are that no one has noticed anyway.
This Christmas, remind a loved one that it's never too late to get stronger. To get started, visit www.csp.org.uk/nevertoolate for simple strengthening exercises and guidance from physiotherapists. #NeverTooLate

Posted by Chartered Society of Physiotherapy on Thursday, 29 November 2018