Tom Lewis's Hogmanay Steak Pie
---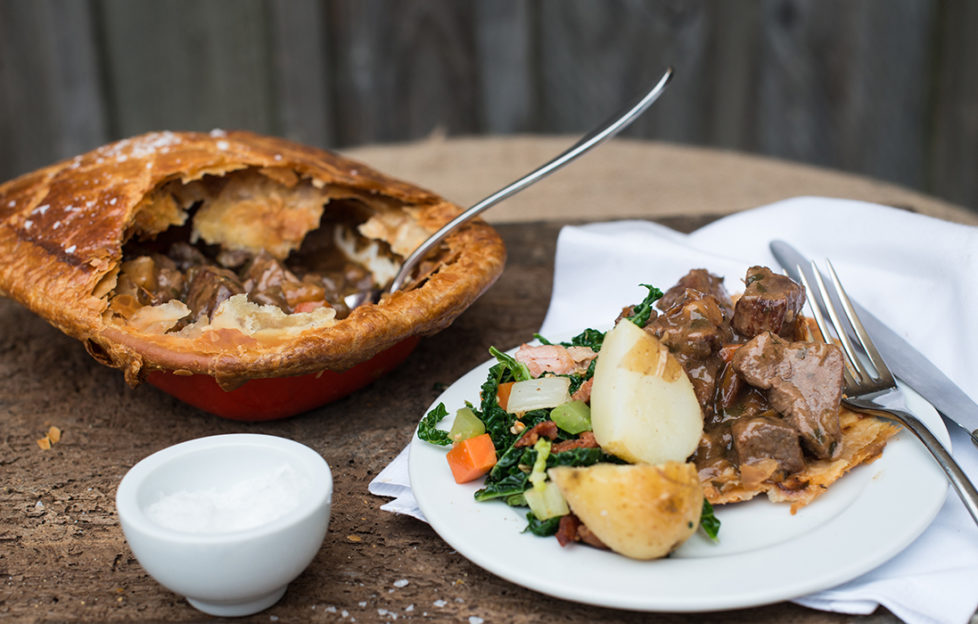 The Scots steak pie has been enjoyed as the traditional New Year's dinner dish throughout the country, for over 400 years and Lidl has partnered with celebrated Perthshire chef from The Mhor Collection, Tom Lewis, to create a special recipe that can be prepared in advance
Soaking the steak pieces in Lidl's craft beer, Bright Lights American IPA, brings out a rich flavour, and combined with delicious root vegetables and flaky pastry, this recipe is sure to be a hit around the dining table. Ideally make the filling a couple of days ahead.
Serves: 5
Preparation time: 20min
Cooking time: 1hr 40min
Put diced beef into bowl and give it a light coating of seasoned flour.
In a hot pan seal and colour the beef.
Take the beef out and put in a dish. Add all diced vegetables and sliced garlic to the hot pan. Add a good glug of olive oil and a tablespoon of butter. Turn the heat down and sweat vegetables off.
Add a good pinch of cumin, coriander, thyme and the bay leaves, then add the meat back to the pan.
Add equal parts beer and meat stock – enough liquid that all meat and vegetables are covered.
Put a lid on the pan, reduce the heat down, and simmer until meat is tender (roughly 1hr 40min).
Alternatively, pop in a covered oven dish at 160°C, and simmer for 1hr 40min.
If the gravy is still feeling a little thin, drain into a pan and reduce.
If need be, thicken slightly with a mixture of soft butter and flour. Add a little at a time and whisk through.
Let mix cool, cover, and put in refrigerate for a couple of days
Assembly and cooking:
Wash pie dish with a beaten egg. Pop mix into a pie dish and bring to room temperature.
Take out your pastry and score very lightly.
Place across the pie dish, crimp, and egg wash the top.
Bake in a medium to hot oven, 210°C, till pastry crisp and heated right though.
Serve hot with vegetables and tatties for the perfect New Year's Day family feast.
Tom Lewis, owner and chef at Monachyle Mhor Hotel, said,
Everyone loves a steak pie – who can say no to tender meat, crisp pastry and a good gravy? This traditional New Year's Day recipe is perfect for the whole family to enjoy following Hogmanay celebrations the night before. For the best results, make your pie mix a couple of days before to let the flavours absorb, then add your pastry on the day and pop in the oven.