Letters From Strangers
---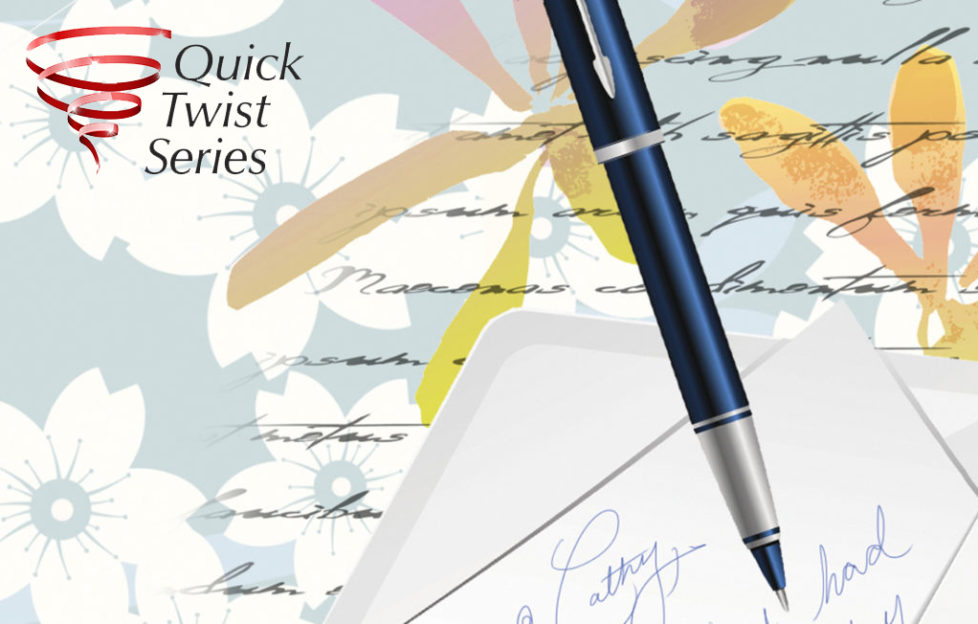 Illustration: Thinkstock, Mandy Dixon
WRITTEN BY ROB NISBET
She knew so little of these people and their busy lives – yet their cheery updates gladdened her heart…
Cathy sat down with the bright white envelope on her lap. She had a cup of tea, on the little table to one side, next to a framed photograph of Philippe. She angled the picture towards her and made herself comfortable in the chair.
"Now then," she said to the picture, "let's see what they've been up to."
In the envelope Cathy found two letters and a postcard. The card showed a wide sandy beach with a blue sea and even bluer sky.
She turned it over. It was from Laurel, Kevin and their three young children.
Cathy liked to imagine Laurel as a doting young mother, coping with the demands of the children but loving every moment.
Hi Cathy,
I thought you'd like to know we are in France. Our first holiday abroad!
We are camping and arrived in a thunderstorm! At first we thought we'd have to dig a trench around the tent but the sun has come out for the last few days and it's glorious!
Kevin insisted on learning the French for all the foods I shouldn't eat. He really is taking care of me, and he reads the ingredients on every packet in the supermarkets!
The kids are as lively as ever. There is a huge playground here where they sit on things and expect me to push them!
With much love from Laurel, Kevin and the gang
Cathy raised an enigmatic eyebrow to Philippe's picture.
"France," she said. "There's a coincidence. I wonder if they had to put the tent up in the rain. Or it might be one of those campsites where the tents are already there and you just move in."
She sighed. "We have this bond between us, but it's the details that make me realise how little I really know about these people. And you don't get much information on a postcard.
"Still, Laurel's clearly making the most of life. I admire her; all those exclamation marks! She makes everything an adventure rather than a setback or a battle."
---
Placing the card on the arm of her chair, Cathy took a sip of tea and unfolded one of the letters. This one, she knew, was from Evelyn. Always the same pale blue paper, handwritten with careful loops and swirls… and always a space at the top of the first sheet where the address would normally be written.
My dear Cathy,
I've just had the most wonderful day. My son came round with his wife and gorgeous new baby daughter. Can you imagine my joy at being able to see my granddaughter for the first time? She's so tiny, all scrunched up and snuggled in woolly pinkness.
I just had to tell you what she looked like and to express my gratitude again.
Cathy smiled as she read the rest of the letter. Evelyn had made cakes, and gave details of her garden which took up much of her time. A chatty letter; newsy in an everyday sort of way and full of colours and descriptions.
Cathy felt that she knew Evelyn well. They had a lot in common and she felt that they would be good friends if they ever met, rather than this odd penpal relationship.
Perhaps one day, if Evelyn were agreeable, they might meet face to face, eye to eye. It was a scary thought. What if Evelyn was nothing like the mental picture Cathy had painted in her head?
Cathy could imagine her eyes, which was silly and just a little bit creepy.
She glanced over to Philippe's photograph; his eyes were blue. Evelyn's, gazing fondly at her new granddaughter, might be completely different.
No, Cathy decided. It might be better that we don't see each other. Perhaps it was for the best that there was this cloak-and-dagger process which kept them both removed from each other. One day, perhaps Evelyn would suggest that they meet. And then – perhaps then…
Evelyn's letters always ended in thank-yous and a single affectionate X. Cathy always blew the kiss to Philippe's picture; it was for him, after all.
---
The last letter was typed on stiff white paper. This was from Michael. Michael was a teacher of English and his letters were always more formal; Cathy could imagine how it must annoy him not to put the to or from addresses at the top, and not to add his surname at the bottom.
Or perhaps he did include all that forbidden information, and the transplant authority re-typed his letters to remove it. Only the first name was allowed; everything else was to remain anonymous.
Dear Cathy,
I hope this letter finds you well. I've been thinking recently about the letters I've sent to you previously. I always seem to give you boring details of how I'm progressing at work; I suppose I wanted you to think that I was doing well. I have just been offered a promotion at the school – to head of my year group – and I've stunned everyone by turning it down.
I still find teaching very rewarding, that's why I chose this profession. However I've been offered the chance to do something different. By the time you get this letter I shall be in a remote African village helping to build a school. It's something I've been thinking of for some time now. I went there a couple of months ago to see the area for myself, and the people and kids are wonderful – they just lack the resources for an adequate education.
Half the staff at my old school think I'm mad, the other half have been quite encouraging. But what really persuaded me to go was something that one of the mothers said in the village. She had heard why I was there, looking around the dusty clearing where the school is to be built, and she smiled the biggest smile you've
ever seen and said to me that I had a good heart.
And that's true, Cathy. You know that's true – and I just had to write to you and let you know.
So, quite a transformation: stuffy academic to, well, I'm not quite sure yet. Builder, teacher – whatever this little adventure leads to.
I hope you still think I'm doing well, and that the difficult decisions you and your husband made are still bearing fruit.
I'll write again and let you know how things are progressing. There's no postal system where I'm going, but as soon as I can, I'll contact the Transplant Authority by email or something. I'm sure they'll be able to pass on a message to you.
Kind regards,
Mike
Cathy let a tear trickle down from each eye. She always looked forward to receiving the letters, and yet she always had a little cry as she read through them.
True, they reminded her of what she'd lost – but, in a way, Philippe still lived, in the lives of these strangers.
Laurel, Evelyn and Mike. Pancreas, corneas and heart.
There were kidneys out there too, somewhere, but not everyone wanted to make contact. Cathy dabbed her eyes with a tissue and finished her tea. She smiled fondly at Philippe's picture, fixing her memories of him in her mind as she started to read her letters again.