The Chestnut Man | Soren Sveistrup
---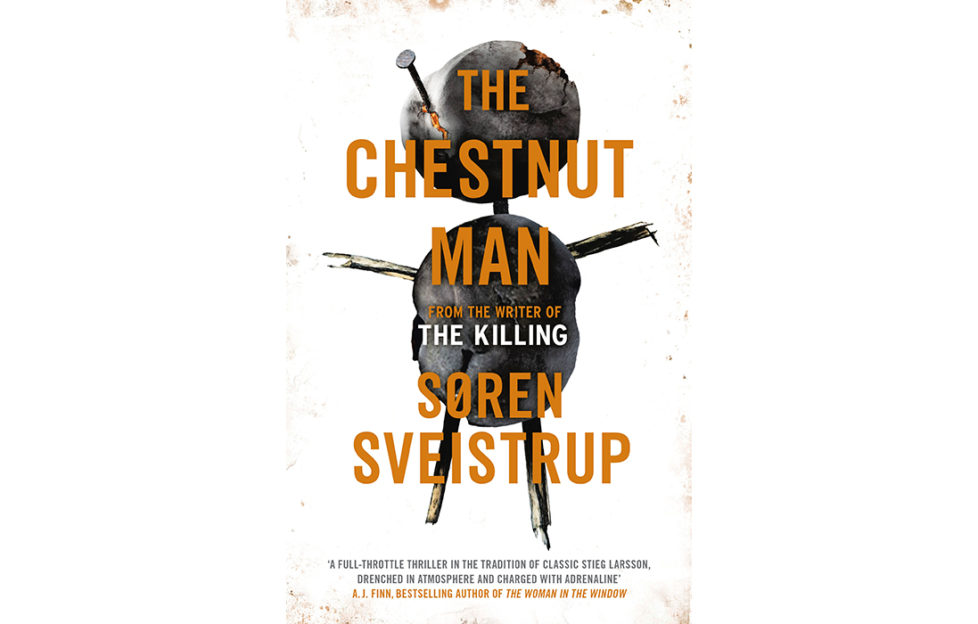 REVIEWED BY BABS BEATON
The debut novel from the creator and writer of The Killing
The police make a terrible discovery in a suburb of Copenhagen. A young woman has been killed and dumped at a playground. One of her hands has been cut off, and above her hangs a small doll made of chestnuts.
Young detective Naia Thulin is assigned the case. Her partner is Mark Hess, a burned-out investigator who's just been kicked out of Europol's headquarters in The Hague. They soon discover a mysterious piece of evidence on the chestnut man – evidence connecting it to a girl who went missing a year earlier and is presumed dead, the daughter of politician, Rosa Hartung. A man confessed to her murder, and the case is long since solved.
Soon afterwards, another woman is found murdered, along with another chestnut man. Thulin and Hess suspect that there's a connection between the Hartung case, the murdered women, and a killer who is spreading fear throughout the country. But what is it?
Thulin and Hess are racing against the clock, because it's clear that the murderer is on a mission that is far from over…
Easy to read and compelling
With short chapters this was easy to read and compelling. As the mystery gradually unfolds, I was eager to get to the end and find out what the solution was – no mean feat with a book of this size! However, despite more than 500 pages, it was a real page turner, helped by the in-depth characterisation of the detectives investigating the case. In fact, every character, no matter how minor, is fleshed out skilfully so that we care about what happens to them.
However, this book is not for the faint-hearted. It is hauntingly atmospheric and graphic in its detail of the murders, which include dismemberment. The overall atmosphere is gritty and dark and unrelenting. One of the possible motives that links the victims is that they have all been accused of either neglecting or abusing their children, or of standing by while their husbands abuse their child, so the subject matter gets intense at times.
Nevertheless, it is well written and not gratuitous in any way, and although a little harrowing in places, the characters' own anger at such things carries you along with them, willing them to find the killer and bring them to justice.
Its over-arching theme is very Nordic Noir, almost depressing in its intensity and atmosphere, but Nordic Noir has not become so popular for no reason – it is superbly written and carries you along at breakneck speed. If you liked The Killing – and you have a strong stomach – you are going to love this.
The Chestnut Man by Soren Sveistrup is published by Michael Joseph in hardback, RRP £12.99, and available from Amazon.
You may also like these reviews: