Creamy Lemon Pasta with Tenderstem, Beans & Pine Nuts
---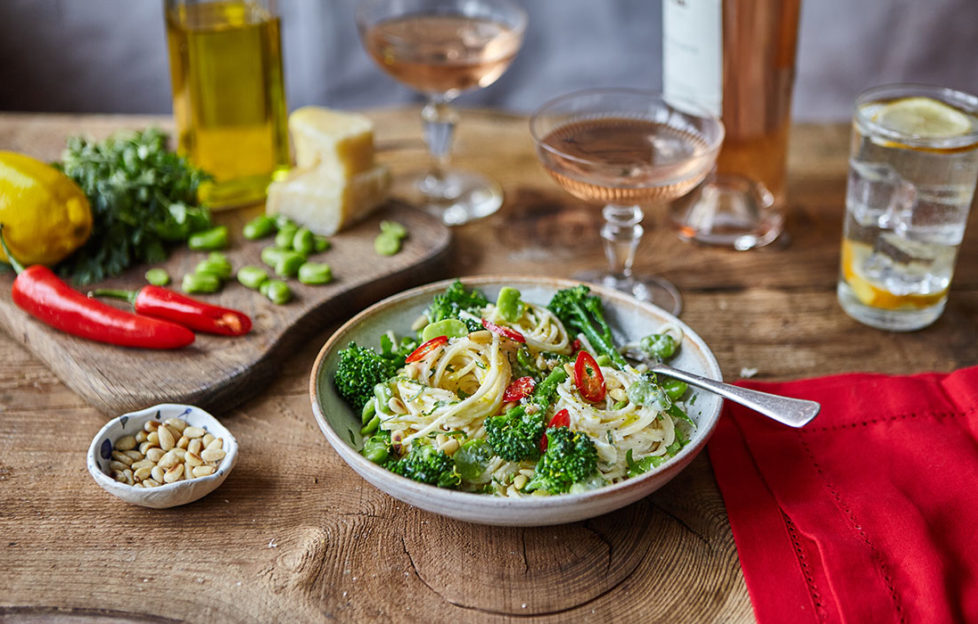 Temperatures are dropping… so that's all the excuse we need to eat pasta! Teamed with Tenderstem broccoli, cream cheese and Parmesan with a touch of chilli if you wish, this is a light yet satisfying lunch or dinner.
Heat a medium-sized pan and add the cream cheese. Add the grated garlic and stir until the cream cheese has melted and is smooth.
Heat a pan of salted water and bring to the boil. Cook the spaghetti according to the packet instructions.
With 2min left of cooking the spaghetti add the Tenderstem® and the broad beans. Use a little of the cooking liquid to loosen the cream cheese (about 80ml).
Once the broad beans are cooked, remove them from their skins.
Once the spaghetti and Tenderstem® are ready, grate in the Parmesan, add the lemon juice and zest, chilli flakes and the salt and pepper into the sauce.
Coat the spaghetti and Tenderstem® in the sauce and serve into bowls. Finish with the broad beans, more grated Parmesan, pine nuts, chopped parsley and a drizzle of extra-virgin oil.