Cajun Chicken and Mango Salsa
---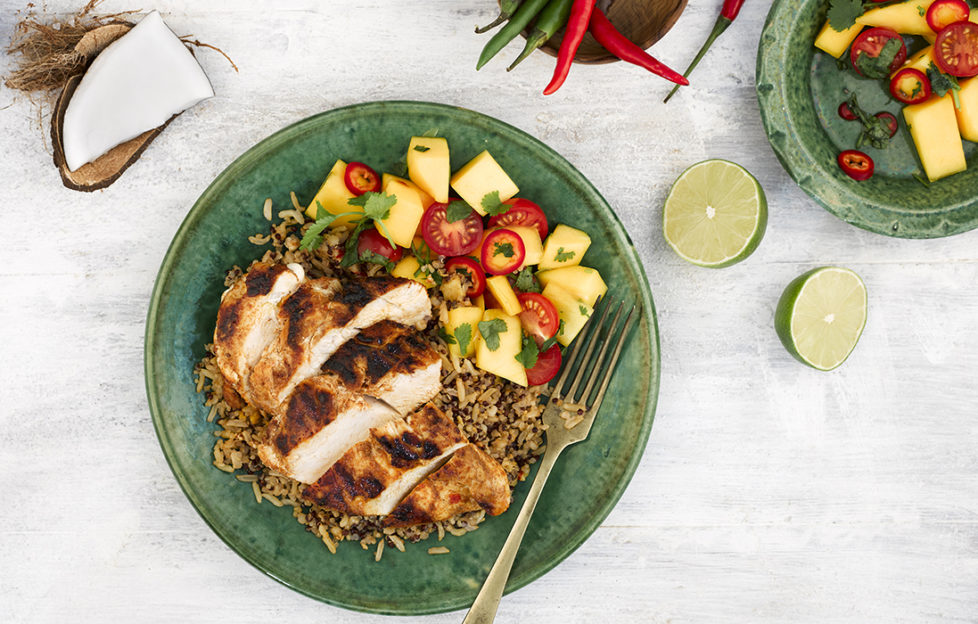 Cajun Chicken and Mango Salsa
Not only is this super tasty, but it's packed with protein and served with Tilda Super Grains Sweet Potato, Chilli and Coconut for extra texture and flavour
Serves: 2
Cooking time: 20min
Place the spices, crushed chillies and sea salt in a small bowl and combine.
Put the chicken breasts in a large freezer bag along with the spice mix, garlic, lime juice and 1tsp of olive oil. Seal the bag then shake and rub to combine the meat and spices (you can do this anytime you like before and keep it in the fridge).
To make the salsa, place the mango, tomatoes, coriander, lime juice, chilli and sea salt in a medium-sized bowl and combine then place in the fridge to keep cool.
Place the freezer bag on a firm surface and bash the chicken breasts with a rolling pin or back of a serving spoon and flatten until roughly 1cm thick.
Set a griddle or large non-stick frying pan over a medium heat and heat the remaining 2tsp of oil. Once hot, place the chicken breasts in the pan and cook for about 5min either side until cooked through. Once cooked, remove the chicken from the pan and set aside on a plate.
Open the Tilda Rice packet and place in the microwave and cook for 3min.
To serve, divide the Super Grains between two large shallow bowls or plates. Slice the chicken and place on top of the rice alongside a serving of the salsa.
Registered Nutritionist, Rob Hobson says,
Taste is commonly thought of as the key driver in food choice and satisfaction, but this isn't just about flavour. The concept of taste should be thought of as the sum of all the senses that occur when we prepare and eat food which also includes aroma, sight, texture and sound. All of these senses influence food choice and the happiness we get from eating.