Tawa Pulao
---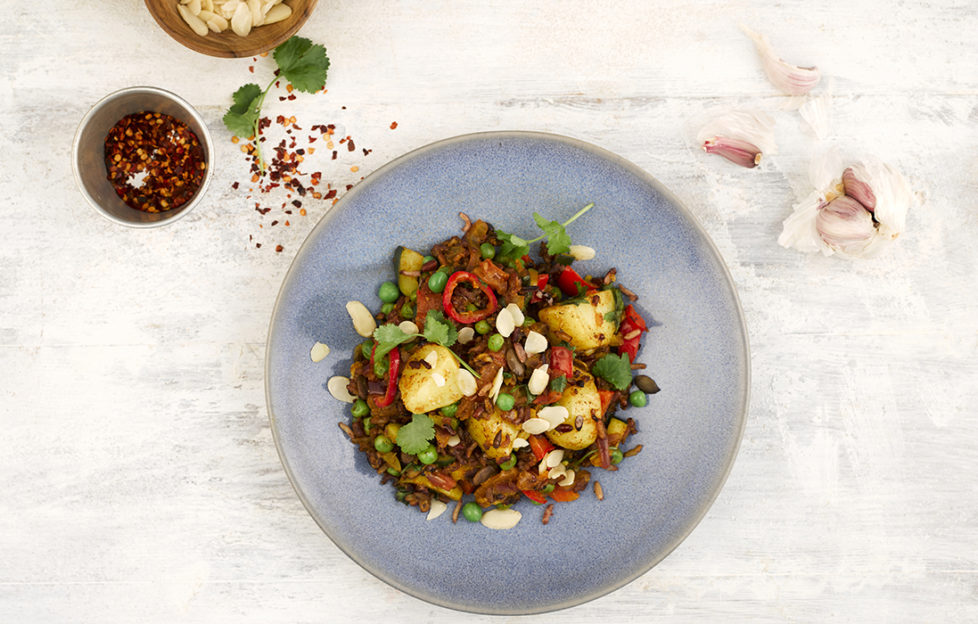 Tawa Pulao
Suitable for vegans, this dish is rich in Indian flavours with the added freshness of coriander and lime
Serves: 4
Cooking time: 20min
Set a small saucepan of water over a high heat and bring to the boil. Add the potato and boil for about 10min until tender. Once cooked, drain and set to one side.
Whilst the potatoes are cooking, set a wok over a high heat and add the oil. Add the onions and fry for a few minutes until they soften and start to change colour.
Add the garlic, ginger, pepper and courgette then fry for a further 3min until softened.
Add the garam masala, turmeric and dried chillies and fry for 1min as the spices become fragrant.
Add the chopped tomatoes and keep stirring frequently, about 2min. Add the green peas and potatoes and fry for another minute.
Add the super grains and mix everything thoroughly frying for another 2-3min.
Turn off the heat, add the lime juice, salt, coriander leaves and spring onions then top with almonds.
Divide between four dishes.