Ken Hom's East-West Beef Stew
---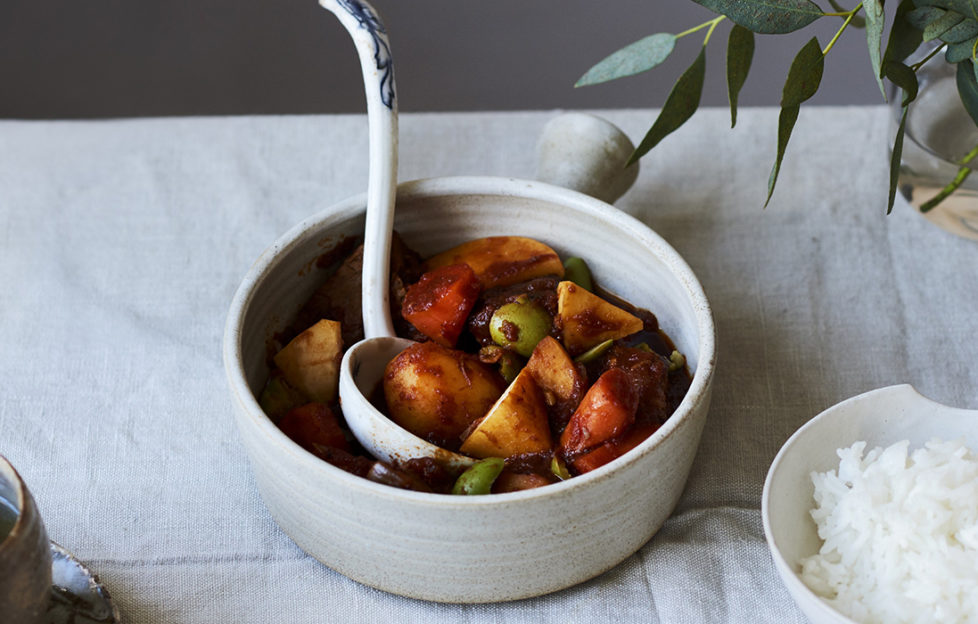 East meets West as Ken Hom brings us a dish to mark Chinese New Year on February 5. A tribute to his mother's cooking, Ken creates a warming beef stew with classic Chinese flavours and traditional Western ingredients…
My mother – who spoke only Cantonese – often prepared braised oxtail stew, a dish that turns out to be a delicious combination of East and West and was inexpensive. In this recipe I am using beef brisket which works just as well and is very easy to make, reheats well, and tastes even better when reheated.– Ken Hom
Serves: 4
Preparation time: 30min
Cooking time: 2hr
Blanch the beef for 10min in boiling water, drain well in a colander, and pat dry with paper towels.
Put the tomatoes into a food processor and blend for just a few seconds or put them through a food mill. Set aside.
Heat a heavy casserole pot over moderate heat, add the olive and peanut oil, and slowly brown the beef on all sides. Remove beef with a slotted spoon and pour off the excess fat and oil, leaving just 1tbsp. Add the onions and garlic, and cook for a few minutes until they are translucent.
Add to the onions and garlic the beef, tomatoes, plum sauce, hoisin sauce, Shaoxing rice wine or dry sherry, lemon zest, soy sauce, salt, and pepper. Bring the mixture to a boil, lower the heat, cover, and simmer for 1½hr, or until the beef is tender. Skim the fat from the surface from time to time.
Add the carrots, turnips, and potatoes and cook, covered, for 20min or until tender. Add the olives and heat them through. Skim off any surface fat and serve at once with plain rice on the side.
Lee Kum Kee sauces are famous across China, with a proud 130 years of rich culinary heritage their authentic products are made from the finest ingredients and can be found everywhere from home kitchen cupboards to alongside the stoves of Michelin-starred chefs. The company is passionate about promoting Chinese cuisine worldwide and making authentic Chinese cooking sauces available to everyone.