Mama B's Chicken Biriyani
---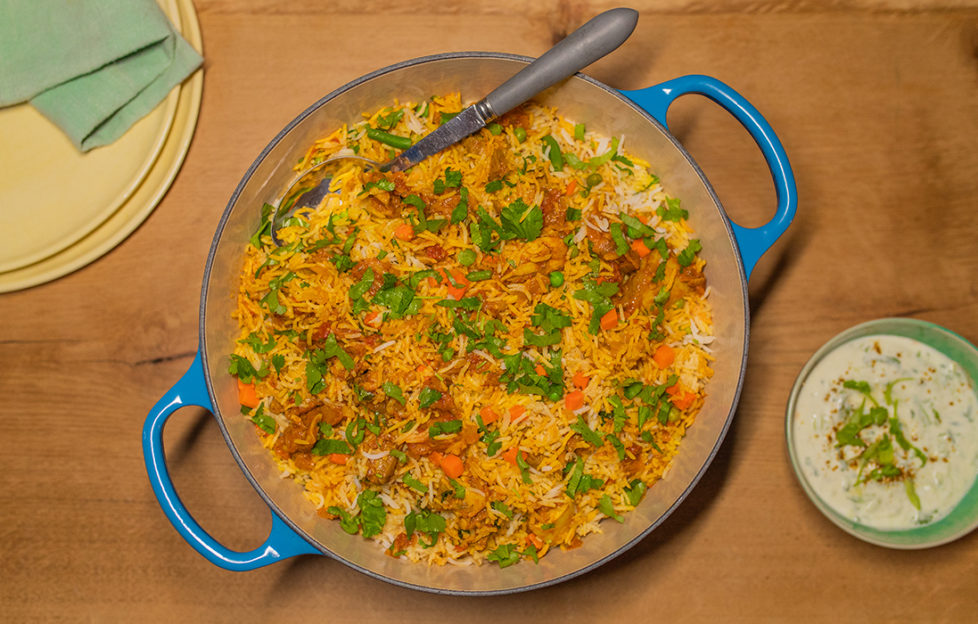 Working with the United Nations' World Food Programme and Tilda to Help Mums Together this Mother's Day, Ruby Bhogal of The Great British Bake Off has developed a very special recipe.
Created for and inspired by her own mother, her cooking inspiration, Mama B's Chicken Biriyani uses limited-edition packs of Tilda Pure Basmati rice – of which every pack sold here in the UK will donate a nutrition-boosting meal to expectant mothers in Bangladesh to help fight malnutrition.
Serves: 6
Prep & cook time: 1 hour (or less)
Into a medium sized saucepan, add the chopped onions and gently heat in butter. Once melted, add in cumin and continue to sizzle for 2min.
Add in the frozen mixed vegetables and allow to cook for 5min – remember to stir regularly. When the veg has cooked through, add in salt, turmeric, garam masala and chilli powder. Stir well and add in the water.
While the water is heating up, wash the rice thoroughly in cold water to remove starch. Drain and add into the saucepan. Stir well, bring to the boil, then lower the heat and cover with a lid. Keep the rice on the heat for approx 15min until the water has cooked out.
In the meantime, let's get the chicken cooked. Into a large saucepan, add the diced onions and oil and cook. The onions should be golden brown and translucent before you add in the garlic. Grate in the cloves of garlic and mix well, followed by grating in the ginger. Mix well.
Add in the canned tomatoes, followed by the green chillies, turmeric, salt and garam masala. Stir well before adding the chopped fresh coriander.
The base needs to reduce for approx 5min before we add in the chicken. Allow the chicken to cook thoroughly, and until any excess water has been cooked out. Check temperature of the chicken to ensure it is cooked, before adding in the cooked rice. Mix well to bring together.
Transfer to a serving bowl and sprinkle on top some more fresh coriander. Serve the chicken biriyani alongside a fresh green salad and a raita.