The Biggest Films of Summer 2019
---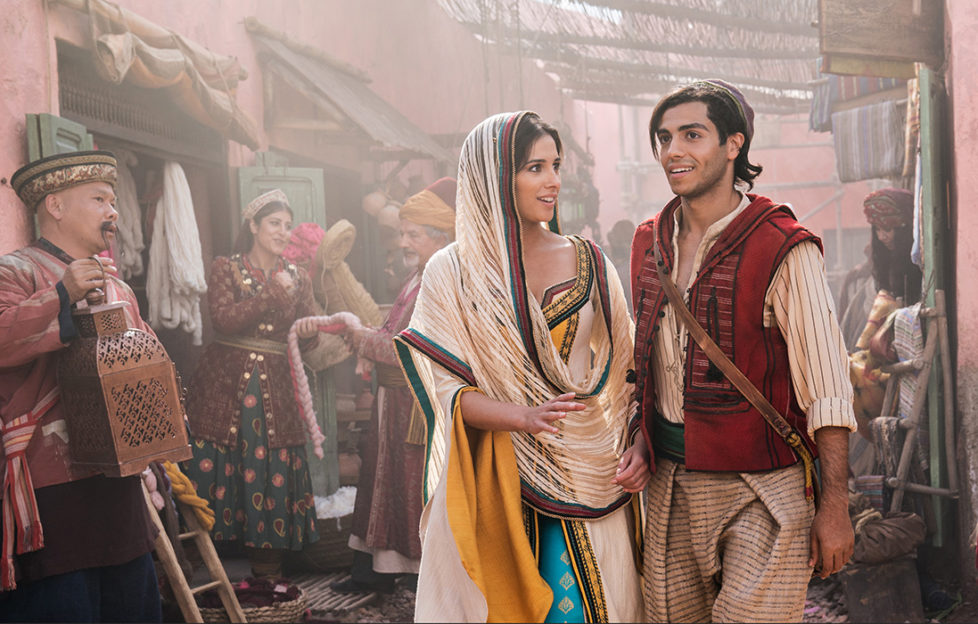 Naomi Scott as Jasmine and Mena Massoud as Aladdin in Disney's live-action adaptation of ALADDIN, directed by Guy Ritchie. Pic: Daniel Smith, copyright Disney Enterprises Inc (All Rights Reserved)
Feel like going to the cinema this summer on your own, with the grandchildren or a few friends? Here's 10 films you won't want to miss!
Escape into the cinematic world with this fantastic selection, everything from dramatic musicals to live Disney remakes…
Rocketman, 24 May 2019
Rocketman tells the story of Elton John's early days as a music star at the Royal Academy of Music, leading up to his eventual musical partnership with Bernie Taupin. Named after his song Rocket Man from 1972, the film protrays the many unexpected struggles he encountered on his climb to fame.
Where'd You Go, Bernadette, 9 August 2019
Based upon the novel of the same name, the film is about Bernadette, a Seattle mother who had it all until she got fed up with her life. When she disappears, her daughter Bee takes on the mission on finding her mum and the reason why she really left. In an attempt to piece together where Bernadette has gone, Bee traces the steps of her mother's disappearance.
Yesterday, 28 June 2019
Starring Himesh Patel, Yesterday is a film about Jack Malik, a guitarist who one day wakes up realising he is the only one who remembers The Beatles. By plagiarising their songs he drives into a life of fame, presenting the songs he loves to a world oblivious to the all-time favourites. This film, out in June, is guaranteed to please any Beatles' fan.
Poms, 10 May 2019
Following a group of older women forming a cheerleading squad in their retirement community, the film verifies the fact that there's no such thing as being too old to "bring it on"!
The Sun Is Also A Star, May 17 2019
Natasha is not a romantic day-dreamer girl: she believes in science and facts, not fate, destiny or falling for a random boy in the streets of New York. Not when her family are hours away from being deported. Daniel, on the other hand, is a poet, a dreamer, a good son living up to his parents' high expectations. When they meet, however, sparks fly between the two strangers and it seems like fate is giving them a little push. But will that be enough for them to stay together?
The Farewell, 12 July 2019
Billi, a Chinese-American woman, returns home to China when she realises her grandmother, Nai Nai, only has a short while left to live. The family decide to keep Nai Nai in the dark about her illness and instead stage a spontaneous wedding in order to see her one last time.
Long Shot, 3 May 2019
When Fred Flarsky, a free-spirited journalist with a tendency for trouble, meets his childhood crush Charlotte Field, the two old friends reconnect. Charlotte is one of the most influential women in the world, a powerhouse diplomat with nothing in common with Fred except for the fact that she used to be his babysitter. Fred somehow manages to charm her with his humour and memories of her youthful optimism and sparks start flying between them, leading to romance and a series of unexpected adventures.
Aladdin, 24 May 2019
In this new remake of the Disney classic Aladdin, you will find the street boy Aladdin. In the middle of a cave in the desert he stumbles upon a lamp with a genie inside, granting him three wishes. Aladdin dreams of winning the heart of the beautiful princess Jasmine, but trouble arrives when an evil vizier is after the lamp as well.
The Lion King, 19 July 2019
Based on the 1994 animated film by the same name, The Lion King follows the story of Simba, the cub crown prince who is tricked by his uncle and accused of killing his own father. Through his exile forced by evil Uncle Scar, Simba is confronted by dangers of the wilderness while he discovers important lessons on his journey back home.
Toy Story 4, 21 June 2019
The crew of Buzz, Andy and Woody are back together again for a new series of adventures, this time on a road trip with new and old friends. The 4th film in the Toy Story franchise reveals the big wonders of the world for a little toy.