5 Simple Ways To Manage Your Salt Intake and 4 Tasty LoSalt Recipes
---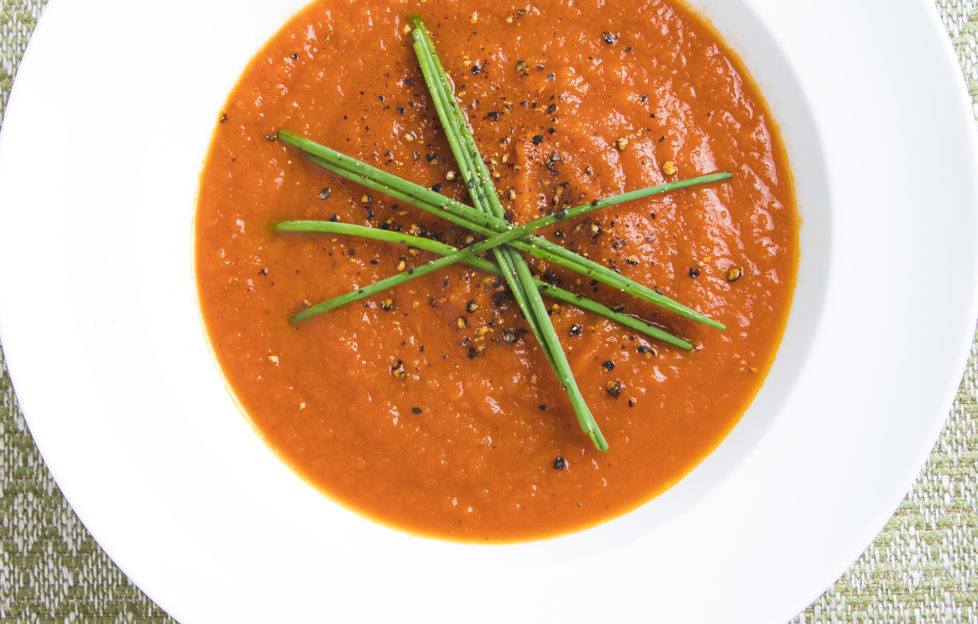 TV chef and author Sally Bee has teamed up with LoSalt to help encourage people to 'season with sense' and enjoy healthy delicious meals, but with less salt.
Sally knows first-hand the importance of a low sodium diet, after experiencing problems with her own health. In 2004, aged 36, The Lorraine Show's chef suffered three heart attacks and doctors advised her husband to prepare to say his goodbyes.
But miraculously Sally survived and credits her passion for healthy eating with saving her life.
"I realised very early on that the food I ate affected my health. When I fed my body with good nutrients, it reacted in a positive way," she said.
"As a passionate foodie and cook, I know how salt is sometimes essential to bring out the delicious flavours in food but it is important to remember that over-using salt in cooking, and indeed at the table, can create health problems such as high blood pressure – something that is on the rise in the UK!
"Using reduced sodium alternatives like LoSalt means I can continue to create delicious tasting recipes without the guilt – it can be used in exactly the same way as regular salt whether it's seasoning, cooking or baking so there's no limit to the range of tasty recipes I can whip up."
Sally Bee's top tips and advice for cutting down salt:
Try to cut down on processed food as this is where the majority of salt in our diets comes from. Ready meals, ready-made sauces and soups are often high in salt.
Keep processed meats to a minimum. Bacon, ham and sausages can contain lots of salt.
Don't be duped into thinking posh gourmet sea and rock salts are better for you. They contain as much sodium as regular salt.
The best way to control your salt intake is to cook from scratch. To boost flavour, add spices, herbs or lemon juice to dishes rather than salt.
Tinned veg counts towards your five a day, but it can add to your salt intake. Look out for no added sugar (or salt) varieties, and if you do buy tinned vegetables (or tuna) with salt, rinse before cooking.
Enjoy healthy and hearty recipes from Sally Bee using LoSalt:
Red Lentil Soup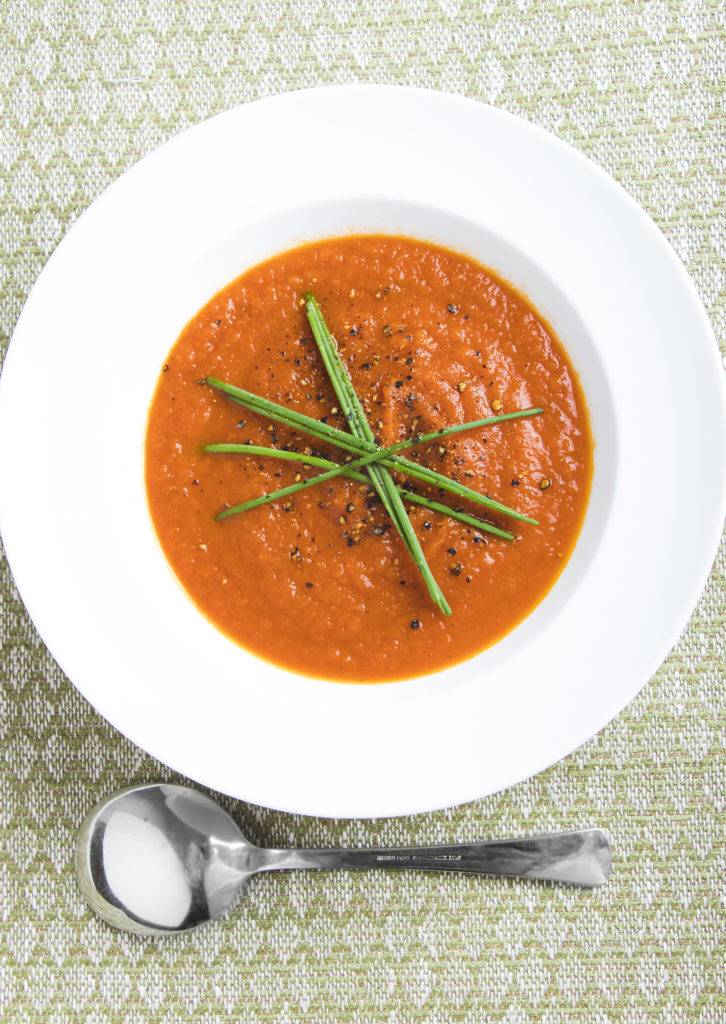 Serves 6
Ingredients
1 tablespoon Olive Oil
2 Onions, finely chopped
2 Celery Sticks, finely chopped
2 Carrots, peeled and finely chopped
2 Garlic Cloves, peeled and crushed
2 teaspoon Curry Powder
150g Red Lentils,
1 ½ litres Low Salt Vegetable Stock,
120ml Tomato Juice,
Black Pepper, freshly ground
Pinch of LoSalt
Method
Heat the oil in a large pan over a medium heat, then add the onions, celery, carrots and LoSalt. Cook, stirring, for 5 minutes, or until the onions are soft.
Add the garlic and curry powder and cook, stirring, for a further 1 minute, then add the lentils, stock, and tomato juice.
Bring to the boil, then lower the heat, cover, and simmer for 25 minutes, or until the vegetables are tender.
You can either whizz this up with a hand blender or liquidizer or just leave it slightly lumpy – your choice!
Season with freshly ground black pepper, and serve hot.
Turkey Burgers with Pea Guacamole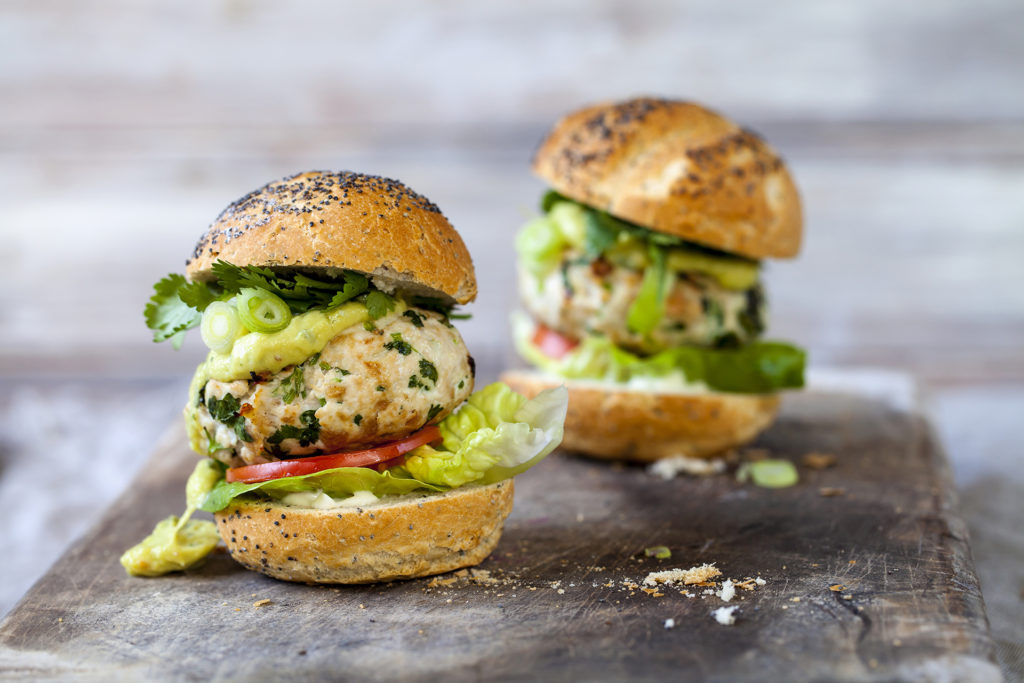 Serves 2
Ingredients
200g Turkey mince
2 tbsp red onion, very finely chopped
2 tsp chipotle paste
2 tbsp coriander, chopped
2 slices emmental cheese
2 wholegrain buns
salad, to serve
For the Pea Guacamole
100g frozen peas, blanched
1 tbsp onion, roughly chopped
¼ red chilli , chopped
Small handful fresh mint
¼ tsp ground cumin
2 tbsp natural yoghurt
Juice of one lime
Pinch of LoSalt
Freshly ground black pepper
Method
To make the burgers, put the turkey mince, red onion, chipotle paste and coriander in a bowl. Mix well and form into 2 patties.
To make the pea guacamole, put the blanched frozen peas, onion, red chilli, coriander, ground cumin, black pepper, LoSalt, natural yoghurt and a squeeze of lime in a small food processor and whizz until blended.
Cook the burgers in a non-stick pan for 3-4 minutes on each side until golden. Add a slice of emmental cheese, and heat until melted. Serve in buns with the pea guacamole and salad.
Creamy Garlic Mushrooms on Toast with Pesto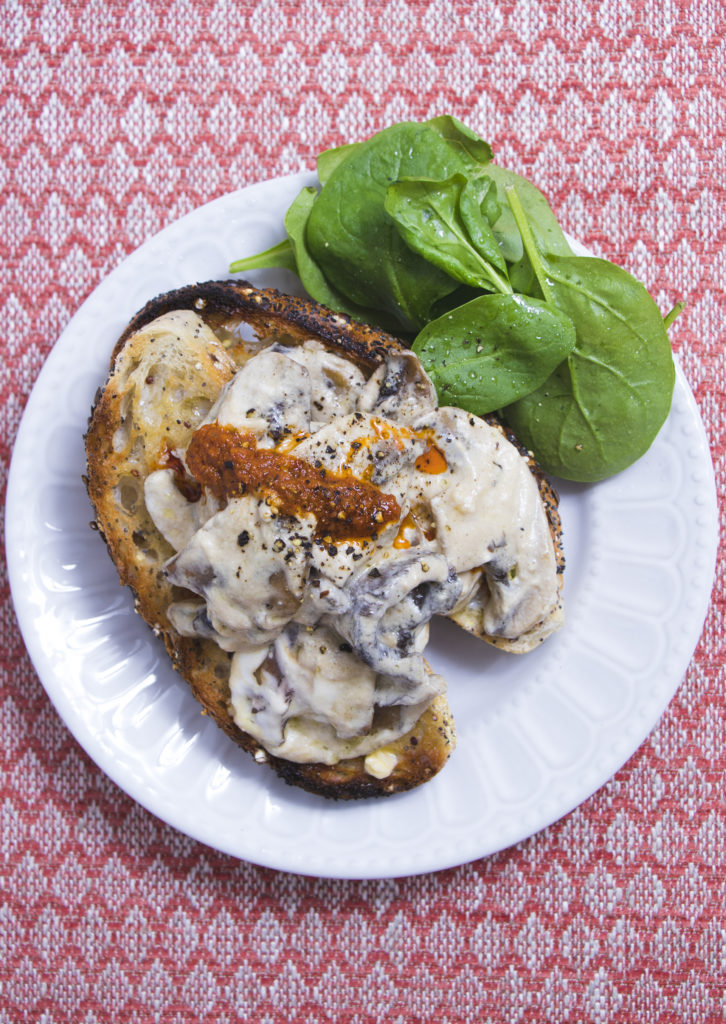 Serves 2
Ingredients
20g butter
275g portabella mushrooms, thinly sliced
2 large slices sourdough bread
2 cloves garlic, grated
170ml low fat crème fraiche
Handful watercress to serve
Shop bought red or green pesto
Freshly ground black pepper
Pinch of LoSalt
Method
Melt the butter in a large, non-stick frying pan over a medium heat and cook the sliced mushrooms for 10 mins, meanwhile toast the soda bread.
Add the garlic to the mushrooms and cook for 1 min. Next add the crème fraiche, black pepper and pinch of LoSalt. Stir through to warm, but then take off the heat.
Pile the mushrooms on top of the toast with some of the creamy sauce and a big dollop of the pesto, finally top with a lovely clump of watercress.
Roast Ratatouille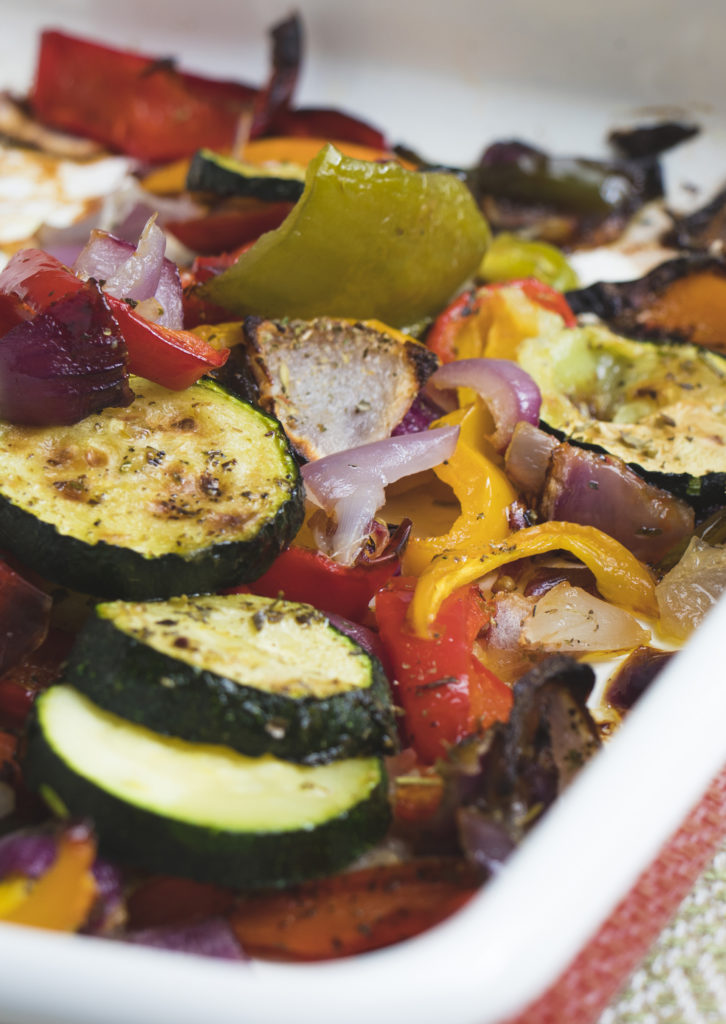 Serves 6
Ingredients
1 aubergine
1 courgette
1 red pepper
1 yellow pepper
1 green pepper
2 red onions, peeled and quartered
2 cloves garlic, peeled and sliced
1 tablespoon extra virgin olive oil
1 teaspoon dried mixed herbs
Sprinkle of dried chilli flakes (optional if you like a little kick!)
Sprinkle of garlic powder
400g tin chopped tomatoes
Freshly ground black pepper
Pinch of LoSalt
Handful fresh basil
Method
Preheat the oven to 200˚C/fan 180˚/gas 5
Slice all the vegetables into similar sized wedges, and pop in a large bowl. Drizzle over the olive oil, dried mixed herbs, LoSalt, garlic powder and dried chilli flakes if using. Stir well then pour out on to a large baking sheet.
Pop into the oven and roast for 20-25 minutes until starting to colour around the edges.
Next decant into an ovenproof dish, add the tinned tomatoes, some black pepper and fresh basil. Put back in the oven for a further 30 minutes, stirring half way through.