Tips To Turn That Frown Upside Down!
---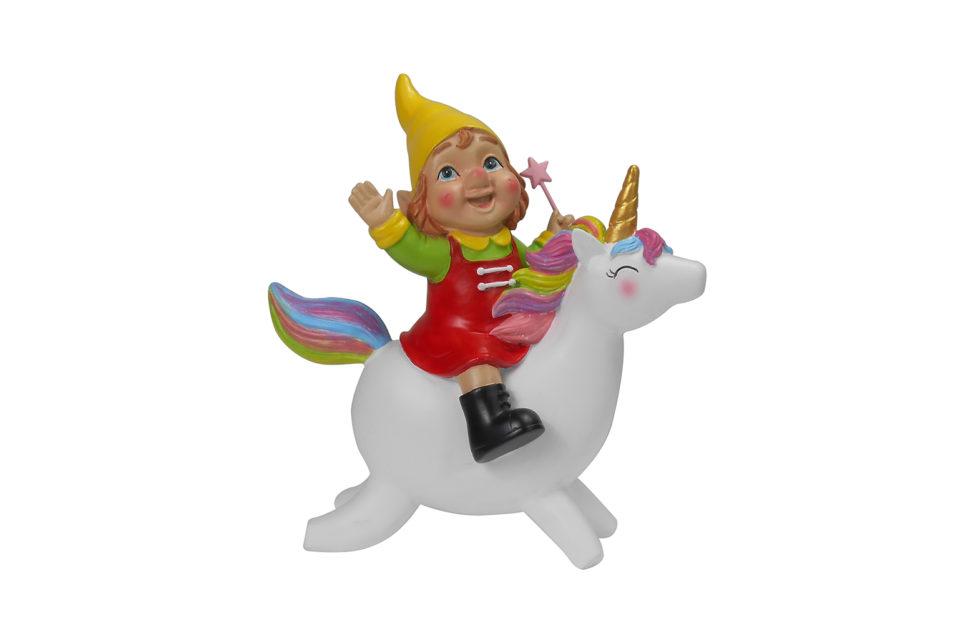 GEORGE HOME GNORA ON UNICORN, £6, ASDA
By Dr Andy Cope
Brexit, Trump, HS2, traffic, weather, busy lives, social media . . . We Brits have morphed from low level grumbling to full blown anger.
The average UK life-span is 4,000 weeks. So if life is a short and precious gift it seems silly to get stuck in moan-mode. Rather than going into the science of why our brains are hard-wired for negativity, suffice to say that you don't have to join in. Here are 10 very simple ways to break free from that negativity.
Change your aim. Stop setting your sights on 'getting through the week' or 'surviving until my next holiday'. Raise your game. Set your aim to 'enjoy the week' or 'to inspire people'.
When setbacks occur, ask yourself, where is this issue on a scale of 1 – 10 (where 10 is death)? If it is death, you are allowed to feel down. Anything else, get over it.
Watch less news. Consume enough to know who we're at war with but don't marinate yourself in it. Because it's nearly all bad!
Kindness is a happiness superpower. The quickest way to feel great is to do a good turn for someone else.
Practise the 10/5 principle, ie, make eye contact with everyone who comes within 10 feet of you and smile & say 'hi' to everyone within 5 feet (except on the Tube. I tried it and nearly got arrested!)
Say nice things about people behind their back. This is a double-whammy because it gets back to them, plus people think you're a lovely person (which, of course, you are).
Write a list of 10 things you really appreciate but take for granted. 'Health' and 'relationships' will almost certainly be on there. Stop taking them for granted!
Think of someone who has really helped you (eg, given you time or supported you). Write them a letter, from the heart, that says how wonderful they are and what they mean to you. Read it to them (I dare you!).
Instead of asking your partner/kids 'how was your day?' change the words and ask (with enthusiasm), 'what was the highlight of your day?' Then listen with genuine enthusiasm.
Notice the 'beautiful ordinary', ie, the small things that other people rush past. Appreciate that happiness is in the moment so notice sunrises, raindrops, smiles, flowers and smiling children.
11. Bonus tip: try and be the kind of person your dog thinks you are.
Dr Andy Cope is a happiness expert and bestselling author of The Little Book of Being Brilliant available from April 5 on Amazon. Find out more about Andy at www.artofbrilliance.co.uk