Daffodil Smile
---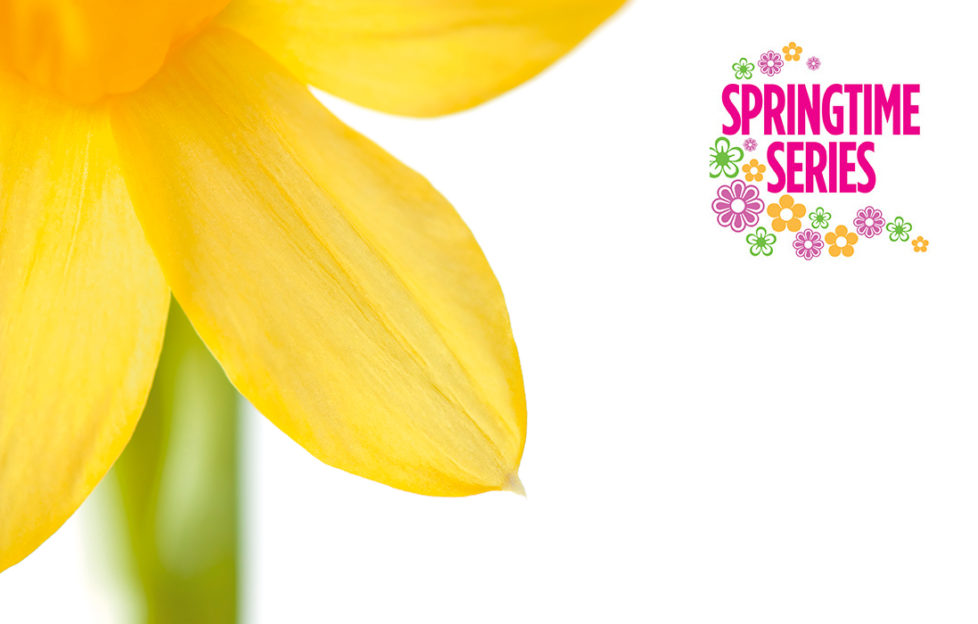 Pic: Rex/Shutterstock
WRITTEN BY CAMILLA KELLY
After the long, dark, gruelling winter I was finally ready to bloom again
This springtime I'm a daffodil. Yellow, bright, golden, drinking in smiles of happiness from passers-by. It's amazing what a little sunshine and a silly costume can do.
Last year I wasn't a daffodil. Last year I was more of a crushed blossom, brown and wilted.
The supermarket is busy, people flowing through the doors. Almost everyone puts something in the box. Perhaps the silly daffodil bell bonnet makes them more generous, or perhaps like me, they were touched by illness in some way.
Perhaps it's because Adam looks dafter than I do – which he does.
Families stream in, a progression of trolleys, harassed mums struggling with truculent children. I came here all the time with Mum.
It's those insignificant moments I yearn for the most, the little routines that made up our days…
Like shopping, and dusting, and making a bed.
We'd had to get used to routines of a different kind, me and Dad, sitting up all night with Mum, adjusting her pillows, watching her sleep. Our world became smaller and smaller until all of life was in one room.
I must have sat inside the trolley to begin with, possibly trying to escape, much like Isla does now. I once wandered off on my own while Mum was busy, wanting to look at the toys. I'll never forget the expression on her face when she found me, taut and pinched, the relief that replaced it, her scolding, scooping me up and into the safety of the wire trolley.
---
Clink, clunk, coins drop into our collection boxes. I smile as I see a neighbour and she stops to ask how I am. People have been so kind.
It's tiring, smiling. People think that it would be your legs and feet that hurt the most, standing here, but it isn't. Smiling is exhausting but we've had plenty of practice the last few months.
I never thought I'd smile again after Mum died. It felt wrong, uncomfortable. But it was Angie, the Marie Curie nurse, who said I had to go on living, for Mum. She'd want me to be smiling, I know that, but smiling when I felt as if my heart would break is one of the toughest things I've ever done.
But I did it for Mum; I'm doing this for Mum. And as always, Adam is by my side.
It's easy to smile with Adam… easy to cry with him too…
I'm doing this for Mum but I'm also doing it for Angie and people like her, those wonderful men and women that supported us. Just having someone there, someone to hold my hand through the bleakness, make a cuppa, pass me a tissue, was the greatest gift anyone could have given. Little things that became the big things. I want to give that gift to someone else who might be in need of it.
Clink, clunk. I smile.
Here comes another trolley, whizzing through the doors, child inside grinning, the man pushing it giving me the grandest smile I've seen all day.
"Mummy," Isla squeals from the trolley. I pass my collection box to Adam and scoop Isla into my arms.
"Has she been good, Grandpa?" I ask.
He beams at me, then Isla, rubbing at her plump little cheek. "Oh yes. She's going to help me do the shopping now, aren't you, Isla?"
She nods excitedly, pulling away, eager to get back to Grandpa. I'm glad she's with him, helping him negotiate the aisles of cans and packages, lingering by the toys, heading for the sweetie aisle.
And I'm glad Angie was there with me, negotiating me through the aisles of sadness and bone-aching tiredness as we nursed Mum.
I watch them disappear into the shop. Dad will take his time and indulge Isla, wanting to swallow up the minutes and the hours that are his days, fill them with every drop of pleasure and memory he can.
When I'm finished here, I'll do the same, enjoying the mundane for what it is. Paradise.
Look out for more springtime stories throughout April, published every Monday and Thursday.