Cruise to Norway and Scotland's Scenic Islands
---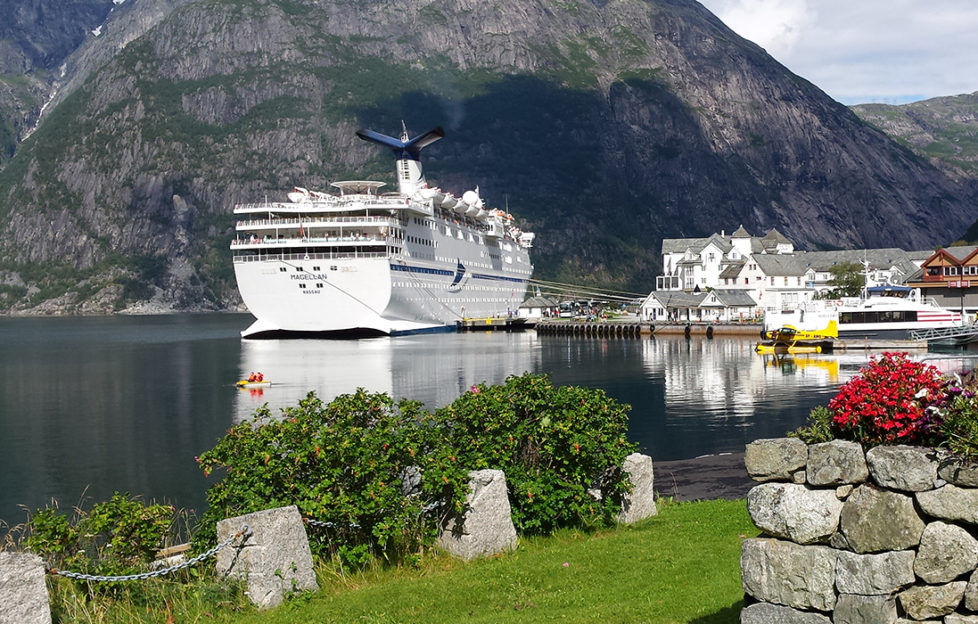 Magellan in Eidjord
Sail away for 9 nights direct from Scotland… and before December 9, 2019 you can save up to 40% off on bookings. 
DC Thomson Travel has joined forces with Cruise & Maritime Voyages to sail the Best of Norway and Scottish Islands tour in the summer of 2020.
This foray in to maritime transportation is not a first for the Thomson family, as they owned a Shipping Line in the 1800s.
Andrew Thomson, Chairman of DC Thomson, said,
It's wonderful to see DC Thomson realigning with its heritage by returning to the seas.  When William Thomson established the Thomson Shipping Line in the 19th century I'm sure he didn't contemplate that over 100 years later DC Thomson would be transporting passengers by ship around the Scottish Isles and Norway.
With an occupancy of more than 1300, the Magellan is set to deliver a one-off cruise itinerary to passengers looking to see the best sights in Norway and the Scottish Isles – so why not join us?
Itinerary
Setting sail from Dundee on June 14, 2020, this one-off 9-night Best of Norway and Scottish Isles Cruise will take in sights including Flåm, Bergen and Portree.
Departing directly from Dundee and returning to Greenock, this superb voyage will first take you to Norway and some of the most stunning scenery to be found anywhere in the world.
Western Norway
You will be dazzled by the awe-inspiring beauty of the Majestic Fjords of Western Norway.
Surrounded by soaring mountains and spectacular waterfalls, you will glide along on board Magellan through mirror-calm, deep waters and some of the most scenic landscapes in the world.
Then there's the opportunity to take a trip on the unique Flåm Railway, one of the most famous rail journeys in the world.
Scotland's Islands
You'll then set sail for some of Scotland's unique and beautiful islands – Orkney and Shetland, world-famous Skye and scenic Mull.
We'll bring you an experience you will remember and treasure forever. All you have to do is sit back as the sights and sounds are brought to you.
Cruising really is the ultimate holiday. There is no better or more stylish way to travel than on board a grand liner. This fabulous holiday experience offers glamour, excitement, sheer relaxation and the appeal of amazing ports of call.
You will have the time of your life enjoying great food and entertainment, comfortable accommodation and excellent service and facilities.
This is a truly unique holiday so to avoid disappointment book early and join us on board for this incredible voyage.
Special Offer
The Best of Norway & Scottish Isles cruise is available with discounts of up to 40% on new bookings made by December 9, 2019. Full details here.
For a brochure or to book call 01224 338004 quoting 'MW Cruise 2020' or visit www.dcttravel.co.uk/cruise2020.
Happy sailing!