Create Eye-Catching Displays In Your Garden
---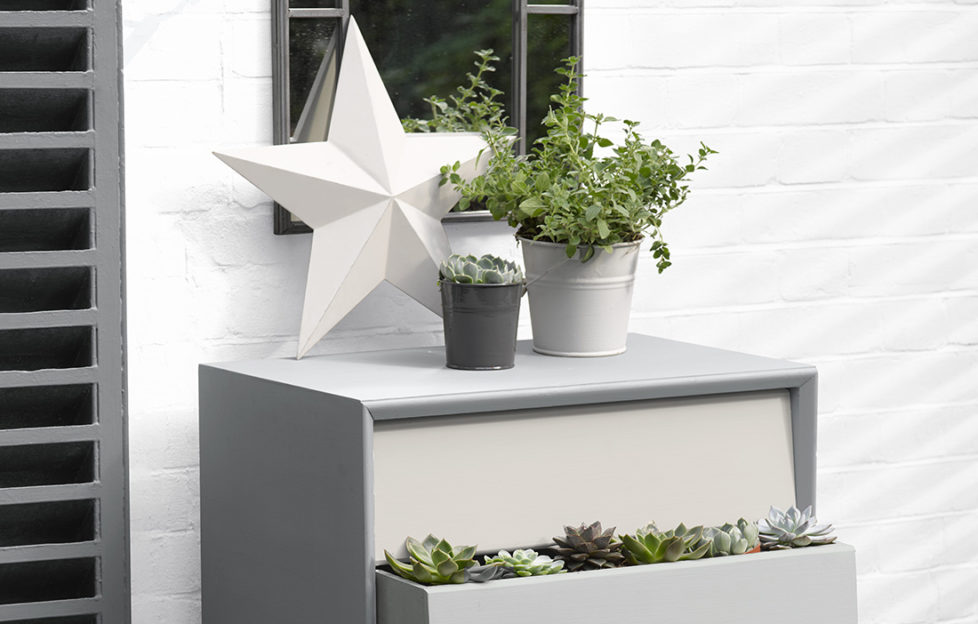 Whether big or small, gardens can always benefit from a little creativity…
The possibilities are endless when it comes to styling your outdoor space, and with events around the country, including the inspirational RHS Chelsea Flower Show, there's no end of ideas you can use to create some personality in your own garden.
Add A Little Kerb Appeal
Upcycling furniture, plant pots, watering cans or bird boxes has never been easier thanks to Sandtex's 10 Year Exterior and Rapid Dry ranges. Suitable for all exterior surfaces including wood, metal, plastic, terracotta and brick, these ranges of multi-surface exterior paint will turn garden DIY projects from chore to hobby.
Matthew Brown, Sandtex Technical Consultant, shares his top tips for painting on wood and metal.
"When painting wooden planters ensure the surface is clean and smooth by sanding and then wiping with a damp cloth. Use an appropriate primer that will provide a foundation for the paint to sit on. An undercoat is also a good idea to provide a medium film, as it adds opacity to the colour and helps to cover over previously painted wood.
"With metal surfaces, it's important to rub down rust or previously painted spots with a wire brush, before starting to paint. This will ensure the paint will look smooth and uniform and will last longer too."
Wood Can Look So Good
Old wooden ornaments like wheelbarrows, chest of drawers and cabinets can be given a new lease of life with a little paint and some pretty plants.
In The Frame
Wooden or metal picture frames make a unusual display on a garden wall. Follow the step-by-step instructions below to make your own versions.
Step One: Start by selecting your frames. Do not feel restricted by shape or size as these do not have to match and often work better aesthetically if there is an assortment. Remove backing and front glass and ensure no dust or dirt remains on the frame.
Step Two: It's important that the frames are primed before any colour is applied. If preparing and cleaning new bare wood, use a P180/P240 grade sandpaper to smooth the frame's surface. Dust off and degrease the wood with methylated spirits using a clean, lint free cloth, rotating cloth regularly to not reintroduce grime to the surface. This gives any coatings the best possible chance to bond and perform on timber. If the frame is metal, use mineral spirits to remove grease and eliminate loose or peeling paint by hand-wire brushing. Using Sandtex 10 Year Exterior Primer or Rapid Dry Undercoat, depending on the final product, ensure all the frame is covered.  Allow to dry properly before applying any paint.
Step Three: Select a colour from Sandtex's 10 Year Exterior Gloss or Rapid Dry collections, apply evenly over the primed frame. For coatings to perform, they need to be of a certain thickness, so we recommend 2-3 coats on initial application to build up the film depth and ensure the frame is properly protected against the elements. Leave to dry properly between each application.
Step Four:  Staple or affix chicken wire across the back of the frames to provide the foundation for greenery. Ensure the wire is pulled tightly across the frame before securing it to provide a firm platform from which the plants will hang from.
Step Five: Using a combination of moss and succulents, entwine your greenery around the wire. Depending on how wide your wire holes are, you may need to pinch the wire together to secure each plant in place. Keep going until the wire is hidden from view and the greenery goes up to the edges.